Deferred deep links enable you to create the perfect conversion paths to acquire new users and re-engage existing users of your app.
Using external digital channels your marketing campaigns can reach more potential users and guide them safely to content and promotions within your app.
At Kumulos we've written a whitepaper 'Ultimate Guide' that you can download here if you're interested in the benefits of deferred deep links for your app.
What is a Deferred Deep Link?
A traditional deep link is simply a link to a specific page or content within an app (rather than just opening the app with either the last opened screen or default home screen shown). Using deep links in push notifications and in-app messaging is common practice – they provide a seamless user-experience and can increase conversion.
Using a deep link to content within your app in other digital channels such as SMS or email is risky. What if the recipient does not have your app installed or opens the message on their computer?
That's where deferred deep links come in. Where an app user will be taken to the page or content in the app, a deferred deep link has the capability of taking a non-app user to the app store to download the app first. Then, when the app is launched for the first time they can also be taken directly to the page or content specified within the link, giving them a highly personalized onboarding experience.
A single deferred deep link is therefore everything you need to direct anyone who clicks the link on a smartphone to the exact page or content of your choice.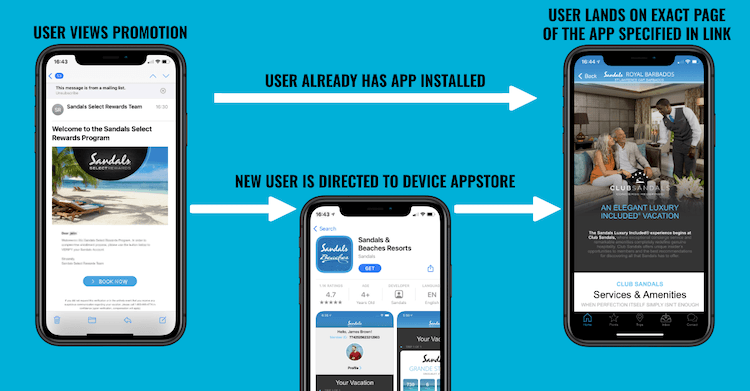 How do Deferred Deep Links work?
So, a single deferred deep link will:
Direct an app user to specific page or content within the app
Prompt a non-app user on a smartphone to download the app before directing to specific page or content within the app when the launch it
Direct a user on a desktop or laptop computer to an appropriate page on your website instead of mobile app
Provide attribution data when each link has been clicked
Why use Deferred Deep Links?
There are several reasons why a business may want to direct as many mobile customers as possible to their app as opposed to their website and deferred deep linking is the most effective and safest way to achieve this.
The native app may have more comprehensive functionality and be easier to use than the mobile responsive website
Users of the app may tend to spend more, engage more often and be easier to engage with (reducing your cost of contact)
Fierce competition within search engines in the same industry can make it difficult to get exposure for the website and visibility of potential customers
Large audience available through email, social media and other digital channels may be more readily persuaded to download a mobile app and complete goal conversions than mobile through a responsive website
Deep links have only been a useful marketing tactic for engaging existing app users, deferred deep links have a three-fold appeal:
Seamlessly acquire and onboard new app users from other digital sources
Re-engage existing users outside of your app
Retarget and win back lapsed users who had uninstalled your app
Acquire new, highly engaged users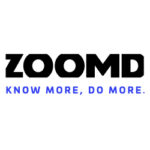 When clicked the link can establish whether the mobile user has the app installed or not. When the app is not installed, the link will take the user to a promotional landing page with a link to the app store for the device they are using (which is automatically detected). Once downloaded and launched for the first time, the deferred deep link takes the user directly to the page that was specified in the link they clicked in the first instance.
Re-engage existing users
Those with the app installed are simply taken directly to the specific page or content, as is the case with a traditional deep link (although a deep link without deferral, when clicked on a device without the app installed, would result in a broken link and the loss of a potential customer). You are now able to safely market to these users via other channels that were unavailable before. 
Win-back lapsed users
In the case that a user has previously used your app but uninstalled it, you can reconnect with these users utilizing areas where you still have visibility. If you have the users' phone number or email address, establish contact with a defined offer via deferred deep link to encourage them to download your app again.
Where to use Deferred Deep Links
Deferred deep linking is the only way to safely use external digital channels to bring users to your app on the exact conversion page you want to promote.
Platforms that can utilized with deferred deep linking include:
SMS – Text messages, which typical have high open rates (as much as 98%)
Email – 70% of all email is now opened on a mobile device
Social Media – Drive your followers back to your app
QR Codes – promote your app in your physical locations
Desktop-to-app – Prompt users on desktop or laptop computers to provide their phone number and automatically send then an SMS containing a deferred deep link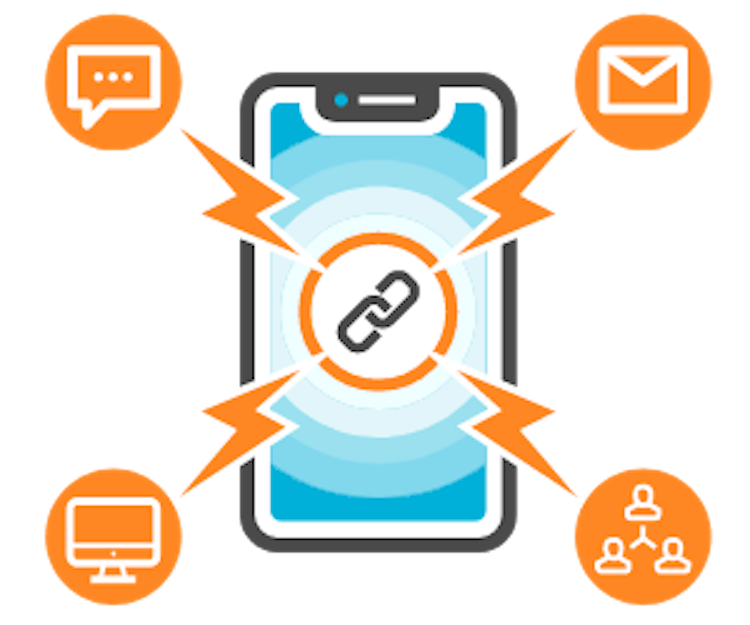 This wide genre of channels allows the targeting of different audiences with each individual campaign.
Best Practices
To get the most out of your marketing campaigns, follow these three simple best practices when including deferred deep links.
Get personal – create an individual, tailored link for each user for highly targeted marketing
Measure the success of your campaigns – attribute user and conversion data to the channel and specific campaign it originated from
Always stay on brand – Links that do not contain brand names or look as though they are not related to the offer can look like spam at best, or phishing at worse

If you'd like to find out more about deferred deep linking and how it can benefit your app Kumulos have recently published a downloadable Ultimate Guide. This guide goes into depth about everything you need to know about deep links and how you can start acquiring and engaging more users on your app.