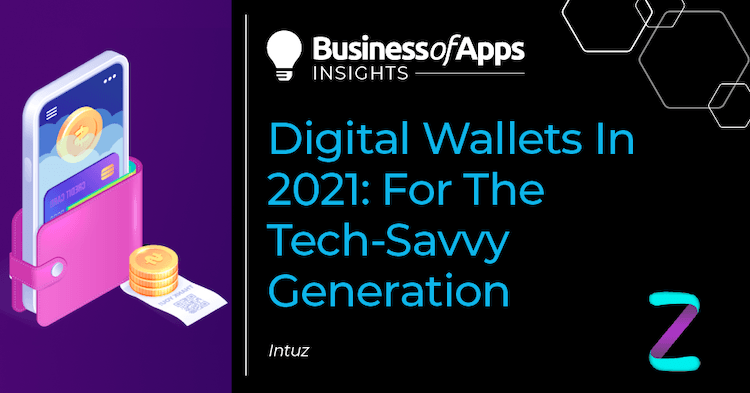 Digital wallets are easy to use, safe and basically an extension of our lives. Equipped with easy registration and login, robust merchant and consumer payment processing capability, and a user-friendly dashboard — digital wallets are well on their way to becoming the most popular mode of payment. Let us study the technology in detail.
When the spread of Coronavirus turned the world upside down in 2020, human beings quickly adjusted to the new, socially distanced world.
We blinked, and suddenly everything was happening online, from the comfort of our homes — whether it was getting on with our day jobs, purchasing groceries, or indulging in entertainment.
Many businesses also had to digitally transform themselves to keep up with the "no contact" way of functioning. Significant technological disruptions enabled financial inclusion and provided rapid payment digitization for consumers.
Naturally, with businesses going online, many end-users adopted digital payments for the first time to pay bills — bringing the total digital payments processed globally in 2020 to a whopping 70.3 billion!
The total transactional value of digital payments is expected to grow at a 12% CAGR from 2021 to 2025. Not so surprisingly, cash is set to become the least common mode of payment worldwide by 2022. Digital payments have proven to be reliable and convenient in these uncertain times.
Defining digital wallets
Simply put, a digital wallet is an online service that enables individuals and businesses to transact electronically.
Also known as a "mobile wallet," it safely stores users' information for various payment modes (e.g., debit/credit card details), along with other items such as driver's licenses, boarding passes, movie tickets, and gift card coupons.
But utilizing such wallets, users can purchase anything or do any transaction quickly from their mobile phones.
Digital wallets: why are they the talk of the town?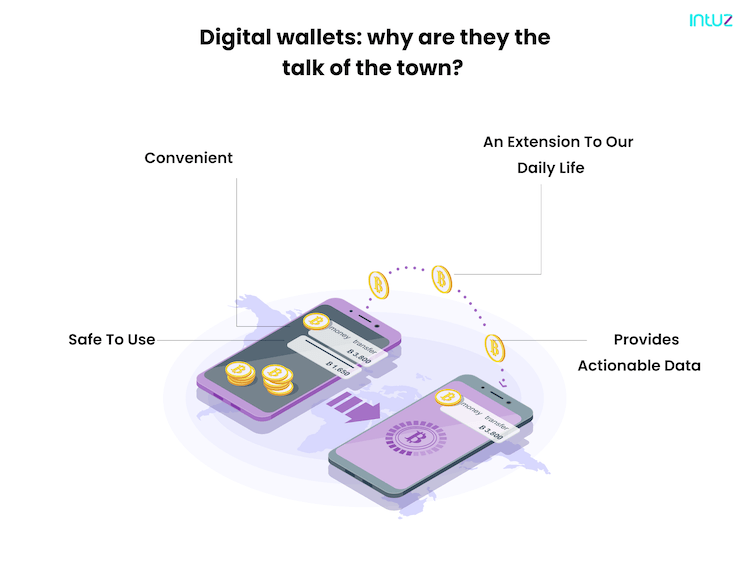 They are convenient
Users do not need to lug around a wallet overstuffed with different transactional cards. Even if users forget their physical wallets at home, they can still pay using mobile phones.
They are safe to use
Digital wallet apps can be locked to prevent unauthorized use. Most of them require stringent biometric authentications, such as a thumbprint or a selfie.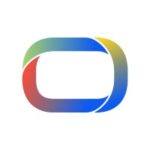 They are an extension of our daily lives
Humans undertake many tasks from their mobile phones, including transferring money to another person and paying bills. Using a digital wallet makes sense! They provide value to consumers.
They provide actionable data
Businesses can collect valuable customer data, such as how often they shop, where they shop, how much they spend, and so on. The information can be used to improve further the marketing messaging and customer service.
The workings of a digital wallet
In many cases, a digital wallet asks users to register for the service by entering their card details. The information is then verified through an OTP authentication process, after which the registration process gets completed.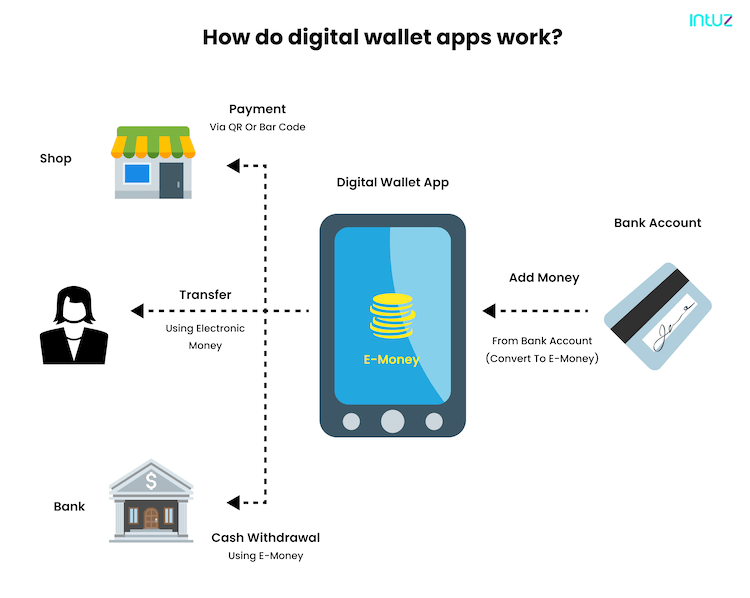 If you use a service like Apple Pay, you might not be required to undergo a registration process but only add your cards. Once the digital wallet is set up, you can use it wherever a contactless payment symbol is at the POS.
If you can see the symbol, bring your device close to the payment terminal.
Both devices communicate with each other by utilizing NFC technology.
To complete the transaction, confirm the same by tapping the required button in the app or enter your password.
Keep holding the phone over the terminal until the payment goes through.
Six features of digital wallets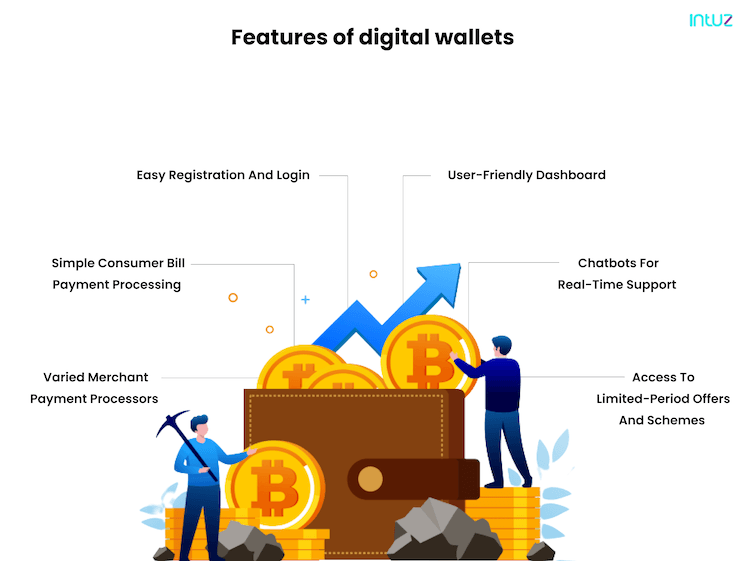 Varied merchant payment processors
Digital wallets enable businesses to accept payments in multiple plays, typically through debit and credit cards. The merchant account establishes an agreement between the merchant acquiring bank and an acceptor for settling payment card transactions.
Technologies such as QR scan codes and contactless NFC have made it possible to transfer money and make payments, minus human intervention.
Simple consumer bill payment processing
Digital wallets offer, perhaps, the most convenient option for instant payments. Mobile recharges, electricity bills, flight tickets, and even loan EMIs can be taken care of online. Moreover, these wallets come with auto-payment options and bill alerts so that consumers can avoid a surcharge for late payments. 
Easy registration and login
One can conveniently create an account without paying any fee or hidden charges. Almost every digital wallet ensures that. All users have to do is:
Download and install the app.
Sign up through a mobile number or an email address.
Confirm the registration through an OTP.
Link the wallet with a UPI ID.
Add cards or money to the wallet.
User-friendly dashboard
Whether you are a merchant or a consumer, digital wallets have a user-friendly interface and dashboard. That way, the end-users can keep track of all payments and manage financial activities from the backend.
The end-users can check balance, access in-app features, add money to the wallet, and access reports of their finances anytime. Consumers can also set up limits of monthly spending from their dashboard.
Chatbots for real-time support
Integrating a chatbot in the digital wallet enables merchants and other businesses to stay in touch with their customers 24/7. On the other hand, the latter can reach out to a chatbot if they have a question or query regarding the wallet.
This functionality makes the digital wallet seem more reliable. Moreover, the chatbot can be fed answers to simple questions. Anytime a case is too complex, consumers can create a ticket within the chat window itself and seek help.
Access to limited-period offers and schemes
Depending on the type of digital wallet businesses use, they can develop various loyalty programs, and discount coupons and cashback offers to encourage their customers to download and shop from the wallet.
Six types of digital wallets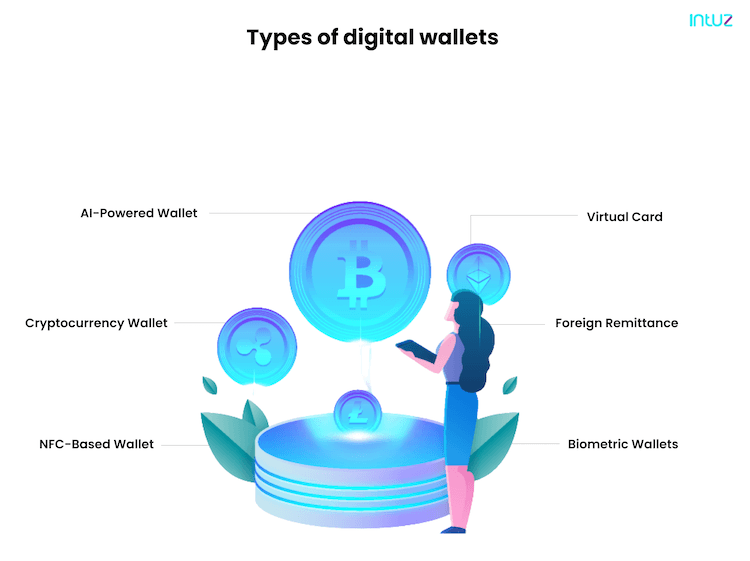 AI-powered wallet
This kind of wallet takes consumers beyond the payments and digital banking capabilities. For starters, they can improve the management of their financial health through a well-designed admin panel. Integrating chatbots within the wallet can enable them to solve their payment issues faster. AI also helps reduce the occurrence of fraud in transactions.
Cryptocurrency wallet
A cryptocurrency digital wallet is a physical medium that stores the private and or public keys for cryptocurrency transactions. Besides, it offers the functionality of information encryption. More than 64 million cryptocurrency wallets exist today, with the total number of users being 71.4 million.
NFC-based wallet
NFC or Near-Field Communication is a mode of wireless transfer data which allows laptops, tablets, smartphones, and other devices to transmit and receive data over a short-range securely, usually not more than 4cm.
The global NFC market is estimated to be worth $47.43 billion by 2024. NFC is often considered an upgrade of the existing RFID technology and powers contactless payments through digital wallets such as Apple Pay.
NFC-based wallet payments are more secure because the technology moves the info (card details) to the location gadget (NFC reader) quickly, leaving little scope for data leaks.
How do NFC-based wallets work?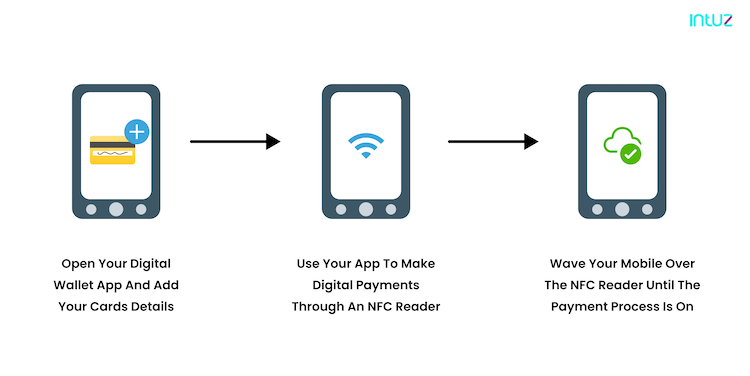 Virtual card
A virtual card is a unique credit card number that offers an easy and secure way of transacting digitally without exposing the primary credit card account number to the merchant. Consumers can limit a virtual credit card number for single merchant use.
Foreign remittance
It defines the transfer of money from foreign workers to their near and dear ones residing in their home countries. Foreign remittance also goes by "worldwide settlement."
In many countries, this settlement constitutes a significant portion of the economic growth as calculated by the GDP.
The large volumes of international money transfers have called for the digital wallet app development, particularly for foreign remittance, to offer greater convenience to the users — at a much lower risk of cash loss and unnecessary international surcharges.
Biometric wallets
A type of digital wallet, it uses biometric authorization to limit the risk of data fraud and extortion. It digitally stores many paper identification documents such as credit cards, driver's licenses, passports, and personal medical records, to name a few.
Biometric technologies include:
Fingerprint recognition
Facial recognition (e.g., selfies)
Iris/retina scans
Six reasons for businesses to accept digital wallets today
If businesses start accepting wallets today, they can: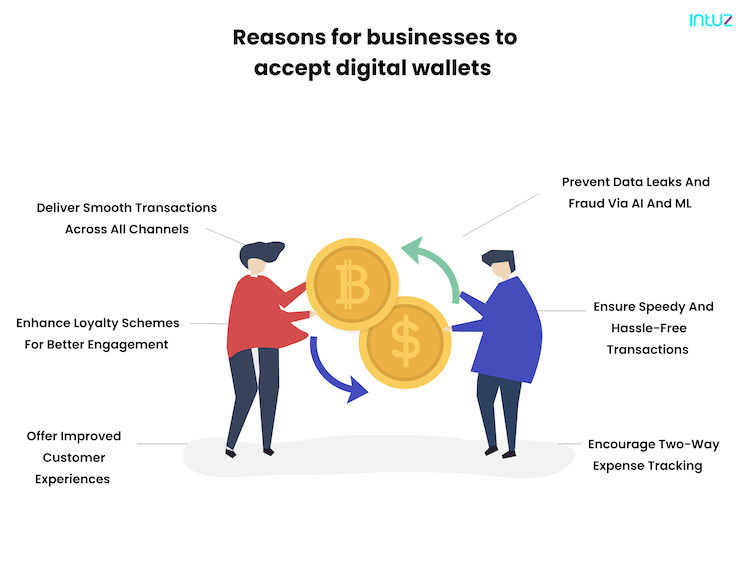 Offer improved customer experiences
If you want more consumers to use your offerings, you must make spending easier for them. Gone are the days when we would make our payments on the desktop. Today, mobile transactions have taken precedence over everything else and how! You see, customer experience should be frictionless. Digital wallets enable smooth payments all the way.
Enhance loyalty schemes for better engagement
Did you know 69% of consumers are likely to use a loyalty card on their smartphone? Moreover, 73% are likelier to join a loyalty program if their points get automatically updated on their mobile loyalty cards.
If you do not allow your customers to collect points when they shop from you, that they can redeem through a digital wallet, you are missing out on fail-proof customer engagement. 
You could partner with any digital payments company and ensure your customers boost their points by shopping from you more and increasing the use of digital wallets.
Deliver smooth transactions across all channels
Today's consumers do not want to waste time pulling out their physical wallets when they already have a phone in their hands. If they are at the POS, all they want to do is wave their digital wallet app across the NFC reader and complete the transaction.
Similarly, if they are shopping on your native mobile app, one payment mode should be the digital wallet. In a nutshell, please give them the flexibility to pay however they like. Digital wallets are channel-agnostic!
Prevent data leaks and fraud via AI and ML
Integrating AI and ML capabilities in digital wallets can help businesses track frauds and theft efficiently. Interestingly, many banks have already invested $217 billion in AI-based apps in a bid to fight fraud detection and safeguard their customer data.
Ensure speedy and hassle-free transactions
Digital wallets can accelerate the cash flow since mobile payment processors transfer money to a bank account within three working days. No wonder digital transactions are seamless and happen in the blink of an eye.
Encourage two-way expense tracking
Digital wallets offer a wealth of data about consumers. From their spending to shopping frequency, it is easier for merchants to look up history and better study customer behavior. On the other hand, businesses do not need to purchase expensive POS equipment or invest in paper and ink. Digital transactions are, in fact, cheaper than the traditional model.
Digital wallet apps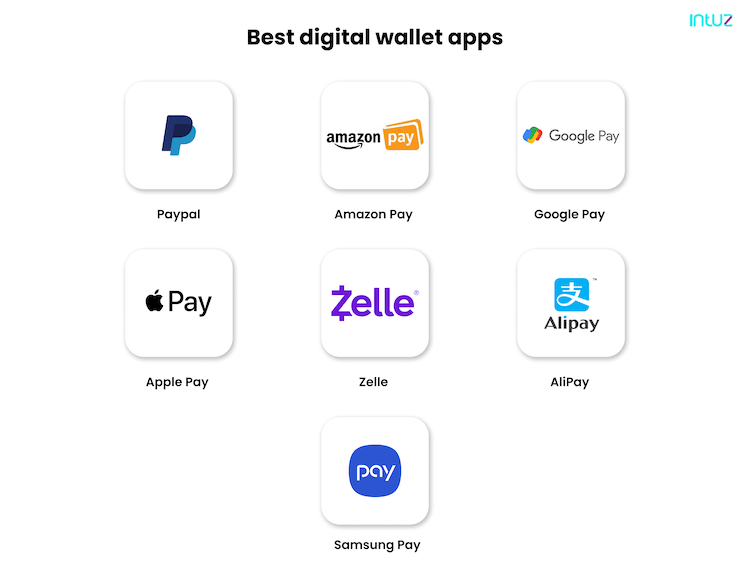 The money transacting platform is a pioneer in allowing international transactions — especially back in 1998 when options of sending money to other countries were zero. PayPal supports 25 currencies. It is more secure as it keeps the sensitive information of both buyer and seller private. The transactions made through the app can be easily tracked.
It offers the most secure way of making payments. Users can use their original Amazon account to transact. The app is available on both web and mobile and can be integrated with Alexa — enabling users to give commands to Alexa during the checkout. Users can also split payments.
Although established in 2015, it started gaining prominence in 2019. It has a simple funding process, and users can directly link their bank accounts to the app account. The API integration is quick and easy, and all information is strongly encrypted. Google Pay integrates with an audio-based QR system for easy payments.
Only for Apple devices, it offers a simple way to make payments with the help of Siri. The user can give voice commands to ensure the transaction gets done securely. The only thing is it does not let the users save their card information.
This, although safe, can be a hassle for those who plan on using the wallet regularly. It does, however, allow the users to save their important documents on the app.
This is the most popular digital wallet in the US. If you want to transfer money quickly to the bank accounts of your near and dear ones, Zelle can help you. Just by adding the payee's info, you can start the transfer process. All P2P transactions made via the wallet happen in real-time. There is no processing fee levied on the users.
A product of Alibaba, it has more users than any other digital wallets. It has strong encryption and provides complete reimbursement in case of fraud or data leak. Until 2019, it was a pioneer in cryptocurrency app development due to its transactions related to cryptocurrencies.
It offers a Pandora box of financial services and allows users to pay however they like, including QR code scanning and simple bank transfers. Samsung Pay provides rewards and vouchers to users after every transaction and helps them with their credit score.
Digital wallets are the future (and the present)
There is no doubt in our minds that digital wallets are here to stay. Even before the pandemic, consumers were shifting towards digital wallet payments. The change in mindset has only accelerated in the past 12 months.
Despite the level of convenience they offer, wallets may not outbid the use of physical wallets because many government-issued IDs must be carried in physical form. Moreover, digital wallets need to be adopted universally across all industry niches.
Many businesses like gas pumps still require consumers to swipe a credit card. But it is only a matter of time when everyone gets the hang of using digital wallets. If your business wants to leverage mobile payments and digital wallets, do it now because the future is here. Read here the detailed guide on mobile app development.