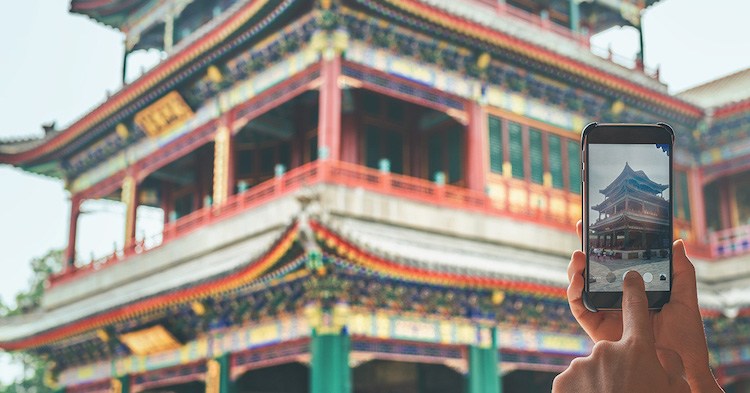 China represents the largest app market in the world when it comes to time spent. For publishers, that's an opportunity that shouldn't be ignored. But given the complexity and uniqueness of the Chinese market, it's also one that requires a good deal of foresight and prudence when formulating an app's strategic approach to the market. 
Tapping into China's mobile economy requires publishers to have a full understanding of what makes the country and its users different than other markets. After all, what might be an effective strategy in the West could fail to make an impact in China. In this article, we'll take a look at both the unique challenges facing app publishers in China, as well as the significant opportunity. 
Governmental Hurdles
China's governmental restrictions are no secret within the tech sector. Within China, some of the biggest technology companies in the world are blocked by the government or have willingly withdrawn—instead of complying with strict censorship controls. Those without a presence in China include Google (along with YouTube), Facebook (along with Instagram and WhatsApp), and Twitter. 
Without the presence of these massive international players, homegrown Chinese services dominate. While many popular apps in China can be compared to a Western counterpart, most of the local apps offer a variety of functions that go beyond their Western counterparts. The most popular app in China, by far, is WeChat. It is commonly referred to as a messaging service, but also offers mobile payments, a marketing platform for brands, and even a dating feature. More than 15 million companies have accounts with WeChat, which has become popular both for social and business purposes. In other words, when you think of WeChat, think of Facebook, LinkedIn, Yelp, and so much more—all rolled into one. 
The governmental controls on the internet—sometimes referred to as the "Great Firewall of China"—are many. But just because some big tech players are unable or unwilling to play by the rules does not mean that other publishers cannot. Here are a few of the things to expect:
App publishers cannot use their apps to negatively impact national security, distribute illegal content, or "upset social order."
Publishers must authenticate the identities of their users and tie these online profiles to real citizen ID cards.
Publishers have to ensure that their in-app content doesn't infringe on the intellectual property rights of others.
Apps must receive clear consent from users when it comes to collecting data such as geographic locations, camera access, and other functions.
App Store Challenges
In China, Android phones dominate the market with a 75 percent market share compared to 22 percent for Apple's iOS. However, with the Google Play Store blocked in China, the app store landscape is complicated. Hundreds of fragmented Android stores compete in China, and there is no clearly dominant app store. MyApp, created by Tencent, remains the biggest store with a 24 percent market share. Following MyApp are several stores with double-digit coverage.
This fragmented app store landscape is not ideal for app publishers. Gaining access to each store requires finding a local distribution service provider to navigate the complicated process. It is not a perfect situation, and it puts foreign publishers at a disadvantage. Unfortunately, meaningful consolidation of China's Android app stores is unlikely to happen anytime soon.
Big Audiences, High eCPMs
Challenges aside, the opportunity for app publishers in China warrants serious consideration and investment by publishers. Smartphones are important to people around the world, but that is especially true in China. These all-in-one devices are assumed for many daily transactions. For example, a restaurant might not offer a physical menu at all. Instead, customers scan a QR code (yes, QR codes are huge in China) at the table to access a digital menu where they can make an order while automatically paying. (Even streetside vegetable vendors often only accept mobile payments.)
As of 2018, China's 690 million smartphone users represent an impressive audience, and smartphone penetration within the country continues to grow faster than in more mature markets like the U.S. Here at Smaato, we've seen evidence of China's increased smartphone penetration rate in the growing number of ad requests on our platform. The growth has been impressive, but smartphone usage rates still have not reached their full potential.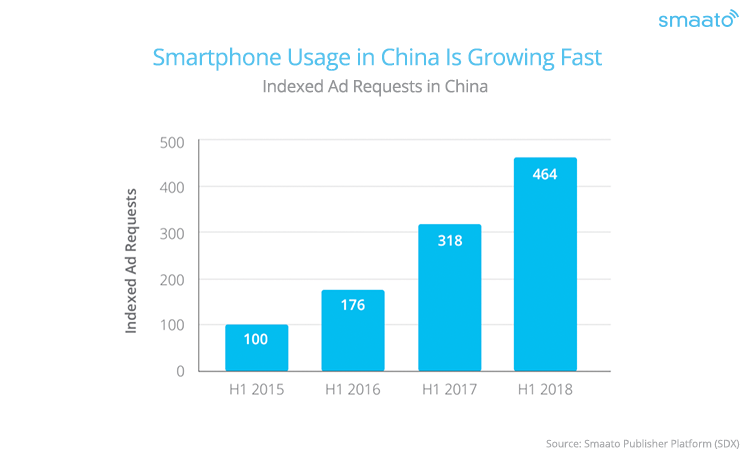 The heavy usage rates and growing ubiquity of smartphones among Chinese consumers means a wide variety of people can be reached by advertising. Meanwhile, the growing spending power of the Chinese audience also makes this an attractive market for app publishers. It is projected that by 2022, 61 percent of China's urban households will be considered upper-middle class or higher. In 2012, when the iPhone 5 first launched worldwide, only 17 percent of urban households were regarded as upper-middle class or higher.
Perhaps more importantly for app publishers, China is currently leading APAC in a key mobile advertising indicator: eCPM. And with brands increasingly competing against each other to reach Chinese consumers, it's likely that eCPMs in China will remain high for years to come. 
App Publishers Must Take Advantage
The challenges to entering the app market in China are real. From navigating the app ecosystem to understanding the latest government regulations, publishers have to be prepared. That said, the mobile realities of China have created the perfect storm of conditions for publishers to dramatically increase their revenues. The growing number of mobile users and the enormous size of the app market in China is a dream come true for app publishers.