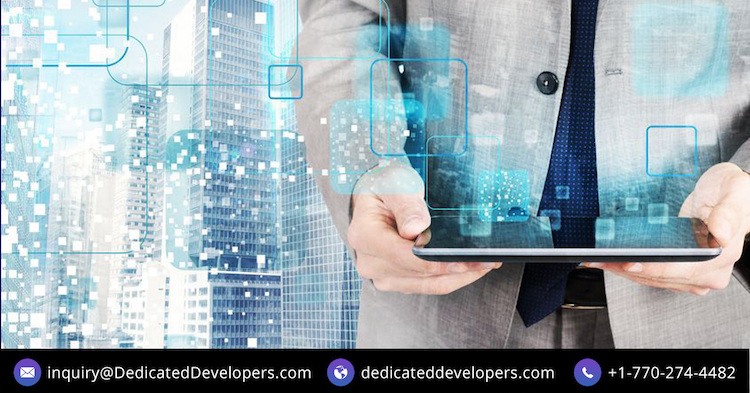 Introduction
Over the last decade, the use of mobile applications has grown at a rapid pace, and it's still going strong. It's been predicted that by 2020 over $180 billion in revenue will be generated by mobile apps through in-app advertising and app stores. A large number of businesses are investing in hiring mobile app development services and building mobile applications to restructure their operations and engage customers to compete in the global market.
Mobile apps for business processes are handy, especially when it comes to daily business operations. Having a mobile app for your business is very important to develop the brand of the company. Nowadays, mobile applications created for the operational side of business is gaining traction. Mobile apps help business processes go smoothly. The use of personal mobile devices to access company data by employees is also on the rise with the shift in regular work habits.
There are several benefits by having a mobile app for your business processes and in this article we'll discuss these benefits, the types of mobile apps for businesses as well as the procedures for accelerating your business with mobile app development. 
Types of Mobile Apps for Business Processes
Depending on the setting of the organization, there are different types of mobile apps for business processes. Companies can hire dedicated developers or top app development companies to build mobile apps depending on their needs. The following are the various types of mobile apps used for business processes.
Payment Processing Mobile Apps
Content Management Mobile Applications
Customer relationship management Mobile Apps
Order Management Mobile Apps
Customer Support Mobile Apps
Email marketing Systems Mobile Applications
Resource planning Mobile Apps
Human resource management Mobile Applications
Benefits of Mobile App Development for Businesses
There are several benefits that mobile apps offer businesses both in the short and long term. With mobile business apps, the workforce can easily share ideas and engagement. As well an increase in creativity is fostered. Businesses employ top app developers in the USA or hire dedicated developers to build apps for their business processes because of the benefits highlighted below.
Related Article: Speed up Your App Development Using Laravel
Increases Working Efficiency 
Organizations and businesses are investing in mobile app development services to increase the productivity of the workforce and provide better flexibility. Companies are making use of mobile apps in different areas like project management, sales, business intelligence, inventory, and more. With these mobile apps created by top app developers in the USA, business processes will be accelerated as employees can access the online tools while on the go. Business workflow mobilization is also possible with the use of these mobile applications. 
Revenue Increase
When top app development companies develop mobile apps for businesses, these apps help optimize the internal processes of the business. They're also used to engage customers externally as well as increase revenue. Reports have indicated that mobile accounts for over 50% of online transactions in most regions in the world, and in-app purchases are dominating as well.

Drives Engagement
Companies that hire dedicated developers to build apps for their business processes will have more engagement with customers than those without apps. These business apps are used to send notifications and offer discounts or loyalty programs. They're also used for direct communication with customers.
Customer experiences and satisfaction improves with the use of mobile apps as employees are able to respond to customer's needs immediately. When companies invest in mobile app development services, employee engagement is also boosted with features that keep them up to date with their various tasks.
Other benefits of mobile apps in business processes include:
Increase Competitive Edge
Increase Business Process Efficiency
Accelerate Decision-making processes
Related Article: What Should You Know About the Apple Credit Card?
Technologies Used to Develop Mobile Apps
Before companies hire top app development companies to build a mobile app for their business process, they have to select the platform they want to develop the app on: Android or iOS. Most businesses go for the Android platform because it has over 60% of the market share. The advantages of iOS, on the other hand, are homogeneity and integration. Some top app developers in the USA choose to build on both platforms to reach a wider audience. Highlighted below are a few of the technologies used to build mobile apps for business processes.
Swift
React Native
Kotlin
Flutter
Unity
JQuery
Ionic
Factors that Drive the Acceleration of Your Business Processes with a Mobile App
Every company wants its mobile app to be a success, to get a complete return on investment on the mobile app development service. However, different factors will determine the acceleration of your business processes with mobile applications. These factors are highlighted below:
The Mobile App Must Be Adaptable
Businesses need mobile apps that can adapt to different business environments, where business processes are continually changing. This means that when you hire top app development companies, ensure they configure your app to make it easy to be customized and adapt seamlessly to the ever-changing business situations.
Security is Important
A critical feature of any mobile business app is security. This means your mobile app must have the essential security architecture to protect critical information, customer data, and business process details. Business apps with poor security will fail and will affect the business process adversely.
Regular App Updates
Users will deactivate an app that is not updated regularly. A business that collects feedback and insights from users and implements it into their update strategy will have its business processes accelerate. Customers will be more likely to trust your brand when there are regular updates fixing bugs and adding new features.
To Wrap It Up
It's essential to hire dedicated developers that specialize in the technologies you need for your mobile app. Mobile apps improve the business processes for companies, so it's crucial to invest in having them to improve the chances of your company competing in the global market.
To know more about App Development Services reach us at +1(770)274-4482 or visit our website Dedicated Developers. Reach us at inquiry@DedicatedDevelopers.com