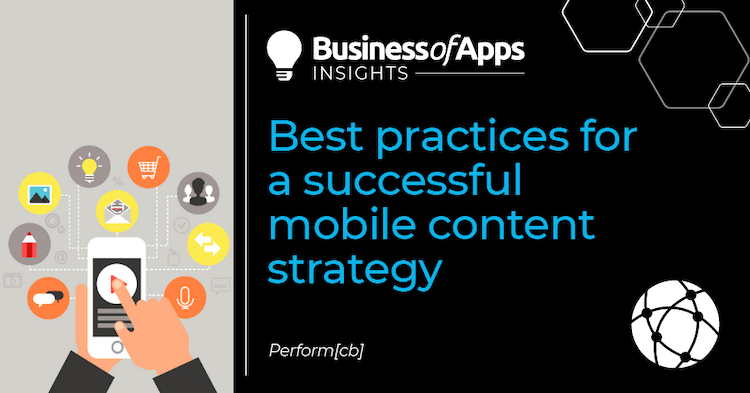 Consumers continue to spend countless hours scrolling through their mobile devices, exposed to thousands of ads daily. When finding new ways to reach consumers, app marketers can unlock success by incorporating content throughout their mobile marketing strategy. In order to remain relevant in this growing digital age, marketers must create content that is optimized for mobile. Mobile commerce accounts for 73% of the market share across all e-commerce sales. Mobile content marketing is an effective way to engage with this generation of increasingly mobile-first consumers. 
Desktop content vs mobile content
As we enter Q4 2021, mobile devices make up over 54% of traffic worldwide as users spend more time engaging with content via the mobile web. Content marketing is no longer a desktop-exclusive strategy and many mobile marketers are taking note by creating more sources of content via mobile web and in-app. Content marketing is a great way to reach consumers while avoiding the traditional in-your-face advertising that many marketers have shifted away from. Today's consumers expect a convenient and seamless user experience. Even a one-second loading delay decreases customer satisfaction by 16%, conversions by 7%, and page views by 11%. Marketers must make sure that all content being produced is fit for mobile. 
Globally, 68.1% of all website visits in 2020 were driven by mobile devices — a notable increase from 63.3% in 2019. Google has been prioritizing mobile-focused websites over desktop-only since 2019, meaning websites that are designed for a mobile-first experience are indexed higher than those that are not. A mobile-optimized website is critical to driving SEO, as is loading speed, removal of interstitial pages, and inclusion of all content from the desktop version. 
Marketers should be creating content that will fit the specific device their audience prefers. For example, more than 75% of all video views come from mobile devices, and video advertising is expected to account for more than 51% of mobile ad spend by 2023. Additionally, Google found that 83% of viewers are watching videos on mobile, while only 53% watch videos on the desktop. Video marketing is more beneficial on mobile because many smartphone users are forced to watch in full-screen on their devices – completely focused on the video. On the other hand, desktop screens typically display video ads in conjunction with other written, visual, or animated content, which can distract users from the ad content. While the mobile video is just one of many content strategies, marketers must employ the following best practices in order to drive campaign success. 
Mobile content strategy best practices
Mobile content marketing is different from any other form of mobile marketing in that it's proven to be more engaging and cost-effective. Creating content that is useful, educational, and valuable to your mobile users will increase brand awareness and loyalty while simultaneously driving users down the funnel toward the desired conversion point. Whether marketers are creating content for mobile web or in-app, content must be designed for the optimal user experience based on device type. With consumers increasingly using mobile devices to search for information, it's no surprise that average smartphone conversion rates are up 64% compared to desktop. At Perform[cb], many of our top mobile marketers have found success with in-app advertising. Check out how Drizly, the #1 alcohol delivery service, saw a 90% eCPA decrease on new purchases after achieving meaningful volume through a mix of in-app, display, and video content with Perform[cb]'s partner network. Creating strong mobile content takes time and preparation, and there are many factors that go into a strong mobile content strategy – let's break them down.
Know how to target your audience
Consumers live fast-paced, on-the-go lifestyles, and continue turning to their mobile devices for quick, short-form information. Mobile content needs to be engaging and concise to reach consumers who are constantly on the move. Since most consumers carry their cell phones with them wherever they go, mobile marketers can deliver location-based, geo-targeted content marketing. 
In addition to location-specific targeting, mobile marketers must ensure their content is personalized based on the intended audience's user insights. Personalized content entails tailoring the experience to meet the needs of a specific user or target audience. By creating personalized content with user insights learned through internal data and testing, marketers have been found to reduce customer acquisition costs by up to 50%. Check out how a well-known home improvement marketer used Perform[cb]'s proprietary hyper-targeted lead tier system to geo-target by state, thus increasing quality lead conversions by 1,917%. 
A/B testing and user insights
In order to further resonate with mobile consumers, marketers must take advantage of the ability for A/B testing. The beauty of mobile content marketing is that there is room for testing users through content and the various channels being used, observing and comparing data such as engagement, conversion rate, clicks, installs, etc. 
Marketers can learn more about their audience's content preferences by taking advantage of in-app reviews and ratings. This feedback has played a pivotal role for mobile marketers in 2021, and can substantially reduce user acquisition costs by learning users' pain points and working to promptly address them. By employing user data and insights, mobile marketers can learn which types of content and calls to action resonate best with their target audience.
At Perform[cb], our affiliate partners running mobile traffic are provided with simplified A/B testing using PerformLEAP's Weighted Distribution feature. Learn more about how this feature saves time and drives accurate reporting for mobile campaign testing.
Following the shift to mobile commerce
Consumers are more reliant on their mobile devices for any and all shopping needs than ever before. Over half of US mobile users browse, search, and purchase on mobile devices regularly at home. As brands take note of this, many marketers have shifted towards optimizing their social media content for shopability. Mobile shopping is designed to be quick, simple, and seamless for the user, with a one-platform in-app shopping experience. With the unprecedented growth seen in mobile app stores following last year's periods of extended quarantine, in-app spending is at an all-time high with $34 billion spent in Q2 2021 alone. 
Mobile content marketing has been a driving force in guiding consumers down the funnel toward the desired point of conversion. At Perform[cb], a popular mobile lifestyle brand was interested in testing content marketing to optimize their affiliate program. Upon securing premium content placements with top content publishers, this brand was able to drive a 444% increase in revenue while increasing their conversion rate by 34%.  
Future of mobile content
It's key to focus on the importance of creating content not only with a mobile-first approach, but also with user insights and preferences in mind. As consumers spend more time on mobile, it will become increasingly important for mobile marketers to provide a seamless, personalized mobile web and in-app experience. By applying data-driven content marketing strategies based on user insights, mobile marketers are nearly guaranteed success among the constantly growing competition.  
If you're a marketer looking to enhance your mobile campaign performance or strengthen your content marketing strategy, you'll need a performance marketing network that works as an extension of your internal team.
Reach out to Perform[cb]'s team of mobile experts to learn more about how we can maximize ROI and scale your mobile user acquisition today.