There comes a moment in every app's development when marketing must expand beyond the Facebook and Google duopoly. At this crucial stage you need to choose and implement a mobile attribution tool. Choosing the right platform and partner can save your significant time and resources – setting you on a pathway to success.
This guide is for app developers who are looking to reach more users and measure their lifetime value, therefore ROI of campaigns.
This article was originally published on AppAgent blog.
The Big 4
There are four major attribution platforms: Appsflyer, Adjust, Kochava and the newest player on the market – Branch. It is also worth mentioning Singular, which we didn't include in this article because it is aimed primarily at larger companies.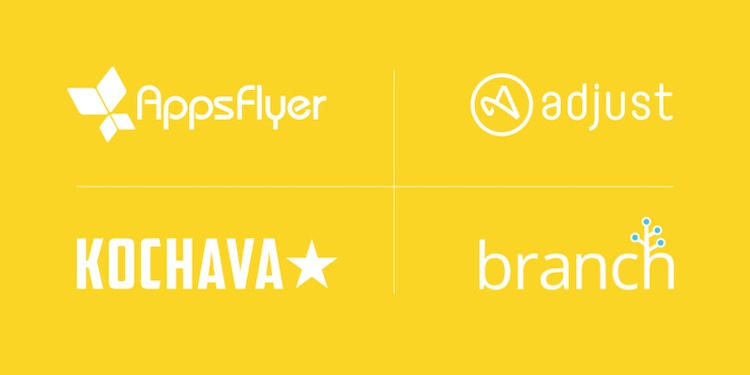 With any of them, you can:
Measure the initial click;
Attribute the click to the install; and
Notify partners of installs and events through server postback URLs.
Let's take a closer look at each of them.
Mobile Attribution Tools Analyzed
AppsFlyer is a mobile app analytics & marketing software that enables businesses to track and optimize their acquisition funnel.
Basic Facts
The platform is primarily developed for marketing professionals, who use data for decision making to give all the necessary tools to make the most of their activities.
It provides flexible reporting, deep analytics and performance metrics.
With established external integrations it is possible to attribute campaigns from a diverse pool of media sources, including TV broadcasts.
Raw data available for a fee as well as free trial for one month
Main Advantage
Features as Protect 360 and Audience builder which allow users to run audience-based UA campaigns. Appsflyer claims you don't have to worry about fraudulent installations.
Our Recommendation
You will definitely not make a mistake with this choice. The price of such a tool might not be as attractive as its functionality so we understand why smaller companies out there are searching for better deals.
Adjust is a tool for tracking mobile app events that can be used as both an app analytics and attribution platform.
Basic Facts
Adjust is one of the leaders in the industry with clients such as Zynga, Spotify and Rovio mostly because of a high security and data-protection policies that Adjust, as a German company, puts upfront.
It is a tool for mobile attribution, app analytics, store stats data, campaign tracking, cohort analysis and KPIs for apps, etc.
They support a large number of different media channels (including non-digital ones).
After the acquisition of Acquired.io and Unbotify in late 2018 – early 2019 the company has gained a strong automation and anti-fraud capabilities.
Raw data available in the second tier or higher as well as free trial for one month
Main Advantage
Adjust is using its own private cloud infrastructure, instead of a third-party solution (AppsFlyer, for instance, uses AWS). As a result, they have the most security certificates from their competitors.
Our Recommendation
Another solid solution for teams of all sizes. Especially useful for projects which want to test viability of UA acquisition and don't want to sign for annual contracts. Highly versatile, but again, the price can grow quickly. See how it is compared to the others below.
Kochava provides a holistic and impartial analytics platform, which helps marketers during all the stages of their work: from research to campaign optimization.
Basic Facts
Kochava allows to integrate the data with a wide selection of third-party tools, complementing a unique analytic stack for each company.
Raw data available for free users as well as free trial
Main Advantage
Kochava offers a full version for free if you agree to share your data. If you're an indie developer, you might appreciate having access to such a tool.
Our Recommendation
This is a solid tool for smaller companies, who are just starting to get their heads around the attribution and marketing analytics. It is cost-effective, organics data goes for free and has all the necessary integration to get up and running with UA.
Please note, that Kochava is a US-based company with a support team located there. From our experience, even though their support is really good, it can take some time for them to get back to you if you are located on the other continent.
Branch helps mobile apps to grow with deep links that power paid acquisition and re-engagement campaigns, referral programs, content sharing, deep linked emails, smart banners, custom user onboarding, and more.
Basic Facts
Branch is fundamentally different from all other attribution partners out there, as it is primarily focused on people-based attribution.
Branch uses automatic cross-platform identifiers to help marketers recognize users across both web and app in order to retarget them across both platforms.
Raw data for paid users available.
Main Advantage
It recommends itself as being extremely beneficial to e-commerce companies, who have a really intertwined customer journey, allowing them to consistently see all the channels users interacted with before converting.
Our Recommendation
Unfortunately, we have very little experience with this MMP to date and we rarely recommend it to our clients due to the pricing model.
The pricing model is based on MAU base, rather than acquired installs and that way it wasn't a good fit to our clients.
Comparing Mobile Attribution Providers
Here is a quick summary of what these attribution providers offer.
Last point for the comparison is the number of ad networks. Whenever you decide to proceed with one of these, don't forget to check if all your key networks are connected with the chosen MMP.
Below is AppAgent's decision tree built for our clients that should help you to quickly decide which solution is the best for you.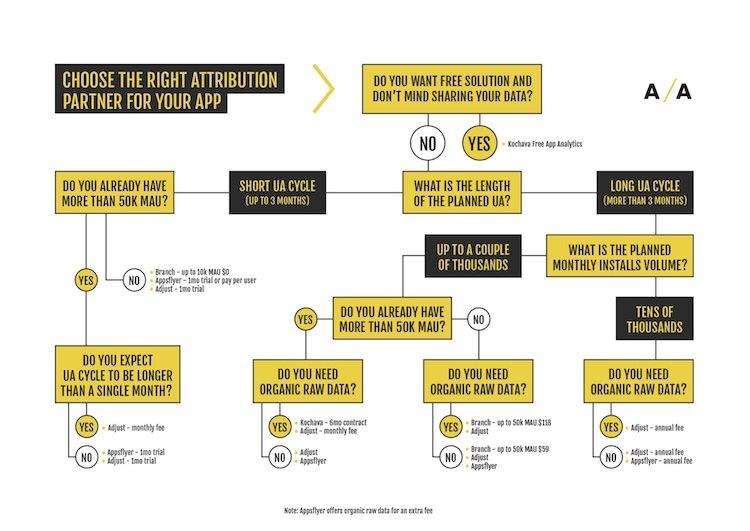 Let's see how this chart can be applied to real cases.
Some Appagent Examples
Starting app
A career & recruitment platform that makes job search easier by having private casual talks between job seekers and employers. It is based on a Tinder-like idea of matching, where your skills are being appraised and compared to the desired skill set of a recruiter.

Mid-sized app
Board by Budgetbakers
A mobile-first business management platform that combines business planning, sales tracking, and cash flow management. Board allows to track sales, monitor due dates, plan profitability and enable entrepreneurs to always be up to date with their business by its powerful automated reporting.

Top brand app
A low-cost flight booking engine with an extensive database of budget flights in Europe. It's most unusual feature – Nomad – allows travellers to plan the whole trip by searching for routes to multiple cities from several starting points or finding destinations within a particular radius. Additionally, the company also works with a diverse set of partners to bring special deals on things such as car rentals, travel insurance and hotels.

As you can see in this article, the choice of the right attribution platform is dramatically influenced by the needs, timeframe, expected UA volumes and MAU of your app. We hope that our examples will allow you to make the best decision in a timely manner.
If you have any doubts or would like to get support to integrate your chosen partner, AppAgent can help. Also, AppAgent offers custom product and marketing analytics providing a full-funnel view on your mobile business for an affordable price.
Contact us for details at roy@appagent.co.