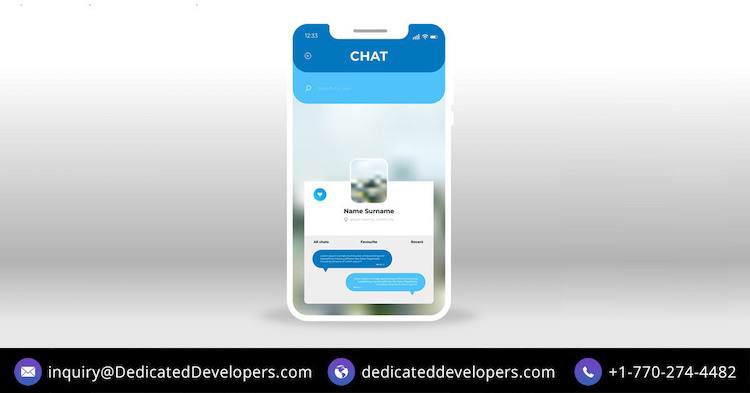 Did you ever feel out of place when you're using an app and probably need more information on a product or some service? Let's face it – a lot of times people only feel this way if they're not able to get in touch with a real life customer service representative because, we'd rather talk to someone on the other end than get to experience a series of programmed responses that, believe it or not, may not address the problem we might be having.
While this article is not meant to entirely to explain how customer service works, it's more to help you understand why you, as a US based mobile app development company or an entrepreneur, will need to integrate a live chat feature in your app. All of these benefits will apply irrespective of the fact that you may be creating Android app development services or iPhone app development services.
It Saves Costs
The live chat option is prominent because of its ability to save costs by allowing for multiple chats at one time. Have you ever had to call a customer service hotline and get held up perpetually because there's no one available at the moment to talk to you? That happens when there's a shortage of manpower.
When you have the option of a live chat integrated into your business app you can respond to multiple chats at the same time and you won't have to hire a lot more people than is necessary. Of course you'd have to hire dedicated developers to achieve this but it does save you time and money.
Helps your conversion rates
If users had to use an app that redirected them to another page or another app entirely, especially when they made certain inquiries, they'd definitely walk away. This is what happens without the live chat feature in your app. This is called the bounce rate. When you install, with the help of Android app development service or iPhone app development service, the live chat feature in your business app cuts down your bounce rate and increases your conversion rates.
This means a whole lot more people will become customers. You should understand that people do a lot more with their mobile devices than purchase, since they can uses devices from anywhere at any time. So if you're a mobile app development company in the USA, you should advise your clients accordingly.
Related Article: Cost and Features to Develop a Web Application
Better Service
When you consider the chart of response times between email services, social media and live chat, you'll realize that the live chat feature is the best. Email has a response time of about 17 hours, social media accounts for business pages have a response time of about 10 hours but if you decide to try the live chat option, you could get responses back in 2 minutes and this is indeed a better service for your customers and clients.
When you hire dedicated developers for your app and have this feature installed, you could also improve marketing of your product or service. Similarly, a live chat option is better because you get to talk to a real life customer service representative who is ready to give you all the help you need. The service has a personal touch and they can even help users understand your products better and offer solutions when they're in astate of confusion.
In the 21st century a lot of clients and users have become increasingly impatient when surfing. If they intend to purchase an item on an app, they require instant services otherwise they'll bounce. On average they'll lose patience after 10 minutes which is why you definitely need the support of a live chat on your app.
Related Article: Dealing with the Dilemma: Mobile App or Web Application to Choose First
Reviews
We all know people definitely talk about the bad and good experiences they may have had when using several services or products. The thing is, when people make provisions for the review button on an app, they usually envision good reviews. An angry or dissatisfied client has the capacity to leave a bad review on your app which could affect other users decisions.
There are people who only buy an app after they've read the reviews alongside the specifications. They're on the lookout for bad reviews which will lead to them running away. This is what you need to avoid and a good way to start is to improve your response time with the use of a live chat feature. As much as possible, give room for the kind of reviews that will draw people to your app and not chase them away.
Competition
If you run a mobile app development company in the USA, whether you offer Android app development services or iPhone app development services, if you include the use of a live chat feature in an app for your clients, it's likely to take your brand over the edge. There has been a 95% customer satisfaction rate when it comes to the use of the live chat feature and it's definitely worth emulating. There are a wide variety of brands and businesses that now have apps for easy reach. This feature is one of the things that will set you and your app apart. At this time, the live chat feature is effective and very popular. It has the capacity to attract and retain the attention span of people long enough to get them informed and ready to purchase.
Wrapping It Up
With the help of real time responses to questions and the ability to create a smooth and seamless experience for everyone who uses your app, you could be topping the charts in your sector. You would need to hire dedicated developers and customer service representatives who will take on all of your FAQs with ease. All of the above are reasons why you should integrate the live chat feature in your app.