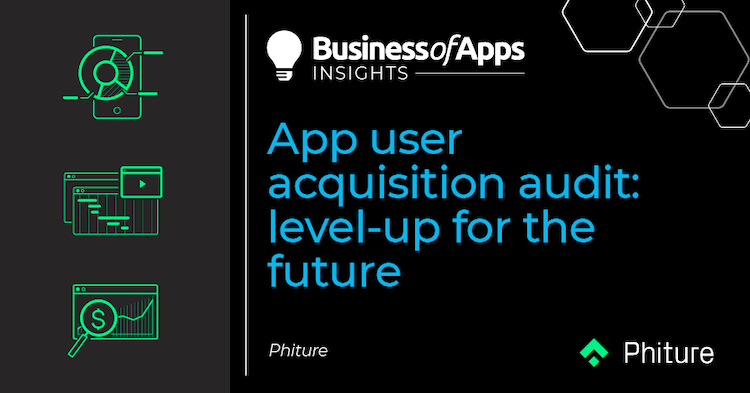 In an industry as dynamic as mobile growth, marketers need to be nimble-footed, versatile, and forward-thinking in order to develop successful user acquisition campaigns that are built to last. Aside from the ever-growing number of apps competing for users' attention in key market places, there are an untold number of elements that can influence your company's ability to acquire customers. Market trends, user engagement, and internal company changes are always among them; however, the recent announcement of new privacy requirements for iOS14, as well as the ongoing impact of COVID 19, have accelerated the need for robust and innovative new strategies. 
To help ease the struggles of mobile growth practitioners, the Performance Marketing Team at Phiture delivers bespoke company audits that scope opportunities to optimize user acquisition. Starting from the ground up, the audit reviews the specific needs of every company and provides a 360 analysis that empowers marketers with the knowledge they need to build adaptable and systematic methodologies to drive high-intent users to their app. I caught up with Phiture's performance marketing experts to discuss why now is the right time to explore new opportunities in user acquisition. 

Why should companies be thinking more seriously about investing in new user acquisition strategies?
We're still in the midst of an unprecedented period of disruption and uncertainty. The unfortunate global pandemic, as well as Apple's new privacy announcement for iOS 14, have changed the rules of the game for everyone in mobile marketing. However, change always gives rise to opportunity. Now is the time for companies to step back, look at what they're doing well –– and perhaps not so well –– engage with the new developments in the industry, and think about how to position themselves in the future. 

Andrea Raggi, Performance Marketing Lead 
In your experience, what are some of the common mistakes you see companies making with their User Acquisition strategies?
We're often surprised at the number of many companies that don't have proper strategies in place altogether and/or aren't aware of the fundamental best practices. For instance, many of the App Store visuals we see don't speak to the target audience at all and don't highlight the company's value propositions effectively. A lack of proper strategy then also reflects in the campaign structure and the way the account is organized. We also see that companies are often not mindful enough of the events they want to target within the app, which makes it difficult for them to understand where they can improve. 

Chandricka Sharma, Performance Marketing Consultant
What are some of the key challenges you foresee arising in mobile growth that can impact user acquisition in the future?
Moving from deterministic to probabilistic user acquisition has already forced many of us in the industry to rethink our strategies for the future. In a recent article, we spoke about how Apple's iOS14 privacy changes are set to transform the mobile advertising landscape and the steps we're already taking to get ready. Additionally, we're thinking more strategically about leveraging different user acquisition channels, how to budget more effectively, as well as ways to optimize creative assets and conversion tactics.

Jorieke van den Broek, Performance Marketing Consultant
How does the Phiture User Acquisition Audit help address some of these?
Using our methodical, strategic frameworks, we first look inwards and carry out a holistic analysis of the company, assess its needs, and identify areas where we can upscale strategies to meet its user acquisition targets. We help our clients understand their position in the market, analyze their competitors, and look at the industry's best practices and models before providing tailored, actionable recommendations to set them up for long-term success. After the engagement, our clients are equipped with the tools and knowledge needed to deploy key deliverables across global locales and get a leg-up on the competition. 

Andrea Raggi, Performance Marketing Lead at Phiture
Mobile growth will always be a constantly evolving industry that presents novel challenges and opportunities for businesses to navigate. However, what will remain constant is that regardless of how good an app is believed to be or the size of its marketing budget, without users – better still, highly engaged users with a real intention to use it – it will never truly get off the ground. Acquiring these users is one part of the puzzle, although it's easier said than done. Even harder still is finding a way to do it effectively in a way that keeps costs low and increases your return on investment. For expert advice on how to nail your strategy and increase your app's reach and performance, get in touch with the experts at Phiture and move your business forward in the right direction.