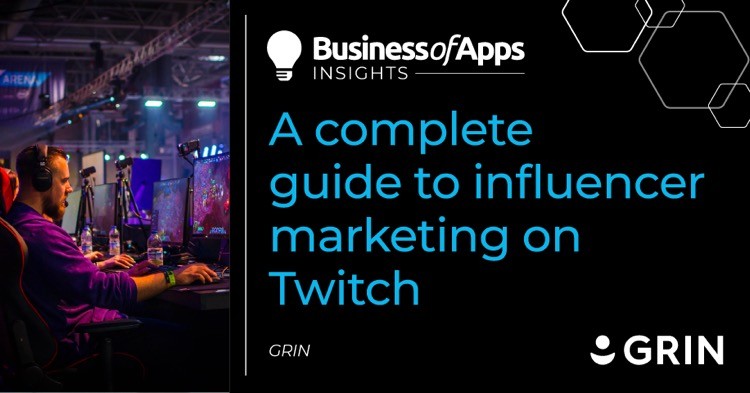 Brands that want to reach a wider audience in 2023 should look no further than Twitch—the king of social media live video streaming.
Despite Twitch users consuming more than 22.8 billion hours of content last year, most marketers still have yet to realize the potential of the platform founded over a decade ago. Now is the perfect time for brands to start leveraging Twitch creators to increase conversions and drive sales using one of the internet's most unique social media platforms.
What is Twitch?
Twitch is a live video streaming platform. It focuses primarily on gaming but has expanded over the years to include music, art, and other forms of creative and interactive content. Twitch users can choose to be notified when their favorite creators "go live" so they can watch and engage with streams in real-time.
A subsidiary of Amazon, Twitch currently has 30 million daily active users and 140 million monthly active users. A number of creators have built loyal followings with regular streaming sessions that often last for hours at a time. As a result, many of them have caught the attention of marketers, brands, and media outlets.
How does Twitch work?
Twitch gaming broadcasts generally feature a split-screen display. Users can see what the streamer sees on their monitor and can view and hear the creator on the other side of the screen. The Twitch display also features a chatbox for viewers to interact with the creator and each other.
Unlike similar platforms like YouTube Gaming, Twitch focuses solely on a community experience. User feeds have no sponsored content, nor do they use any algorithms to show specific content. Twitch does, however, allow users to purchase games through links on streams, with streamers receiving sales commissions. Creators can also sell products on their streams with affiliate links.
Twitch's audience
Twitch caters to a young audience. Nearly 75% of Twitch users were under 35 in 2022. Less than 5% of platform users were over the age of 55.
Twitch also has a predominantly male audience. Platform users were 80% male in 2022—a 13% increase from 2021.
Most of Twitch's viewership comes from the United States. More than 22% of all desktop traffic came from the U.S. in 2022, while Germany had the second-most with 6.7%.
What is Twitch influencer marketing?
Twitch influencer marketing is similar to influencer marketing campaigns on other platforms. The one major difference is that influencer promotions come in a live video format rather than a single image or a video.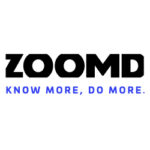 Influencer marketing is extremely effective in the gaming niche, making Twitch one of the few social media platforms with an increased focus on influencer marketing over the past two years. It is also one of just two platforms (TikTok, Twitch) that have seen an increase of at least 8% since 2019. Other, more "traditional" platforms like Facebook, Twitter, and Instagram have been on the decline for influencer marketing over that same period.
And data suggests even more user growth on Twitch over the next few years.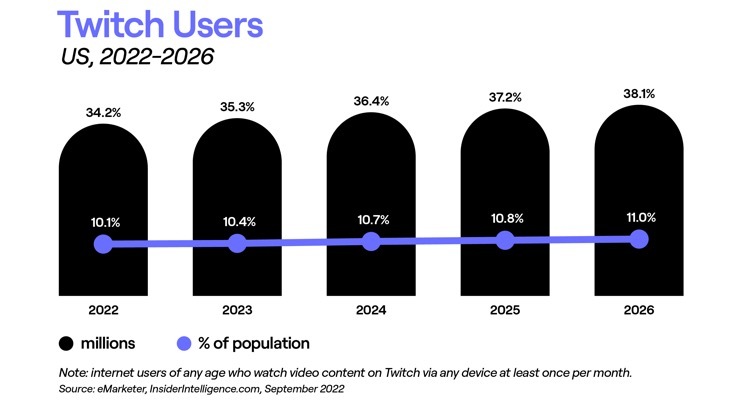 With the vast majority of streams lasting well over an hour, Twitch provides creators the chance to produce unscripted, long-form content in an intimate setting that doesn't seem unnatural or forced. By inviting users right into an influencer's personal living room, studio, or kitchen, Twitch viewers can interact and feel like they are really getting to know their favorite streamers (and the brands they promote) on a more personal level.
See also: Click here to read Influencer Marketing 101: How to Start an Influencer Program
The advantage of influencer marketing on Twitch
As more creators accumulate massive audiences and engagement on Twitch, it's easy to see why brands are pooling dollars into influencer marketing on the platform. Some of the top reasons influencer marketing works on the platform are:
High growth rate
Twitch's impressive growth rate is one of the main reasons more brands are migrating to the platform.
In 2016, Twitch had a total of about 645,000 daily concurrent viewers. That number nearly doubled to about 1.2 million by the end of 2018. Today, Twitch is home to roughly 2.5 million daily concurrent viewers.
Despite its massive audience, many brands still haven't moved to Twitch. Brands that embrace the shift now can become early adopters and start nurturing relationships with top streamers before the platform becomes oversaturated.
Live promotions
Twitch promotions are never one-dimensional. On other platforms, promotions generally end once the content is published. Those posts garner likes and short comments, but that is typically where the engagement ends.
On Twitch, the audience and the streamer are equally engaged in the promotion. The streamers can answer audience questions in real-time and even give live demonstrations of how products work, amplifying engagement and making the product the center of attention.
Deeper connections
Twitch has more than 15 million daily unique visitors who watch an average of 95 minutes of content every day. The vast amount of time Twitch users spend with their favorite creators forms a connection that is far stronger than most influencers have with their fans on other social media platforms.
Twitch's live chat option also allows creators to have a two-way conversation with their viewers to help create a truly interactive experience. This type of meaningful interaction creates an environment resembling real-life friendship more closely than any other social media channel. And with that relationship comes a level of trust that increases an audience's chances of following product recommendations from streamers.
How to find creators on Twitch
Twitch's homepage is the best place to start for brands that are new to influencer marketing on the platform.
The homepage lists recommended channels and categories, as well as trending streams. These links are a great place to familiarize yourself with Twitch's layout and learn how some popular creators interact with their fans and brand partners.
Next, try clicking on the "Browse" tab at the top left-hand corner of the homepage. This section has every streamer creating content on the platform and serves as a kind of "influencer database" as you search for the right partners.
The Browse Page can be filtered by type of content (gaming, just chatting, music, art, etc.) or by a specific video game or genre of video game (sports, RPG, first-person shooter, etc.). From within each of these content types, you can search for specific keywords or browse by trending tags to narrow your search even further.
When you find a creator you like, chances are their contact information is listed on their About Page. Send them a short message to introduce yourself. Let them know what you like about their content and why you are interested in partnering. Be clear and concise, and be sure to include some kind of call to action in your message.
Free download: Click here to get The Complete Guide for How to Find Influencers.
What you need to know about Twitch creators
Although Twitch is still the most popular among the gaming community, creators from virtually every niche have found a home on the platform. Twitch has diversified its content enough over the years to accumulate 5.6 billion hours of watched content worldwide in Q2 of 2022 alone.
Some of the most popular content types for creators on Twitch include:
Video games/eSports
Home/DIY/interior design
Beauty/fashion/accessories
Music/art
Cooking/baking
Parenting
While Twitch has helped produce household names within its own community, the platform also attracts an increasing number of mainstream celebrities.
In 2018, rapper Drake collaborated with gaming superstar Ninja on a live Fortnite stream that attracted a then-record of more than 660,000 concurrent viewers. NBA stars Kevin Durant and Trae Young hopped on the platform along with 14 other current NBA players for a live gaming event to raise money for charity. U.S. Rep. Alexandria Ocasio-Cortez even found herself on Twitch ahead of the 2020 presidential election to encourage young people to vote while live streaming the popular game "Among Us."
Brands succeeding on Twitch
Since gaming is still by far the most popular pastime on Twitch, gaming brands are currently the most common advertisers on the platform. But as Twitch expands to accommodate streamers from all walks of life, plenty of non-gaming brands have entered the fold and found success in the space.
KFC, for instance, collaborated with Dr. Lupo to advertise their chicken wings. Similarly, Gillette collaborated with Dr. Disrespect to promote their range of razors to the male audience. In 2020, Pizza Hut launched "Friday Night Bites"—a series hosted by Twitch streamer Jericho and other celebrities that accumulated more than 5.4 million views.
Top Twitch creators to watch
Brianne is a "COVID-era" streamer who started her channel in August 2020. The 26-year-old Hawaiian native is a casual gamer and up-and-comer who just recently surpassed 3,000 subscribers on the platform.
Brianne mostly plays League of Legends, but her chat is open to all types of conversation, including one of her favorite topics—Korean BBQ. Brianne insists that the dialogue in her chat always remains respectful to create a wholesome environment free from any kind of bullying and harassment.
Besides Twitch, you can find Brianne on Twitter, Instagram, and TikTok.
Krysta is a variety gamer who jokes that she enjoys talking to random strangers almost as much as she loves talking to herself.
Krysta got her to start playing Minecraft and The Sims on her YouTube channel in 2012. Her infectious positivity and welcoming environment make her Twitch channel a must-follow for any gaming enthusiast in need of a laugh.
You can also follow Krysta on Twitter, Instagram, and YouTube.
TBH is a variety streamer who hosts entertaining (and sometimes serious) conversations with his stream team The Gaming Illuminaughty.
TBH mostly streams Apex Legends and is known for inspiring his audience by dropping nuggets of wisdom during his sessions. He is also notorious for hilariously roasting trolls when they pop up in the chat.
You can also follow TBH on Twitter, Instagram, and YouTube.
Key takeaway: Now is the time for brands to partner with creators on Twitch.
With countless content creators covering just about any topic you could think of, Twitch provides endless opportunities for brands looking to expand the scope of the influencer marketing program.
The influencers who call Twitch home are some of the most authentic creators on social media, and the long-form content they produce has helped build a rapport with their audience that most creators on other platforms simply can't match.
The sky is truly the limit for Twitch influencer marketing, and there is no better time than now to get in on the action.