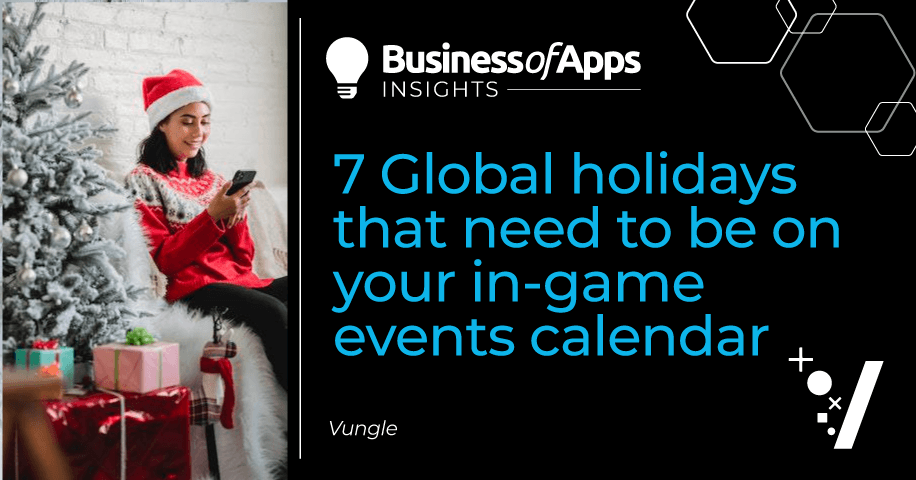 In-game events that honor beloved celebrations have proven to be a reliable method of getting a mobile game's audience re-engaged and spending. By strategically timing the release of an update packed with new content and relevant offers, game makers can leverage the push notifications built into the App Store infrastructure to draw users back in. This typically results in a healthy bump in user activity as existing players update and open the game to see what's new.
A 2021 GameRefinery, a Liftoff Company, report found that 90% of top-grossing iOS apps offer some kind of seasonal event promotion throughout the year, but Christmas and Halloween can only take game developers so far. Once the necessary liveops infrastructure is in place, game devs are faced with the strategic decision of which seasonal events and holidays to celebrate in order to generate the greatest engagement and highest return on investment.
Selecting major festivals in specific communities will give mobile game developers access to the key elements of successful in-game celebrations. Well-planned time off from work — whether a long weekend or dedicated vacation — leads to an excess of leisure time, and many gifting holidays around the world mean new mobile and gaming devices. For mobile game engagement and monetization managers, that spells a perfect storm that can generate a massive bump in revenue every year, or even multiple times a year. From widespread popularity to niche high-value appeal, these are the seven events that should be on every in-app promotional calendar.
Holiday #1: Thanksgiving
Relevant countries: United States
Thanksgiving hasn't been widely embraced by international game publishers, but it's one of the US' most popular holidays. There's no debating the value of the US audience either: The US is home to an estimated 155.9 million mobile game players, and national mobile games revenue totaled approximately $20.45 billion in 2022. At the same time, the lessons of Thanksgiving as it's traditionally taught are fraught. In-game events should lean away from clichés and stereotypes, instead favoring warm fall colors and late November motifs like plentiful harvests and the turning of the leaves.
Holiday #2: Lunar New Year
Relevant countries: China, Taiwan, Korea, India, Singapore, Malaysia, Vietnam
Holidays like the Lunar New Year are a particular boon for game publishers because they are celebrated globally. East and Southeast Asian countries like China, Taiwan, Korea, India, Singapore, Malaysia, and Vietnam all have their own Lunar New Year traditions, in addition to diaspora communities living around the world. That huge potential audience will recognize celebratory elements like lanterns and fireworks, plus more traditional themes like red envelopes, gold coins, and lion and dragon dances.
Holiday #3: Songkran
Relevant countries: Thailand
Songkran was once Thailand's official New Year's celebration, but it's now considered a national holiday and is celebrated on April 13. Thailand has long been recognized as an important market in the mobile gaming world. Of 32 million Thai players, 95% say they play mobile games, and revenue from mobile gaming in Thailand is expected to reach $380.9 million in 2022 alone. Songkran festivals are decorated with bright colors and typically involve both temple-based activities and raucous water fights.
Holiday #4: Oktoberfest
Relevant countries: Germany
Oktoberfest is an annual Bavarian holiday that has been putting celebration and revelry front and center for over 200 years. The festival takes place in October, naturally, and celebratory fairs can run for weeks. Germans are no strangers to fun and games. Mobile gaming revenue in Germany is expected to reach $1.68 billion in 2022. When it comes to Oktoberfest visuals, think of beer steins, barrels, and taps (it's a beer-focused holiday, after all), or honor traditional Bavarian garb by dressing in-game characters in dirndl and lederhosen.
Holiday #5: Día de los Muertos
Relevant countries: Mexico, the United States, the Philippines
No, it's not Mexican Halloween. Día de los Muertos is a holiday designed to honor the dead but is nonetheless typically a joyous occasion. Families gather to remember their loved ones and ancestors on November 1-2, honoring them at altars and celebrating their memories. Although the holiday is typically understood to have originated in Mexico (where mobile game revenue is expected to reach $1.72 billion this year), related festivals exist in regions across the Americas and around the world. Incorporate imagery like traditionally decorated sugar skulls and bright yellow marigolds.
Holiday #6: Holi
Relevant countries: India, Nepal, Pakistan
Indian Holi celebrations have been documented as far back as the 4th century. While it is sometimes referred to as the festival of spring and love, it's perhaps best known as the festival of color. As technological infrastructure develops in India and smartphones become increasingly popular, the world of mobile gaming has also found a foothold in the market. Mobile gaming revenue is expected to climb from $3.83 billion in 2022 to $5.02 billion by 2026. To decorate an in-game event around Holi, add splashes of color that represent the colorful powders made from medicinal herbs that celebrants throw at joyous springtime festivals.

Holiday #7: Diwali
Relevant countries: India, Nepal
Diwali is another holiday that transcends national borders to be celebrated in Hindu, Sikh, Jain, and Buddhist homes around the world. The festival of the light occurs each fall and is considered a major holiday by many major religious groups, which means mobile players around the world will be primed to appreciate themed in-game events. Diwali is a time for gathering to celebrate prosperity and the triumph of good over evil. In-game celebrations should incorporate oil lamps and lanterns, fireworks, and feast scenes.
When mobile game marketers find themselves tasked with using themed in-game events to increase revenue across a global user base, there are a few obvious candidates. Game publishers that expand their horizons to celebrate the festivals and holidays their players around the world hold dear will unlock access to not only hearts but also wallets.