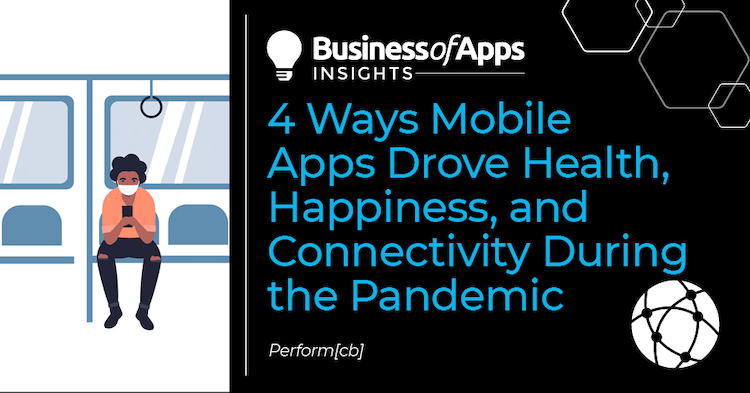 It's clear to see how mobile apps made a positive impact on consumers' lives during a time of severe disconnect throughout the COVID-19 pandemic. Mobile apps were utilized more frequently and seen as more highly valued during the pandemic, and these trends are expected to continue in terms of app downloads and usage as the global community works to move out of the pandemic and back toward a sense of normalcy. Learn more about how mobile apps assisted users in staying connected, mentally and physically healthy, entertained, and financially in control through one of the most arduous periods in our lifetime.
Staying connected
Social interactions are a primary human need and are essential to one's well-being. The use of Apple's "FaceTime" and other video calling apps, such as Skype and WhatsApp, provided social connectivity for the majority of people who weren't able to speak face to face with family and friends during the periods of lockdown throughout the past year. Video calls also allowed individuals who may have become ill to socialize with others while ensuring the safety and well-being of all involved. The usage of gaming apps rose 75% week-over-week in April 2020, and mobile apps such as Jack in the Box and Houseparty rose exponentially in popularity as users from around the world downloaded them to connect with loved ones by virtually playing games together.
While video-calling and gaming apps offered opportunities to communicate and connect with socially distant loved ones, other mobile apps provided users a different type of connection with up-to-date coronavirus tracking, including maps that provided real-time insights into the number of positive cases in a city, county, or state. Insights such as these allowed the world's population to remain informed, as the pandemic evolved in their communities.
Staying healthy

Staying mentally healthy
Mental health is vital at every stage of life, from childhood and adolescence through adulthood. The COVID-19 pandemic presented mental health challenges for countless individuals from all walks of life, and while everyone was affected differently, mental stability generally worsened as communities were driven into consistent isolation. Apps developed to help provide remote mental health care were downloaded at staggering rates as users sought help for coping with anxiety, depression, and insomnia. Calm, which is a sleep, meditation, and healing app, was the highest-grossing app in April of 2020, with $8.5 million in revenue. Headspace, a guided meditation app, grossed $5.5 million in April 2020, as consumers sought ways to soothe their minds and bodies.
Staying physically healthy
Stress and anxiety have been on the rise for decades, but once the pandemic hit in March 2020, these conditions skyrocketed globally due to shifts in plans, work difficulties, family conditions, and children staying home from school. In addition to the mental health implications above, stress and anxiety can also have a detrimental effect on physical wellbeing. By June of 2020, users were turning their sights to regular exercise and healthy eating to help keep their stressors at bay. Overall, downloads of health and fitness apps grew by 46% worldwide in 2020. Fitness apps such as Obé Fitness offer a variety of both live stream and on-demand classes saw a huge uptick in installs and engagement. In turn, users also began logging their food intake on dietary tracking apps, such as MyFitnessPal, to ensure they were fueling their bodies with the proper nutrients.
As consumers were advised to stay home through most of the pandemic, apps in the Food and Drink vertical also grew in popularity. Delivery apps such as Doordash, Postmates, and Uber Eats offered users the ability to order from and support local restaurants while staying safe at home. Consumers also turned to mobile apps to order their groceries and schedule pick-up or delivery to avoid exposure or crowds at their local stores. In turn, grocery apps saw huge growth in 2020; for example, a popular online grocery subscription marketer that delivers healthy foods with recipe and meal planning support drove a 413% increase in orders YoY with Perform[cb] Agency.
Staying entertained
In-person entertainment, such as concerts, movies, and plays, was no longer an option during 2020. Artists began to stream small concerts from inside their homes, for audiences to enjoy safely, but there was still a sense of connectivity missing. During this time, gaming grew exponentially in popularity as people sought alternative sources of entertainment. Nielsen Games announced a 45 percent spike in U.S. video game usage amid quarantine when consumers started turning to game content more than ever before for stress relief, connection, and relaxation. Online sports betting also gained steam, and one of Perform[cb] marketer's sports betting apps saw 22,240 total bets driven in 2020 as it provided ways for users to take a risk, feel excited, all while staying safe. Not to mention the social media phenomena, along with TikTok specifically, that were on the rise throughout 2020. TikTok started a new era for internet comedy in addition to a new age for collaborative arts and digital activism during the Black Lives Matter Movement.
Staying financially in control
Like physical health, maintaining good financial health is one of the keys to leading a happy and healthy life. Consumers found themselves in need of adjusting their budgets once the pandemic hit for fear of losing their jobs, homes, and general financial security. During this time, there was a major focus on long-term financial strategies for saving and investing. Perform[cb] saw this first hand after working with well-known investment app, Acorns; check out how Perform[cb] Agency was able to drive a 96% increase in funded accounts MoM in 2020. Insurance marketplaces also saw an influx in traffic as consumers started to look into life insurance to safeguard themselves and their families.
Shopping made a major transition to mobile apps, as the in-app experience helped consumers stay safe while still having access to what they need. Due to the fact that most people remained at home in 2020, mobile e-commerce became extremely commonplace for consumers to make purchases. The number of US social e-commerce shoppers grew 25% in 2020, as consumers spent more time on social media while at home. Inside apps such as Pinterest and Instagram, e-commerce has exploded as 40% of Gen Z and millennials are now shopping on social media. An example of this is an e-commerce brand that recently implemented a content planning strategy and offered exclusive deals to see a 210% Increase in Revenue MoM with Perform[cb] Agency.

2021 and beyond
Consumers will have downloaded 130 billion apps in 2020 across iOS and Google Play, up 10% year-over-year. During this pandemic, mobile apps have helped users reduce their stress, increase their sense of safety, stay connected and informed, make purchases, and more. Being in the performance marketing space, many brands turned to Perform[cb] during this time to help connect them with consumers who suddenly found themselves needing access to their goods and services online.
If you're a marketer that wants to improve the success of your campaigns or customer engagement approach, you'll need a performance marketing network that will constantly evolve and maximize on your behalf. Reach out to Perform[cb]'s team of mobile experts to hear more about how we can optimize ROI and scale your mobile app's user acquisition.