If you're looking to enter the Indian app market or have a mobile app created by an Indian app development company, you're in the right place.
The mobile app market in India is one of the fastest growing in the world – in mid 2015, 52 million more people accessed the internet over the previous year across the subcontinent. Mobile transactions are also driving the movement: In early 2016, some 200 million mobile wallets were open in the country.
The great news is that has led to a large number of mobile app development companies, especially around the cities of Bengaluru and Hyderabad.A large portion of mobile app developers in India focus on Android over iOS, but with India's strong university system providing talented app developers, Indian app devs are spoilt for choice.
Indian app development and software development companies are often the partner of choice for enterprise clients in the US and Europe as they can offer higher capacity and significantly lower cost services.  Frequently agencies in other markets will also use Indian teams to help complete projects.
In this guide, we'll give an overview of the app developers market in India – any company that has an office in India qualifiess – and we'll give  some advice on how to choose an app developer, finally ending with some selected app developers in the final part. We've divided this guide into four main sections:
The app developer market in India
Within the subcontinent Android, thanks to its higher variety of supported devices and cheaper handsets, holds over 90% of the market share, with iOS coming in at a lowly 2% of all smartphone users in the country.
The developer make-up reflects this. The vast majority of app devs list their skills as either Android-only or Android and iOS.
Indian App Developer Skillset, by Platform.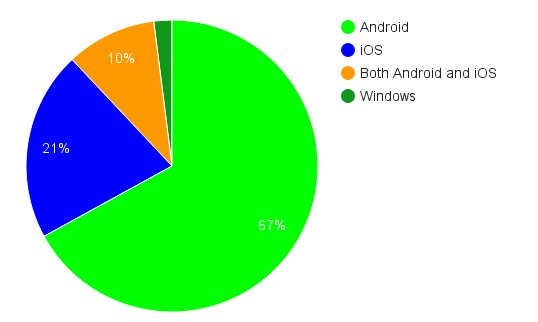 Source: belong.co
Regional universities and the Indian Institute of Technology supply a wealth of app developers to the country's market every year. 24% of Android developers on the market have 0-2 years of experience, while 42% have between 2 and 5 years. Similar statistics in iOS development show not that the country is inexperienced, but rather that its developer population is very young.
Geographically, there are a number of hotspots in India, the top three being Bengaluru, the National Capital Region (as the area around New Delhi, including the metropolis, is called) and Hyderabad, with 55% of all Indian Android app developers found in those three areas. iOS is more spread out, with just over 45% of iOS developers in the triad, according to a report by Belong.co.
India App Developer Hotspots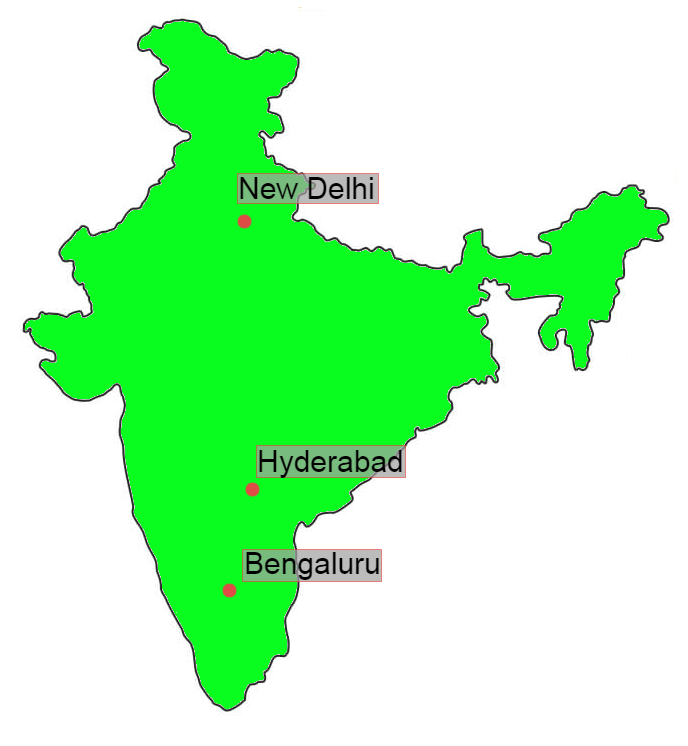 Source: belong.co
As for languages, the most commonly used are JSON, HTML5 and Javascript, with Swift being the classic go-to for iOS developers. The native philosophy to app development is strong in the subcontinent.
In particular, eCommerce development is first choice for many mobile developers in the country, with the sector providing the highest salaries for devs in the country. This is for a number of reasons, such as eCommerce expanding in the subcontinent. As mentioned above, in 2016 there were about 200 million online wallets in India, with more being opened constantly. The "banknote purge" of November 2016 is expected to drive many to resort to mobile transactions and banking for their everyday purchases. The eCommerce sector is riding a very big wave.
Indian app development costs
As of 2016, there are approximately 2 million software developers in India, with about 50,000 of those developing for mobile, and Google is trying to increase the figure for Android specifically. There are also plenty of start-up incubators popping up around the country, with the most successful apps tackling everything from how to wear a Sari to hailing a rickshaw in the more remote parts of Mumbai and New Delhi.
Given the number of app developers in the country, and a relatively low value of the Indian Rupee, app development in India can be relatively cheap compared to American and European prices. On average, globally, it costs approximately $27,000 to develop an iOS app and $23,000 for Android. In India, however, costs are lower:
Median cost per hour, per platform (US Dollars).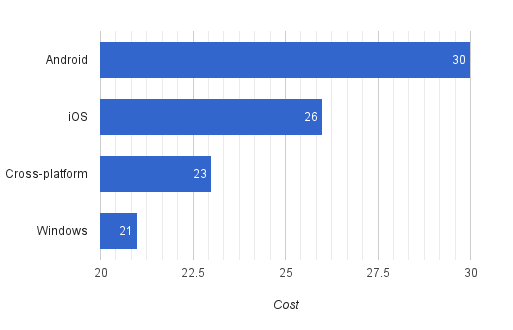 Source: statista.com
The median costs are considerably lower than in other regions of the world (in the most expensive region, the US, media cost per hour for iOS development is well above $160). There's also plenty of choice, with nearly a quarter of all developers skilled in mobile development, and the majority of them clustered around the centres we pointed out above.
On outsourcing
A large attraction to India's app development market is the lower cost when compared to American and European agencies. One of the cheapest ways to get an app developed is through outsourcing, which you can do yourself on sites like Upwork, but a lot of companies (some of which we've listed below) act as middle-men, with a pool of freelance outsourced developers which they will select depending on your app's requirements. Contact at this point could be direct with the freelancers, especially if you've picked them yourself, or through the company.
This approach can be cheaper, but it certainly is very different to hiring a company with in-house developers. A few things you should know about the process:
You are often responsible for your own design, especially in the UI and UX sphere. You could outsource this as well, but a lot of freelance developers will just do the app "building". They do not always offer consultancy services.
If attempting to hire a freelance developer on your own, you'll have to keep in mind the time difference (9.5 hours with New York, 4.5 with London, and India does not have daylight saving hours so this changes). This is important because a freelance developer might not offer 24/7 contact hours like companies do.
Language differences are something else to be aware of. A lot of developers in India create apps in one of the country's 22 official languages, not necessarily in English or even Hindi.
Savings on app development costs can be very significant, but freelance devs are unlikely to offer other services like the back-end or maintenance and updates after launch. This may require hiring another freelancer or company, or re-hiring the first one – and they might not be available if they're working on other projects.
While outsourcing your app's creation directly to a freelance developer could net you considerable savings, the process is complicated and, especially if you're creating your first-ever application, also quite risky. If you decide to go that route, we suggest working through an outsourcing company to mitigate some of the risk while still retaining a good level of savings. You can check out the list of companies below, which includes some selected by us which have outsourcing models.
How to Choose an Indian App Developer
A two-stage process. First, there's plenty of research you can do on your own, as well as contacting others in your industry who have published a mobile app:
Review their portfolio: App characteristics can vary wildly depending on the type of application and its function. Often, previous experience in certain sectors, or with certain functionalities, can make a massive difference to the cost and time invested in a project.
Recommendations: Just as in any other business, recommendations can go a long way to finding your ideal app developer and discovering what it's really like to work with them.
Check out our Market Place: You can sort our directory on app development companies and agencies by country: have a look at the Business of Apps Marketplace.
Once you've chosen a few app developers, you can move on to the interview phase.
Selected Indian app development companies
Having covered the process of selecting an app developer, and the questions you should be asking yourself as well as them, here are a few selected Indian app development companies.
To qualify for the list, the app company needs to have an office on Indian soil. The list is not ranked and is designed to include outsources, coders, designers and strategy experts with different skillsets and areas of expertise.
One of the outsourcing companies in this list, Octal have worked with companies ranging from start-up size to Fortune 500 corporations, and they pride themselves in their attention to the specifics of your business.
Platforms: iOS, Android, Web – Sector Focus: Business Services
Key clients include Oricom, Aviva and FIAT.
150+ skilled professionals.
Over 1200 clients since founding in 2004.
More than a decade of experience and nearly 200 professionals give Konstant Infosolutions a huge variety of skills and knowledge. Have worked in a number of industries including eCommerce, services, media and e-Learning.
Platforms: iOS, Android, Web – Sector Focus: Transport, Media, Entertainment
Awarded in 20 Most Promising Web Design & Development Companies 2015.
ISO 9001:2008 Certification for quality assurance and commitment.
Recognized as Best Companies to Work For 2015 by SiliconIndia.
Auxano Global Services – an ISO 27001:2013 certified mobile app development company, developing out of the box technology solutions in the B2C and B2B market for the information and technology industry.  Rooted in 2013, Auxano Global Services is global information technology, consulting and outsourcing company. Auxano team has extensive an experience in crafting software, using the new technologies in the market such as React Native, Xamarin, Flutter, according to the demand of the application, as well as iOS and Android app development expertise.
Platforms: iOS, Android, Hybrid  Sector Focus: Shopping & E-commerce, Health & Fitness, Food & Beverages, Travel & Tourism
Core expertise in AR, VR, IoT tech, AI App development
Google Partner certified and Microsoft certified
On Demand Mobility Solutions app development
Zealous System is a software development company with more than 10 years experience of creating top notch desktop and mobile software, with a team of more than 50 professionals spread between multiple offices in India, South Africa, Germany and Australia.
Platforms: iOS, Android – Sector Focus: Lifestyle, Finance, Social Media, Healthcare, Enterprise Mobility Solutions.
Google Developers Certified Agency
Adobe Solution Partner
Microsoft Gold Partner
From UI/UX to hybrid apps, testing and publishing, Syon Infomedia does it all. Founded in 2007, it has grown into a team of over 135 professionals working in the real estate, advertising, arts and IT sectors.
Location: USA, India – Platforms: iOS, Android, Web Dev, Mobile Web, HTML5 – Sector Focus: eCommerce, Education, Healthcare
Resource hire and in-house professional options available.
Various engagement models and pricing plans.
Key clients include Phillips and Hyatt Regency.
It is mobile and app development company that has a team of highly skilled software developers with more than 9 years of experience of Mobile Application Development under their belt. The company has been highly rated over B2B review and rating sites by its happy customers for their services. Key services of Magneto are: Native IOS App Development in SWIFT & Android App Development in JAVA, REST API Developer, Web App Development, IoT Development, E-commerce & Digital Marketing, ASO & SEO.
Dev Technosys is an ISO 9001:2008 certified Website & Mobile application development company with head-office in India. The company has achieved ISO & NASSCOM certifications and employs a team of 70+ highly-skilled workers.
Location: India, UAE, UK, USA – Platforms: Android, iOS, iPad – Sector Focus: Business Services
450 satisfied clients
CRM/ERP Solutions
Hire Dedicated Resources
Mobile, web development and design are all under the same roof at Parangat, which pays special attention to communication and requirement analysis in order to understand project complexity.
Location: India, Australia, Europe, UK, USA – Platforms: Android, iOS, iPad – Sector Focus: Education, Media, Transportation.
SME focused.
Key clients include Yo Doctor and Eventplus.
Also works in Wearables.
An ISO 9001:2008 certified organization, Hyperlink Infosystem is a renowned IT software solutions provider based in Ahmedabad, India. Established in 2011, the company delivers mobile app development for all major platforms as well as PhoneGap, Parse and Wearables.
Location: India – Platforms: Android, iOS, iPad, Windows Phone, PhoneGap, Parse – Sector Focus: Information Technology.
Experienced with both SMEs and large corporations.
Key clients include Papa Johns and NeighborShopper.
Member of the GESIA IT Association.
Mind Inventory covers both app and mobile web development, and does so with two different models: either with in-house development and design, or by allowing you to hire one of their devs to work with your team.
Platforms: iOS, Android, Windows – Sector Focus: Gaming, IT, Utilities, Arts
Founded in 2011.
90+ strong developer pool.
More than 500 projects delivered.
ChromeInfo Technologies does both mobile apps and software testing and has a specific model of "Like Uber for X" applications and businesses. Also offers branding services.
Platforms: iOS, Android, Windows – Sector Focus: Education, Transportation, IT
Offices are in India and California.
SiliconIndia awarded them "Brand of the Year 2015".
Also works in the Internet of Things.
Founded in 2011, Debut Infotech's 60+ dev team has a 100% approval record for app store submission, provide iOS and Android app development as well as web and SAAS, and have been featured on Bloomberg News and abc.
Platforms: iOS, Android, Windows – Sector Focus: Education, Transportation, IT
Offices are in India and California.
SiliconIndia awarded them "Brand of the Year 2015".
Also works in the Internet of Things.
Expert in mobile, IoT and wearable apps, [x]Cube Labs have worked with big-name clients like Honeywell, Amazon and Nokia to name but a few. HQ is in Dallas with offices in Bengaluru and Hyderabad.
Platforms: iOS, Android, Windows, Blackberry – Sector Focus: Consumer products, Health and Fitness
Deep Experience: Delivered over 700+ Apps
Team Size : 400+ across technologies
Award Winning Design Team : 20+ Awards in last 3 years
With a presence in India, USA and the United Kingdom Promatics have worked for several multinational clients across the globe including J.J. Threads and DHL.
Location: India, USA, UK – Platforms: iOS, Android, Mobile Web, HTML5 – Sector Focus: Business Services, Advertising.
Has done work in the arts, entertainment and hospitality sectors as well as education and IT.
Cloud solutions, QA and IT consulting also available as services.
ISO 9001:2008 compliant.
Not just a full-stack developer but also a tech consultancy, hedgehog lab cover everything in app development, from design and development to business plans and strategy. Offices are in London, Boston, Newcastle and India.
Platforms: iOS, Android, Windows, Web, Blackberry OS – Sector Focus: IT and Healthcare
120 team members in 5 locations.
50+ high quality projects completed.
Free online quotation available.
Hidden Brains have delivered a massive amount of projects in their history, currently numbering 850+ mobile apps and over 5000 web projects. They cover all major platforms natively.
Platforms: iOS, Android, Windows, Blackberry – Sector Focus: Media, Arts, Business, Healthcare
Microsoft Silver Certified Partner.
Winner of the Aegis Graham Bell Award.
Allows direct hire of developers as well as in-house development.
Experts in native development for iOS and Android, Mobulous is specifically focused on helping start-ups and SMEs reach their full mobile potential, relying on slick design and user interfaces to achieve the goal.
Platforms: iOS, Android – Sector Focus: IT, Gaming
250+ mobile apps delivered.
Team consists of 70 experts.
Minimum project size is $1000.
End-to-end developers, they also provide strategic consulting services. QuyTech have a particular focus on enterprise solutions and sales-support apps. Also has offices in the UK.
Platforms: iOS, Android, HTML5 – Sector Focus: Sales, Enterprise Apps
Our clients include Celebrity Chef Eric Lanlard, Deloitte and Godfrey Phillips.
Rated among the 20 Most Promising Enterprise Mobility companies by CioReview.
Provide end to end solutions for your mobile apps starting from app strategy to deployment.
IT outsourcing company drawing its talent pool from India and based in Chennai. DCI's track record includes 2000+ apps delivered for 500 clients, which implies a high level of return business and trust from their customers.
Platforms: iOS, Android, Windows, Blackberry, HTML5 – Sector Focus: IT, Advertising, Business
Top clients include Home Depot, US Financial Management, Yahoo! and MSN.
Ranked in top Indian app development agencies for Appindex in 2014.
Microsoft Gold Partner and certified Google Adword Partner.
Based in Ahmedabad, Viteb's outsourcing model has allowed them to work in a number of different sectors and their client base spans 30+ countries. Focused on B2B and digital business.
Platforms: iOS, Android, Windows, HTML5 – Sector Focus: Social Networks, Hospitality
40 hours  worth of trial available.
Free quote available online.
Past experience includes social photo apps, writing apps and multilingual CMS.
Robosoft is a premier digital experiences & engineering company specialising in end-to-end design & development for web, mobile and wearables.
Platforms: iOS, Android, Wearables – Sector Focus: Media, eCommerce, Enteprise, Retail
1500+ apps delivered.
20 years of software development experience.
Key clients include NDTV, ESPN, HP.
Has a huge, eclectic portfolio, and is fond of using cutting-edge tech like Near-Field Communications, beacons and AR. QBurst is also competent in big data, cloud solutions and CRM.
Platforms: iOS, Android, Blackberry, Windows, HTML5 – Sector Focus: Healthcare, IT
10+ years experience in app development.
Multinational with offices in UK, India, Singapore, Poland and USA.
Cross-platform coding available for some apps.
Covers everything up to and beyond deployment, providing maintenance and post-publishing support. Major clients of OpenXCell include American Express, DuPont and Unilever, though their experience is not limited to large corporations only.
Platforms: iOS, Android, Blackberry, Windows – Sector Focus: Arts, Media, Gaming, IT
Dedicated teams of developers for each platform and UX.
Over 100 in-house developers, white papers available.
Parse and PhoneGap development also available.
Final Thoughts
The beauty of app development and the internet is that you can find your ideal dev partner anywhere in the world. This guide should give you enough of an insight into the Indian app developer market to help you make your decision, but if you want more you can always browse through Business of App's developer marketplace.