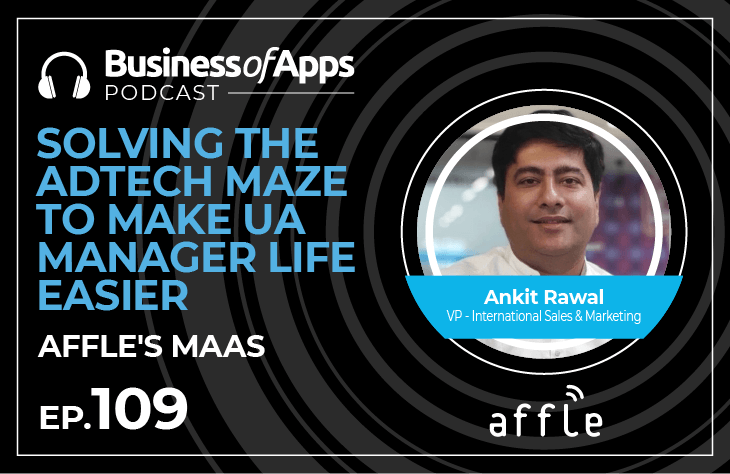 Every person on this planet who needs to get up on a Monday morning to tune in his brain to work and, basically, it never stops till Friday evening, would agree that it is tough.
Now, if you are an app marketer, there are several questions that are floating in your mind all the time – who are my app users? Do I know all kinds of app users that may need my app? How should I approach all these people? Where? What marketing channels should I use?
All these questions push app marketer over and over to brainstorm new ideas with a mind mapping app or just drawing diagrams on a paper, peering into data points on her or his laptop. Day in. Day out.
So on this episode we will try to address all those questions and make her or his life easier.
Today's Topics Include:
Ankit's has 15+ years experience being in the IT industry under his belt, his background spans across companies like Microsoft and Oracle and many others.
The changes in AdTech for the last decade
Challenges in the industry
Helping advertiser to navigate the convoluted maze of the Adtech
MAAS platform capabilities
Android or iOS? One+ running Android
What was Ankit's first mobile phone? Nokia 3100
What features would Ankit miss the most leaving his smartphone at home? Audio content to listen to on the go
What's missing from mobile app technology? Advances on the VR and AR frontiers
Links and Resources:
Quotes from Ankit Rawal:
"As the penetration of smart phone increased with both iOS & Android growing App stores were launched… It for the first time developers can build software in one part have easy distribution thanks to global appstores across the world. You could develop locally & sell globally… Hence it became a wild west advertisers were focusing largely on growth and volumes. .. with incent traffic, burst campaigns.. 
Unfortunately our Ad industry is notorious which I should also take blame for is the 3 letter acronyms CPM, CPI, DMP, DSP, MMP, CDP & what have you… which makes anyone outside it wonder Huh?? App is a conduit to any activity a user wants to accomplish be it shop, play, get entertained, study & more."
Follow the Business Of Apps podcast