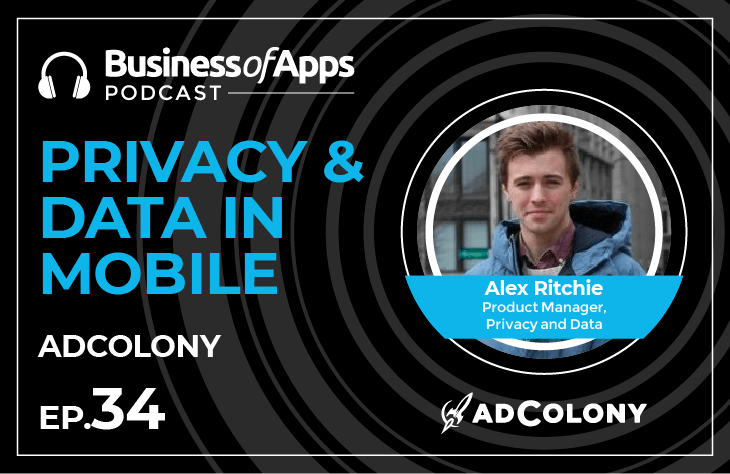 Do you take your smartphone for granted? Even though you've had it for years and use it every day? What personal and private data is collected about you and the apps you use?
For the last couple years the importance of an internet user privacy, as well as collecting and using mobile users personal data has grown significantly. The mobile industry has come a long way from the time when these matters were perceived as purely the roam of academic discussions to growing adoption and legislations in Europe and US.
Today's guest is Alex Ritchie, Product Manager of Privacy and Data at AdColony. Alex describes how, what, and why companies collect and use privacy and personal data in mobile.
Today's Topics Include:
✔️ AdColony: Intermediary that facilitates buying and delivery of in-app ad inventory
✔️ Solution Architecture: Design and manage mechanisms for privacy compliance
✔️ Industry vs. Legalese: Not a lawyer, but translator and planner of privacy needs
✔️ GDPR, CCPA, and COPPA: Privacy-related rules and regulations to enforce compliance
✔️ AdColony collects some personal data, such as pseudonymous IDs, to share with SDK
✔️ AdColony's End-User Privacy Policies: Above and beyond what's legally required
✔️ Digital Privacy: #1 most important issue in mobile advertising industry now, next 5 years
✔️ Progressive Privacy: What will Apple and Google do to respond to regulation changes?
✔️ App Publishers: Proper data collection is knowing what's being collected and processed
✔️ Privacy Rules/Sentiments: Be privacy proactive, minimalist, and conservatism
Links and Resources:
Tweets/Quotes by Alex Ritchie:
"I really got to…discover my passion for privacy in helping measurement marketing providers design and kind of manage the mechanisms for privacy compliance."
"There's no better time than right now to be working in privacy."
"Digital privacy is the number one most important issue in the mobile advertising industry today."
"The mobile industry is being presented an amazing opportunity to be better at being transparent."
Follow the Business Of Apps podcast