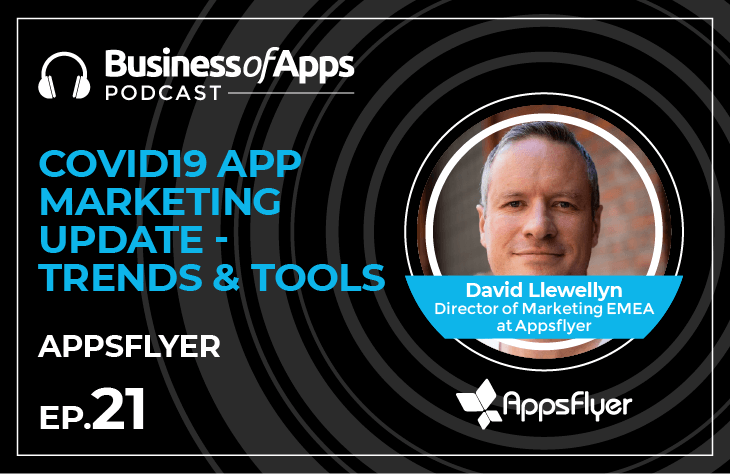 What helps us deal with uncertain situations? Hard data and analysis. We need to know what happened in the past to know what to do now and in the future.
Today's guest is David Llewellyn, Director of Marketing EMEA from AppsFlyer, the leading mobile app tracking and attribution analytics company with 9+ years on the market under its belt. He recaps what happened with app marketing in 2019 and what's going now, when COVID-19 is impacting the whole global economy, to help adjust your strategy moving forward.
Today's Topics Include:
📊  App Categories: Which are growing, going away, or adapting?
📈 Trends and Timelines: Similar worldwide lockdown and stabilization
👩‍💼👨‍💼 User Acquisition: Balance installs via paid channels and native traffic
🤔💰 Aggressive or Conservative? Short-term strategies to cut budgets or double-down
 📣 Retarget, Reactivate, and Re-engage: Opportunities to acquire and retain users
 👍 Good News: Robust, solid, enterprise software tools available for marketing automation
 👎 Bad News: Challenge is to know which tools to use and when to integrate them
👉  Business Models: Conscience decision for expensive base or content with less profit?
Links and Resources:
Quotes by David Llewellyn:
"The distraction and the fun that games provide during difficult times is a really great thing for many people."
"Everything's changed. There's no one rule anymore."
"The good news is there's tools out there for almost everything that you could want to do with your app. The vast majority of those tools are really robust, solid, enterprise great software."
Follow the Business Of Apps podcast