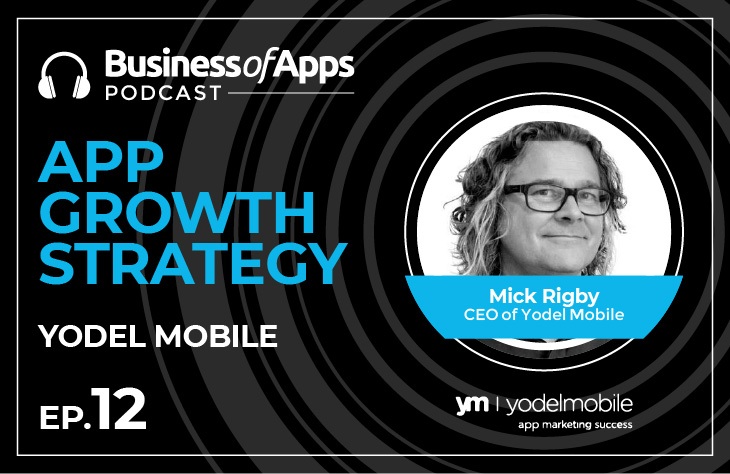 What comes to mind when you think of Silicon Valley startups? Growth strategy? Sustainable app business? In fact, an app growth strategy is the topic on a white board of so many app startups around the world.
It's hard to overstate how important it is to come up with the right one. Mistakes cost app brands and developers stress, time, money and, in many cases, cause their dreams about having sustainable app business to collapse.
Today's guest is Mick Rigby, founder and CEO of Yodel Mobile. He offers guidance on successful strategies to acquire and retain users to grow a sustainable app business.   
Today's Topics Include:
💡 Best App Growth Strategy: Research idea for feedback 
🤔 Functionality vs. Marketability: Products users want, like, and work to retain/recommend 
📊 App Marketing Components: Data stack, CRM, analytics, attribution, and reviews
🔢 Key Performance Indicators (KPIs): Define North Star metric for overall objective 
📏 User Acquisition Strategy: Measure cost of paid advertising, downloads, and registration 
💪 User Retention Strategy: If you can't retain users, you don't have an app business
Links and Resources:
Quotes by Mick Rigby:
"I actually launched the business about two to three months before the iPhone launch. So, some may say that's foresight. To be perfectly honest, I think it was a lot more luck than foresight."
"Product is just one aspect of your app growth strategy. The other key element is obviously how you market that. You need to balance the two."
"There is no such thing as an average user."
"If you can't retain your users, you don't actually have an app business."
Follow the Business Of Apps podcast