Marketers anticipate spending significantly more of their budgets on digital audio in 2023, followed by digital video, according to the latest industry report from Integral Ad Science. Social media and mobile remain key priorities for marketers this year, but experts acknowledge that there are many challenges ahead. Let's dive in. 
Marketing concerns in 2023
To understand spending for app and mobile campaigns a little better, it's worth taking a look at the main concerns marketers continue to face this year. 51% consider decreasing access to consumer data and cookies a challenge while 33% cite ad placement alongside risky content as a problem.
Which of the following will be major digital media challenges for your organization?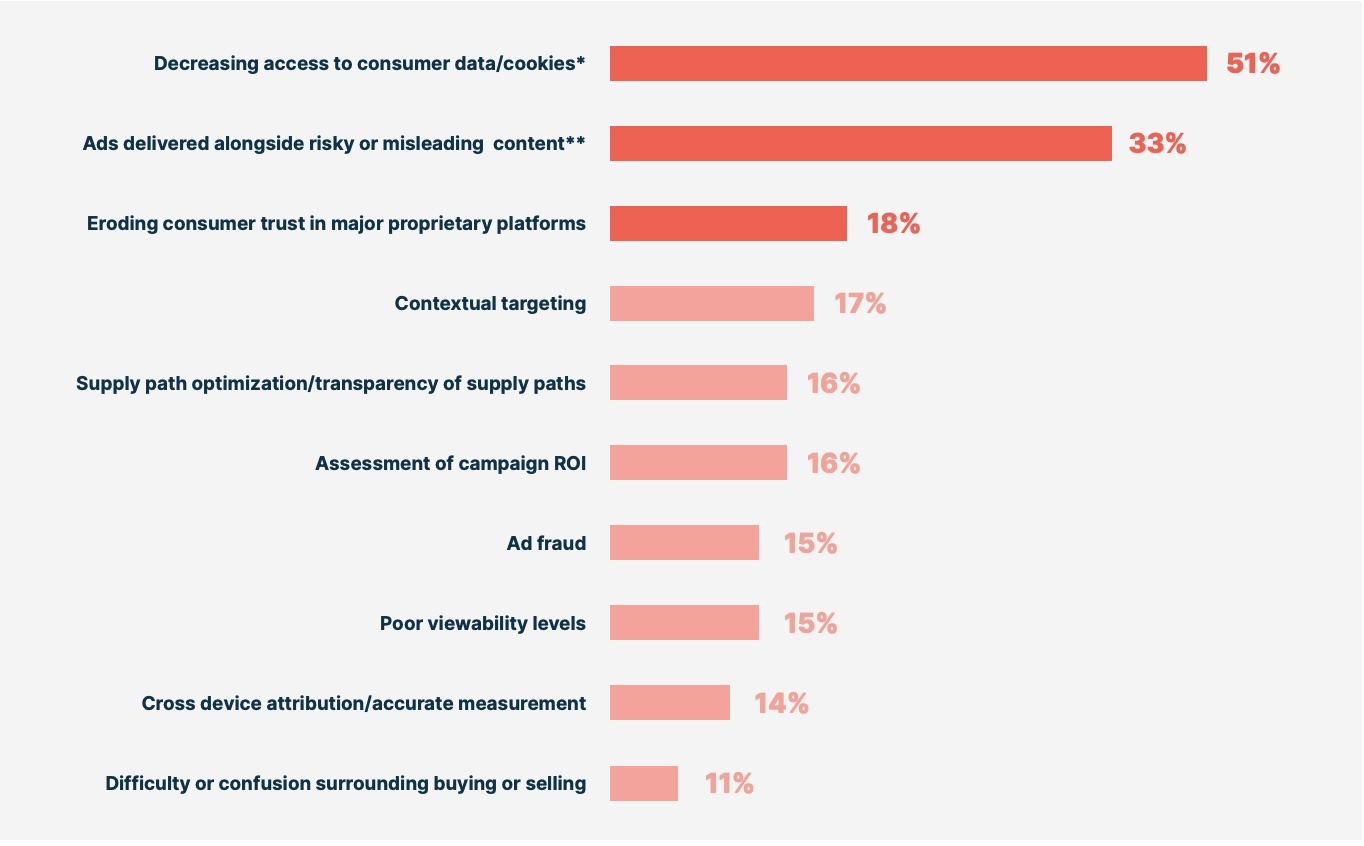 Source: IAS
Experts believe social media will face some serious challenges this year in light of increasing privacy issues. The Metaverse is also considered a more challenging media type as it's relatively new and therefore its limitations and possibilities aren't well understood.

Social media remains an essential ad strategy
A whopping 91% of media experts plan to advertise on at least one social media platform this year. However, economic headwinds are dampening social media ad spend growth. It's expected to grow 8% this year in the US, down from 37% in 2021. 
Overall, it seems marketers are keen to distribute their ad spend more evenly across different platforms including Facebook and YouTube, but also Twitter and instargarm. WhatsApp is the only platform that shows an intent for increasing usage this year. 
On which platforms will your organization buy advertising or monetize content?
Source: IAS
For 86% of marketers view ability is an important metric when assessing campaigns and 67% are satisfied that social media platforms deliver the necessary transparency on viewability metrics. However, a third are concerned about social media being more vulnerable to fraud and brand risk this year. 
Eroding consumer trust is another major issue in social advertising according to 77% of experts. As a consequence, Facebook will see the highest adjustment in spending as trust appears to be declining more sharply here. 
Key takeaways
51% of marketers find decreasing access to consumer data and cookies a challenge
91% of media experts plan to advertise on at least one social media platform this year
77% consider eroding consumer trust a major issue in social advertising