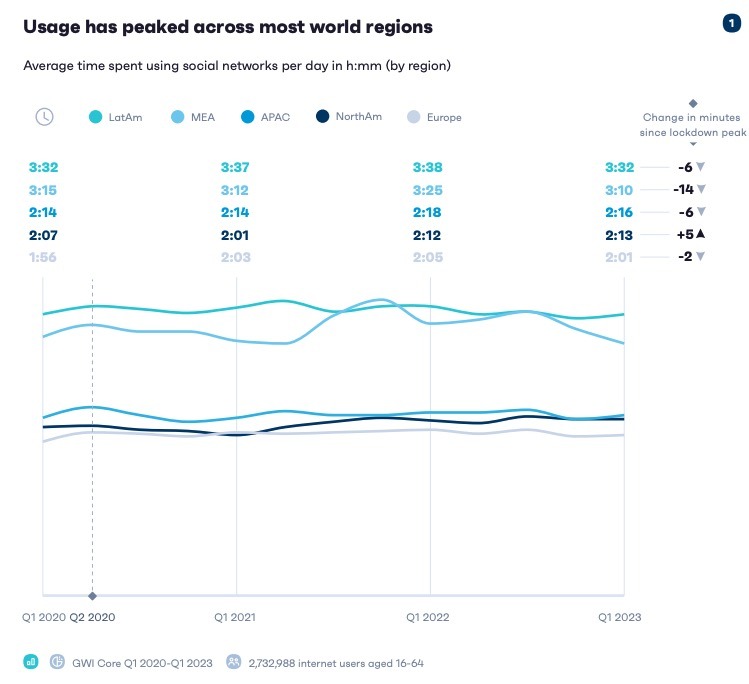 Daily time spent on social media has decreased in 36 out of 48 markets tracked since 2022, according to the latest GWI social media trends report. This marks only the second time since tracking began in 2012 that global usage has declined year-on-year, with average daily usage in Q1 2023 falling below that of 2019. Has social media usage reached a plateau?
Gen Z spends more time on social media but eyes reduction
While some emerging regions like the Middle East & Africa experience more significant fluctuations, most other regions have seen minimal changes in daily usage over the past three years. Notably, North America is an outlier, with usage continuing to rise beyond its lockdown peak.
While the pandemic induced a surge in social media usage, this has now largely levelled out. For brands and businesses, the key takeaway is that changes are less about the duration consumers spend online and more about how and where they choose to spend their time.
Across the world, Gen Z spends an average of 2 hours and 51 minutes on social media daily, surpassing older generations. However, Gen Z is starting to consider reducing their time spent online and shifting their focus to offline activities. In 2023, 30% of Gen Z express concerns about their social media usage, leading to efforts to limit their time online. Notably, Gen Z is the only generation whose daily time on social media has decreased since Q1 2021, likely influenced by the disruptions caused by the pandemic.
Gen Z aspirations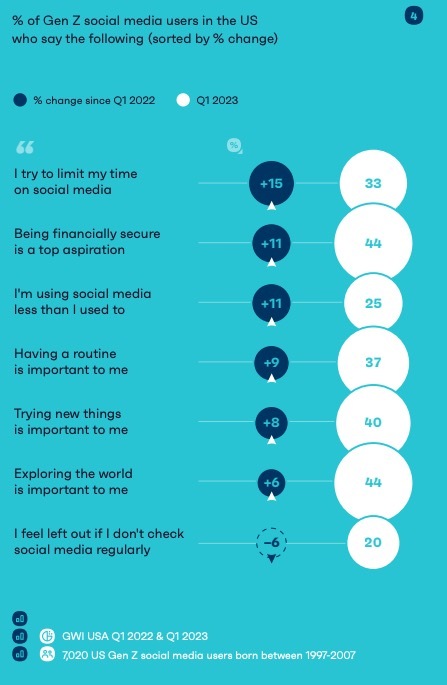 Source: GWI
In certain APAC and Western markets, users are also increasingly setting their social media profiles to private due to concerns about personal privacy. Younger age groups are particularly inclined toward this trend. This shift can limit brands' access to user data, necessitating the development of trust and authentic relationships with customers.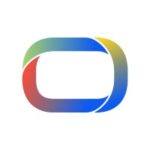 Content length varies, YouTube and WhatsApp dominate
While short-form content platforms like TikTok are on the rise, longer-form content remains prevalent. YouTube, with 67% of consumers, overshadows TikTok's 45% reach. Instagram Live and Reels are also expanding content length options. WhatsApp continues to dominate as a favourite platform, especially among older age groups.
The top social apps haven't changed all that much
Source: GWI
Changing Motivations for Social Media Use
Consumers' motivations for using social media are evolving, with differences observed across regions. Western consumers, like baby boomers, are diversifying their reasons for using social media. TikTokers in the West now use the platform to stay informed about news and products, while Instagram's focus shifts from personal sharing to entertainment. Twitter is also evolving, with video becoming a primary focus.
Privacy is shifting into focus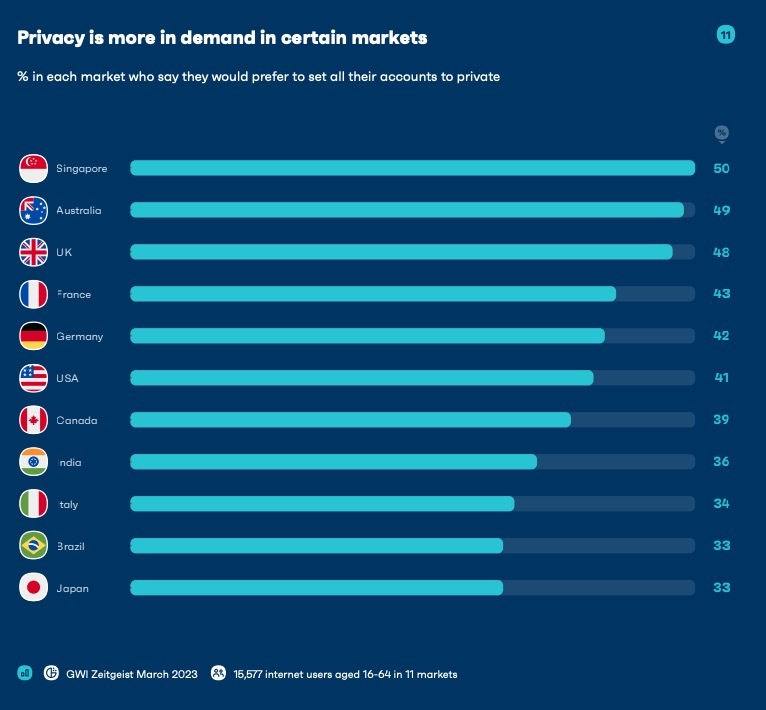 Source: GWI
While social media is a primary tool for product discovery, brands need to keep up with cultural trends to resonate with their target audiences and answer their questions effectively. Trends like #QuietLuxury on TikTok reflect changing consumer preferences, as people seek minimalist styles and neutral palettes. This shift is driven by economic factors and a decreased desire for flashy outfits.
Brand discovery happens on social media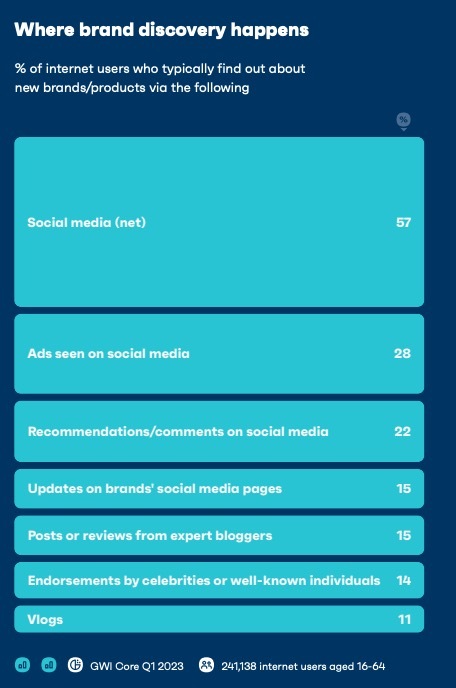 Source: GWI
Key takeaways
Daily social media usage dropped in 36/48 markets since 2022
Gen Z spend 2h51m daily but aims to cut usage by 30% in 2023
More users set profiles to private due to privacy concerns, impacting data access for brands