In today's fast-paced world, consumers are increasingly seeking convenience and efficiency through the use of mobile apps. That's according to a survey of 11,000 global respondents which shows that the top three reasons for using apps are "ease of use" (35%), "simplifies my life" (31%), and "saves me time" (27%). 
App stores dominated discovery
The latest study by mobile app experience company Airship takes a closer look at what motivates consumers to continue to use mobile apps, how they discover them and why and when they are likely to delete them. 
While economic challenges persist, the growth of opt-in motivators such as deals, rewards, and targeted offers indicates a shift towards higher-level benefits. Consequently, consumers are increasingly drawn to apps that prioritise ease, speed, and simplicity.
Apps simplify user life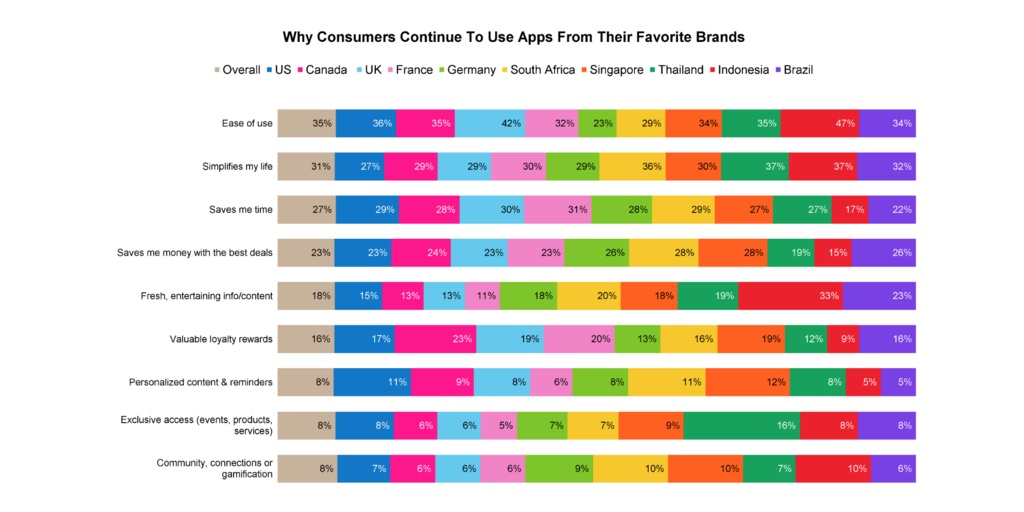 Source: Airship
App discovery remains heavily reliant on searching and browsing through app stores, irrespective of household income levels, generations, and the majority of countries. Search engines come in as the second most popular method for app discovery, followed by word of mouth (WOM).
Notably, personal recommendations play a significant role in driving app downloads in the UK, France, and Canada, where consumers rely on WOM as much as, or even more than, app stores. Similarly, in the US, Germany, and Singapore, WOM stands as the second most prevalent means of finding apps.

App stores remain top spot for finding new apps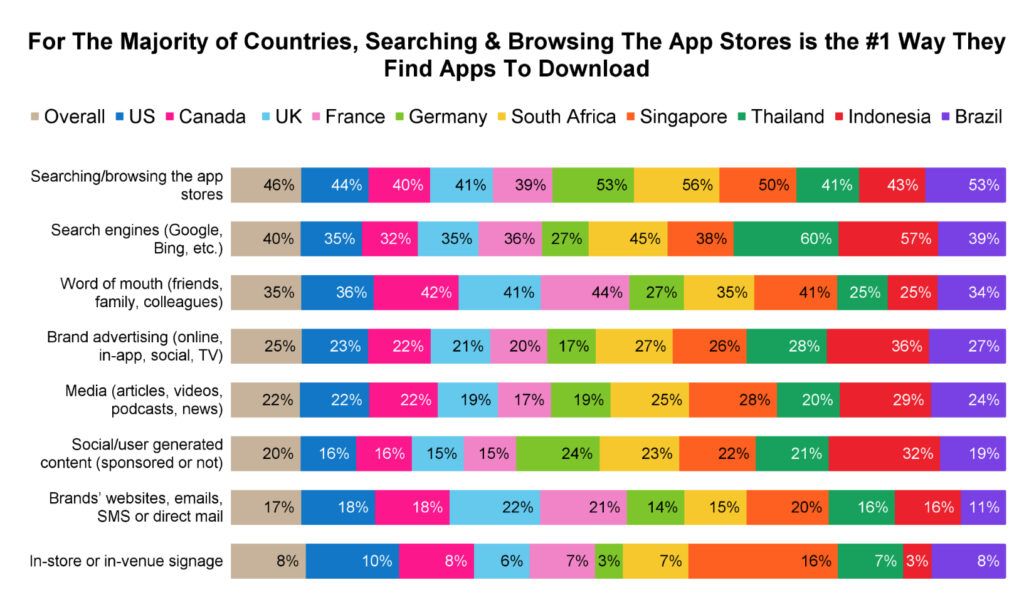 Source: Airship
A quarter of users never use apps
Worryingly, 26% of users delete apps because they never used them. It highlights that first impressions are everything – at least in the app economy. In Canada, France, and Germany, "never used" takes the lead as the primary cause for app deletion, while in the US, UK, and Singapore, it ranks second. 
A majority of consumers (57%) only give an app one or two chances before making up their minds. Additionally, within the first two weeks of downloading an app, a staggering 73% of consumers determine whether they will keep or delete it. This behaviour holds true across all countries, household income levels, and generations, highlighting the universal importance of making a strong impression within the early stages of app usage.
17% of users delete app after first use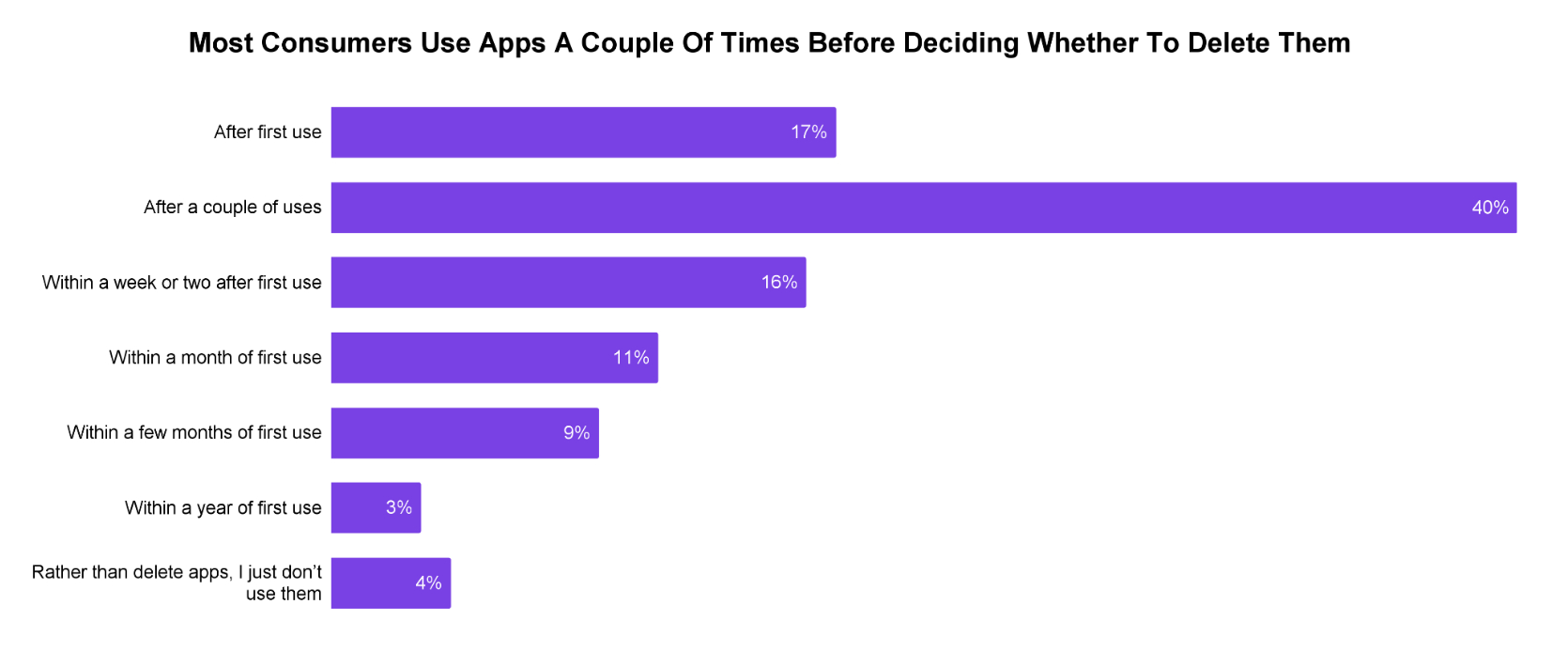 Source: Airship
When it comes to app deletion, other top reasons cited are "freeing up phone storage" (32%) and "excessive in-app ads" (30%). 
These findings underline the importance for brands to swiftly and effectively communicate the value of their apps to customers. Enhancing the onboarding experience for mobile apps is crucial for encouraging usage and optimising retention. Additionally, establishing connections with customers beyond the app, such as through email or SMS, can help drive engagement and encourage users to return to the app.
"App user acquisition means almost nothing if brands aren't able to retain their users and drive repeat usage. Brands today need to deliver value by using every opportunity to make life better for their customers," said Thomas Butta, Chief Strategy and Marketing Officer, Airship. "No one else besides Airship can unify and optimize the entire mobile app customer lifecycle, from app features and discovery to campaigns outside the app and experiences inside the app."
Key takeaways
"Simplifies my life" is one of the top three reasons (31%) users use apps from their favourite brands
Within the first two weeks, 73% of users decide to keep or delete an app
Top reasons for app deletion: "never used" (26%), "freeing up phone storage" (32%), "excessive in-app ads" (30%)