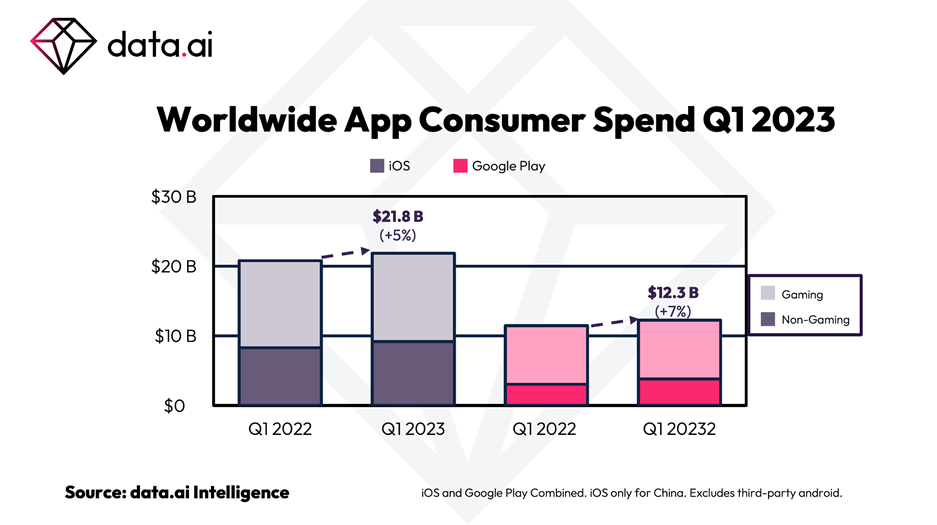 In 2023, the importance of apps to consumers remains indisputable. According to research from data.ai, the global app market is demonstrating remarkable resilience despite economic challenges. Mobile consumers are expected to spend an astounding $34.1 billion in app stores in Q1 2023, marking the highest quarterly spending on record.
After the dip follows the high
Data.ai's Q3 2022 Market Pulse Report previously revealed a slight year-over-year decline in consumer spending, dropping from $33.7 billion in Q3 2021 to $32.4 billion. Now, iOS appears to be recovering at a 5% year-over-year increase, generating $21.8 billion, while Google Play jumped 7%, grossing around $12.3 billion.
When it comes to app store spending, iOS users still outpace their Android-using counterparts by a significant margin. iOS accounts for 65% of total app store outlay, rising to 71% in the non-gaming sector, which is being fueled by the growing demand for in-app subscriptions and hit apps like Calm.
Global app downloads in Q1 2023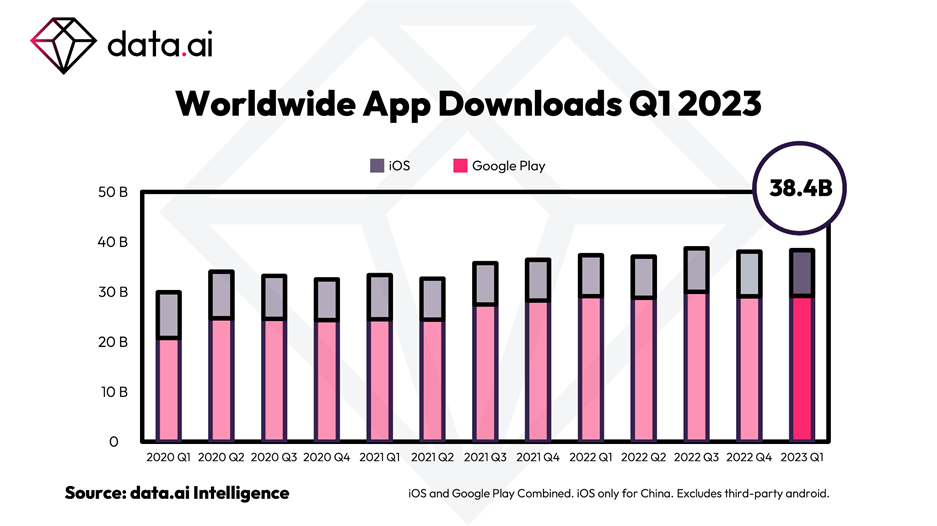 Source: data.ai
Among Google Play users, the Games, Entertainment, and Social categories were the largest in terms of consumer spending. Meanwhile, Video Players and Editors, House & Home, and Health & Fitness saw the strongest quarter-over-quarter growth, with increases of 21%, 21%, and 20%, respectively.
Regionally, the US, Japan, and South Korea were the top contributors to consumer spend in the app market.
iOS leads, US and China top markets in Q2
In Q1 2023, consumers downloaded 38.4 billion apps, second only to Q3 2022's 38.7 billion.
iOS saw the biggest spike, with estimated installs growing 12% YoY to approximately 9.2 billion. Google Play installs grew 1% YoY to 29.2 billion.
India and Brazil were the largest markets by downloads, while Turkey, Russia, and Iraq saw significant upward movement on Google Play. On iOS, China and the US were the top markets, with the US, Brazil, and Japan experiencing the most quarterly growth.
The most downloaded categories on iOS in Q1 2023 were Games, Utilities, and Photo & Video. Meanwhile, Games, Health & Fitness, and Travel had the most growth in absolute downloads QoQ. The categories with the highest percentage growth QoQ were Health & Fitness, Navigation, and Catalogs, with rises of 17%, 15%, and 12%, respectively.
Google Play users downloaded a lot of Games, Tools, and Entertainment apps in Q1 2023. However, the categories with the most absolute growth were Productivity, Books & Reference, and Education, which saw quarterly growth of 12%, 10%, and 9%, respectively.
Top apps in Q1 2023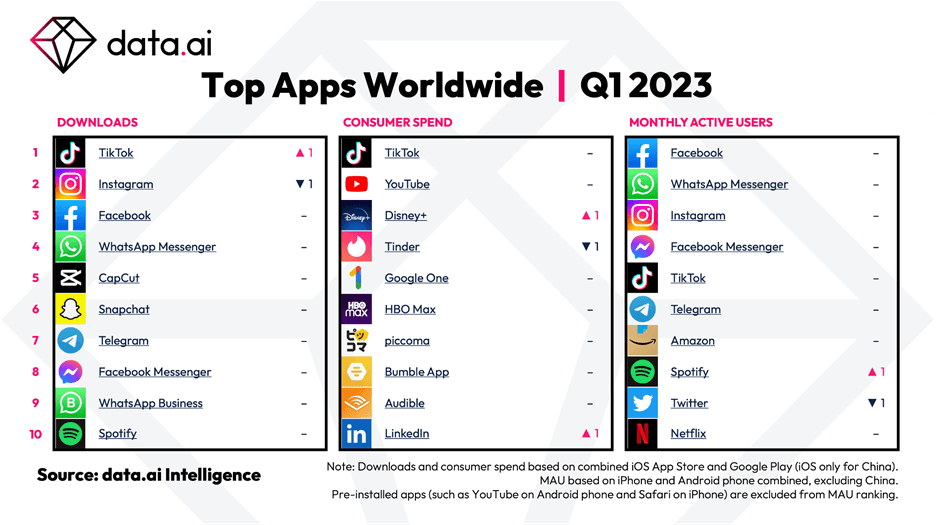 Source: data.ai
Unsurprisingly, the top spenders and downloaders in the app market remain largely unchanged, with the charts still dominated by unicorn social, chat, and streaming apps such as Facebook, SnapChat, WhatsApp, and Netflix.
However, there were a few minor changes in the Q1 2023 charts worth noting. TikTok climbed up a spot to become the world's most downloaded app, replacing Instagram. TikTok also topped the consumer spending chart, signaling its continued popularity and growth in the app market.
Key takeaways
Mobile consumers are expected to spend $34.1 billion in app stores in Q1 2023
iOS accounts for 65% of total app store outlay, rising to 71% in the non-gaming sector
In Q1 2023, consumers downloaded 38.4 billion apps, second only to Q3 2022's 38.7 billion