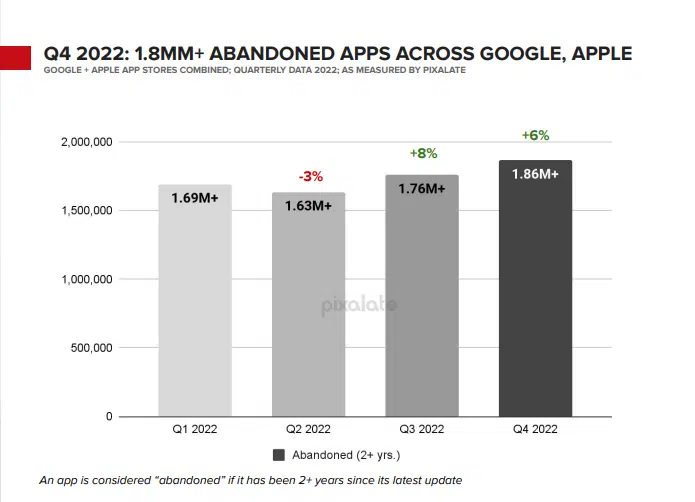 While creating an app is no easy feat, keeping it alive and going is even harder. When apps on the App Store and Google Play Store go without updates for at least 2 years, they're referred to as "abandoned" apps and the latest Abandoned Mobile Apps Report from Pixalate shows: abandoned apps are on the rise. 
Outdated apps on the rise
The number of abandoned apps on app stores rose 6% from 1.76 million to 1.86 million in Q3 2022 according to the report. The number of super abandoned apps – those that haven't received an update in over 5 years – climbed to 348,000. That's a considerable number of wasted apps. 
The Play Store has around 1.3 million abandoned apps, up 9% in Q4 2022, while the App Store accounts for the other 496,000, down 2%. 
Google may have some cleaning up to do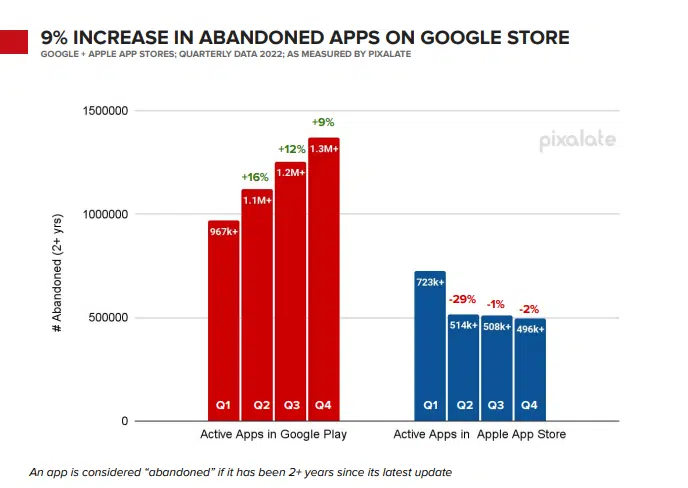 Source: Pixalate
Interestingly, 15,000 apps with programmatic ads were abandoned in Q4. 
However, around a third of apps on both stores can still be downloaded. The problem with outdated apps is that they pose a major security threat because they're no longer being updated in line with new fraud protection measures. 
And the highest percentage of abandoned apps is registered in…
Of all the apps registered in Russia, 45% are abandoned (22,000), followed by China at 40% (35,000). The US has the highest number of registered abandoned apps at 128,000 (38%). 
The report also noted that apps with over 100 million downloads are more likely to be updated than those with less than 10,000 installs. The app business is tough and in the midst of trying to gain users, many developers give up and abandon their apps. Keeping an app updated that doesn't seem to deliver any real returns can be a real drag. Another reason for app abandonment was a lack of privacy policy.
Ad spend on abandoned apps
Source: Pixalate
Indeed, 97% of App Store apps and 61% of Play Store apps that didn't have a privacy policy were abandoned.
The Huawei Mobile Services app is a bit of a standout here. It has 500 million downloads but hasn't been updated in at least 2 years. 
Key takeaways
Number of abandoned apps on app stores rose 6% in Q3 2022

 

Play Store has around 1.3 million abandoned apps, while the App Store accounts for the other 496,000
97% of App Store apps and 61% of Play Store apps that didn't have a privacy policy were abandoned