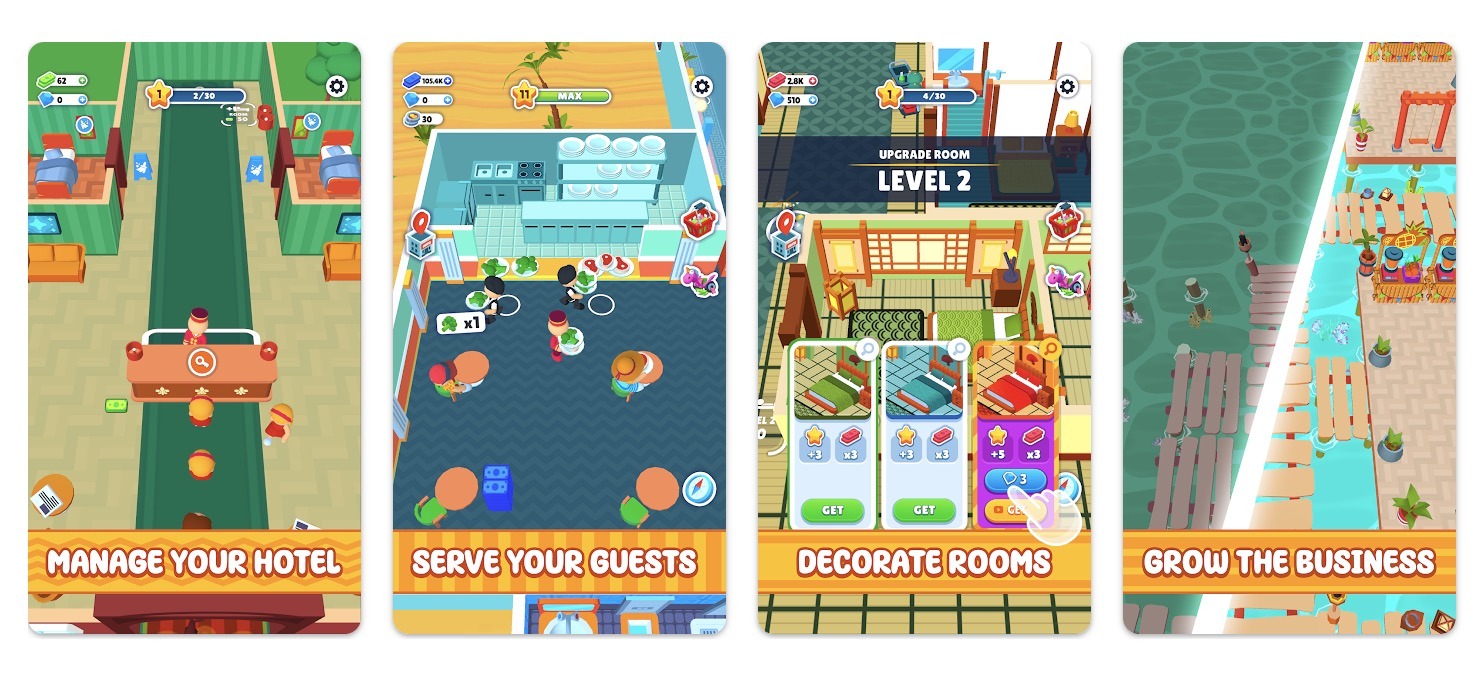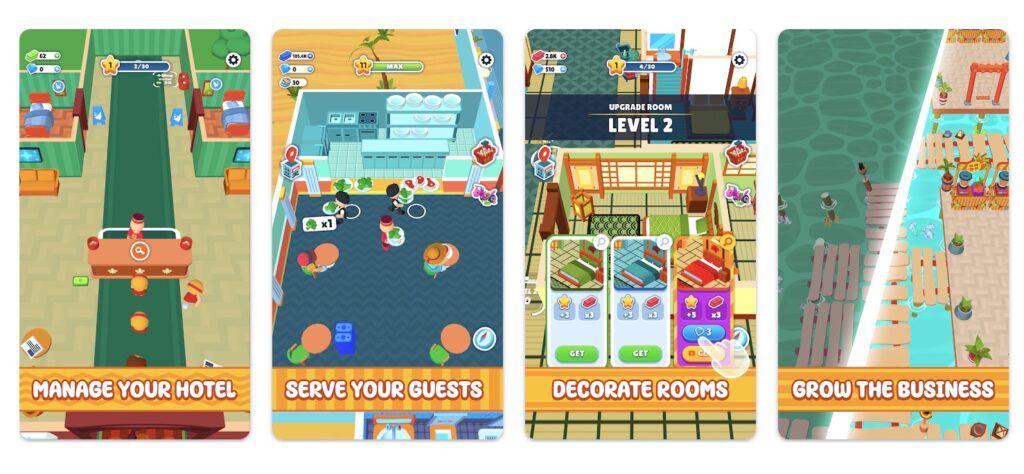 In the third quarter of 2023, hypercasual game downloads hit the 3.5 billion mark, as indicated by a recent report from Appmagic. That's an 8% drop from the 3.8 billion in the second quarter of 2023. What's happening?
Hypercasual downloads down 12.5%
According to figures from Appmagic, hypercasual game downloads were down 12.5% compared to the same timeframe the previous year.
The dwindling numbers in hypercasual game downloads have been noticeable over recent years.
Hypercasual downloads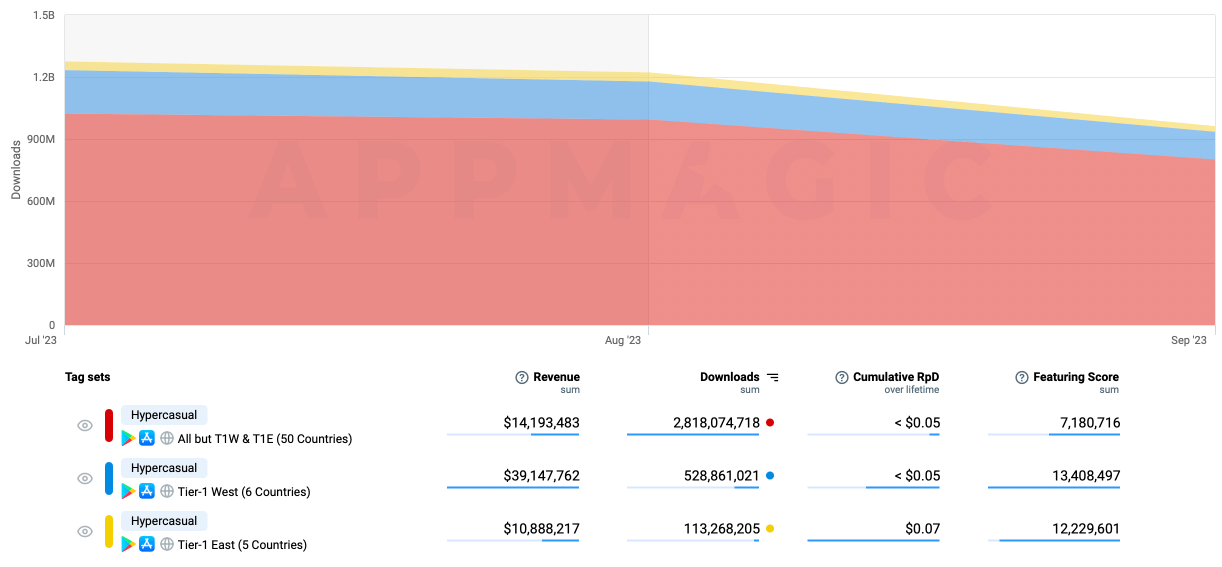 Source: Appmagic
Despite an overall slump, Tier-1 East experienced a 7% sequential quarter rise in hypercasual downloads, amassing 113 million. Yet, this uptick was insufficient to balance out the declines elsewhere. Tier-1 West encountered a 10% drop, dipping to 529 million, while there was a 7% decrease, down to 2.8 billion, in the remaining global regions.
Top hypercasual apps
The My Perfect Hotel app maintained a steady performance, solidifying its position as the most successful hypercasual game of the quarter worldwide. The game garnered an impressive 31.5 million downloads and generated a remarkable $2.47 million in revenue. Notably, My Perfect Hotel stands out with a cumulative revenue per install of $0.06, surpassing all other games in the top ten, which averaged below $0.05.

Top hypercasual titles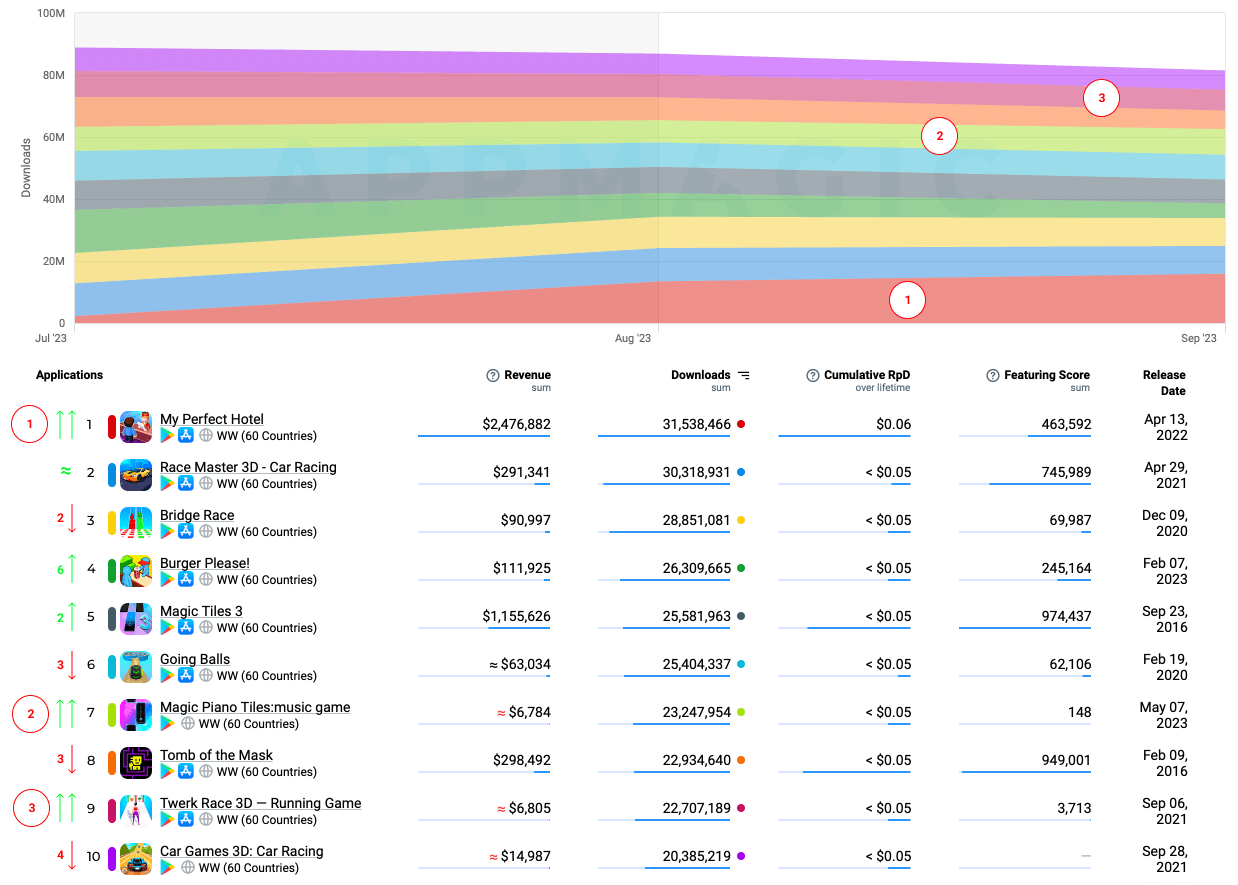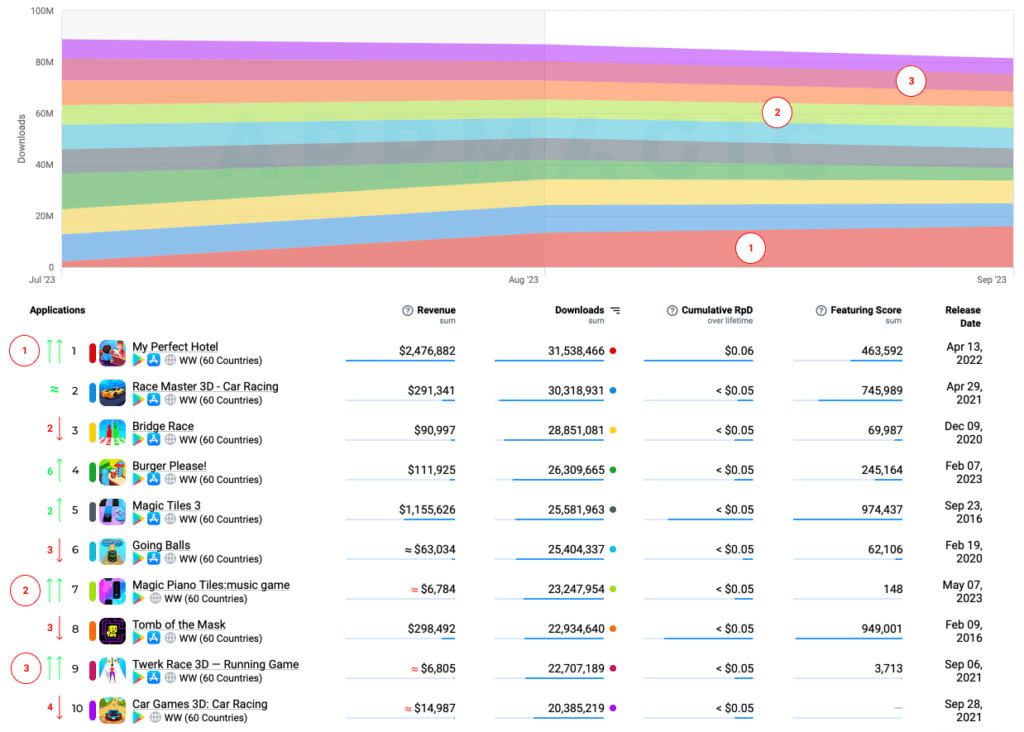 Source: Appmagic
In a close second place for downloads, we find Race Master 3D – Cat Racing, boasting 30.32 million downloads. However, the game's revenue falls considerably short, amounting to just $291,341, resulting in a meagre revenue per install of only $0.009.
Among the top 10 charts, My Perfect Hotel is part of a trio of newcomers. Magic Piano Tiles: Music Game secured the seventh spot with 23.25 million downloads and $298,492 in revenue, while Twerk Race 3D – Running Game claimed the ninth position with 22.71 million downloads and $6,805 in revenue.
Interestingly, AppMagic's report highlights the absence of specific trends influenced by social media within the top ten, a noteworthy observation. Nonetheless, the report underscores the persistence of clones of existing game titles.
Furthermore, the report points to an emerging trend of hybridcasual titles and notes that some previously prominent games have made a resurgence in the rankings. This resurgence is attributed to their efforts in refining game mechanics and creative elements, allowing them to reclaim their positions on the charts.
Key takeaways
Q3 2023 saw an 8% drop in hypercasual game downloads compared to Q2, totalling 3.5 billion downloads
My Perfect Hotel leads with 31.5 million downloads and $2.47 million revenue, achieving a remarkable $0.06 revenue per install
Hybridcasual titles rise, and refinements propel previously successful games back into the top rankings