Many businesses have undergone digital transformation and this change has been quite eventful, and the same can be said about grocery. Some time back, 'let's go shopping' was about wandering across various stores in the neighborhood and tend to be a really time-consuming procedure. The shopper was required to find the 'desired product' in the grocery store and then also had to wait in long-queue for billing. However, now the needed information can be checked in no time, and again, you can also pay even when there is no money in your pocket.
As of now, research by Nielson states, 25% consumers buy groceries online and for this purpose they use their Smartphone's or tablets for preparing shopping list, search discounts, do prices comparison & place online orders for groceries. Thus, in order to stay-on-top, you require satisfying their demands & create a mobile app for your retail grocery store.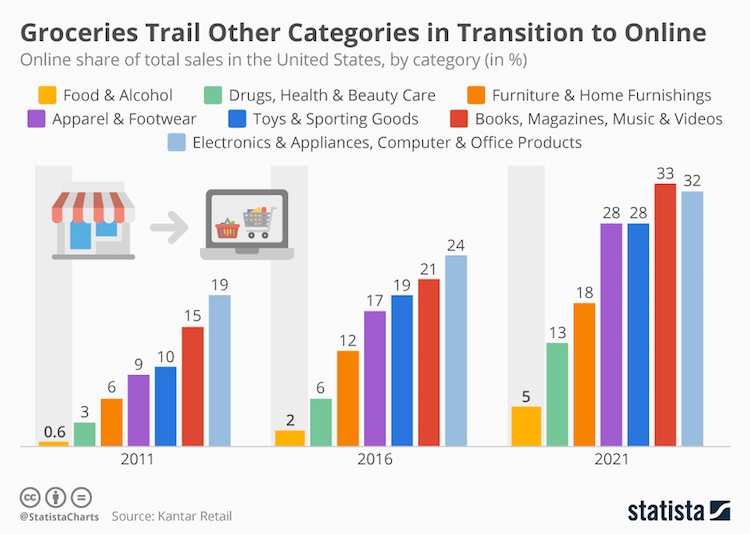 Source: Statista
Presently, the retail grocery market is on the verge of digitalization and market shares are now being divided among the ones who succeeded to implement the latest technologies and hence offer a better customer service and the ones who didn't. So, if you expect your business to do a lot more than just hang-around the break-even point and earn huge profits, then you know what change you need to make.
There are many benefits of developing grocery shopping app, one is that your customers won't just think about your app only when they run-out of grocery, but it will also remind your customers when they will use their mobile devices. Owing to the efficiency and prominence of grocery shopping apps among users, leading grocery stores like Kroger, Aldi & Walmart have already succeeded in taking their sales to a next level.
So, now let's unveil the benefits of creating a grocery mobile app, whether you own a grocery store or just intend to develop a grocery shopping app to monetize it.
Related Article: Grocery Delivery Mobile App Development Features
Does what influence Digital Transformation have on Grocery shopping?
As per Deloitte Report, from 14% in the year 2013, the influence of digital grew to 56% in 2016 that is four times the growth. Now the usage of mobile to enhance in-store experience also follows the same pace, boosting from 5% to 37%.
Even though digital influence for particularly grocery is not as much as for clothes, automobiles, and electronics, this indicator still rose up by 18% during the year 2016, and hence successfully caught up with other product categories.   
Presently, the expectations are all the higher as stakes are really high on the grocery industry with it expected to double its revenue by 2021. As per Statista, in the U.S., online grocery sales were accounted for $14.1 billion in the year 2017 and it will be growing to $30 billion. Thus, if you intend to be part of this sum of money, then you certainly need to up your game by creating a grocery shopping app and be a step ahead of your competitors.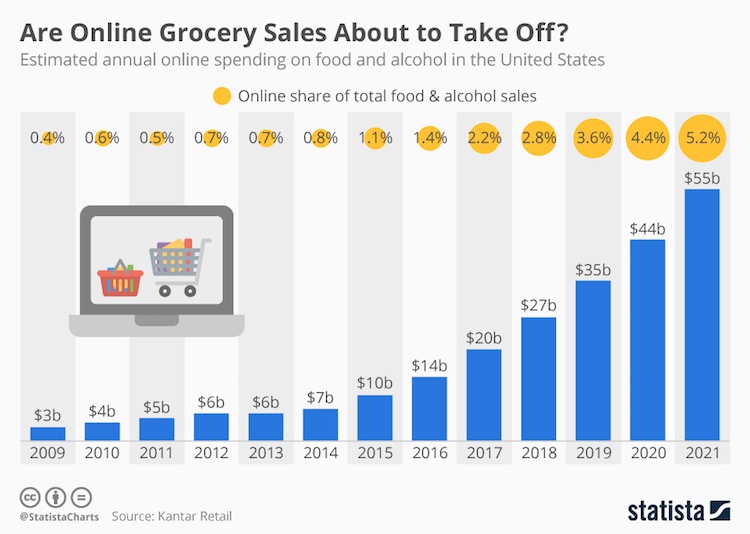 Source: Statista
What are the types of Grocery Mobile Apps?
Now there is no specific standard about how to create a grocery mobile app and hence you can create it for a number of tasks. A grocery app can be able to complete multiple tasks, which makes it a lot more complex and how complex the app should be, entirely depends on the goals and budget you have.
Supermarket-specific grocery app
A number of grocery store chains, such as Costco, Aldi, Publix, are creating grocery store mobile apps in order to promote their brand. Now, these kinds of apps come integrated with myriad functionalities & features. They offer promotional booklets, loyalty programs, show the user's purchase history and a lot more. 
Grocery Store delivery app
As shopping tends to be a time-consuming task, so no wonder that grocery delivery mobile app development were welcomed with open arms and became an instant hit. This kind has two varieties, where the first is grocery delivery firms bringing products from virtually every shop (like Shipt & Instacart), and the other is online grocery shops (like Peapod). Grocery store delivery apps allow to explore products without having to leave home, view past purchases and also use them as a list so to reorder few of them. It also involves assigning purchases beforehand or placing an order instantly.
This kind of grocery app allows consumers to save money & get discounts without the requirement to print discount tickets. They function in a manner where users get rebate app & purchase some groceries which are on the app's list. Then they need to take a picture of the bill, send it & then they receive a particular cashback.
Grocery price comparison app
This kind of app should enable customers to easily check prices in various stores so that they can find about the most exciting deals. These kinds of apps, also allow users to:
Get promotional prices changes
Select other units which are used to measure the product's price (height, area, weight, etc.)
Find & view booklets with promotional offers for groceries
Receive notifications on your mobile regarding the best offers on the basis of your past purchases.
Customers widely used grocery price comparison mobile app to find groceries with the best value-for-money. The hype can also be used to develop your own grocery price comparison app. Here, the target audience of both the grocery rebate app and grocery price comparison app are those keen on having a precise control over their spending.
Jotting down a shopping list was quite a problem earlier, however now with these apps, there is simply no need of writing a new list every time you go to grocery store. In fact, most kinds of grocery shopping apps enable their customers to add/remove products on their online shopping cart and can also keep them to access later. The app allows to share the list with other app users, make changes to list online so the other users can view them, remind purchasing default products on a regular note, keep users' list for future use, etc.
What are the features of Grocery Shopping App?
There are many features that are required in the making of a Grocery Shopping mobile app, however, here we have discussed the most crucial ones. They are:
Authentic Shopping Experience
Even though 32% grocery app users prefer to purchase grocery online, you must design the grocery app in a manner that it has the authentic appeal of a real grocery store: it must allow customers to:
Add products to the virtual shopping cart
Provide illustrative 3D images of real products

 

Browse products by categories
These above-mentioned elements make it simple toggling between digital & physical shopping
Digital Coupons
Any customer appreciates a good deal. 50% of Americans purchase the most prominent goods & look for discounts, so to be certain that the money paid by them won't get wasted. So, why not cash on users' desire to use coupons and discounts, by allowing your grocery mobile app offer same. Now the discounts don't need to be really so and you can keep to a minimum, as the main motive is to make a statement to users that they are not missing out on special deals.
Personalized Customer Experience
Just as everyone else, your users are again certain to have their favorite products and brands. So, you can free them from keep looking for same product time and time by allowing your grocery shop app to save their favorites from their purchase history, so they can reorder the same products once again.
Furthermore, AI can be used to analyze their history & offer them products especially recommended for them. This personalization recommendation not just keep users engaged better but are also not as obsessive as they are offering precisely what the client requires.
Push Notifications
To make customers stay loyal to your grocery shopping app, it's vital to make efforts to keep them attracted. Embedding push notification can be useful, as then the users stay informed about new offers, discounts, products and useful tips to shop. Moreover, the users can be encouraged with cashback and rewards as well. 
Barcode Scanning: To save customers from adding grocery to digital shopping list manually, there is Barcode Scanning that comes useful. This feature enables scanning all required products fast & receive a ready-made list as a result. Using Barcode Scanning users can stay-on-a-budget as it shows the total amount of shopping list to users and thus it helps in not being at an awkward space at payback time, in case the total cost has been miscalculated by them.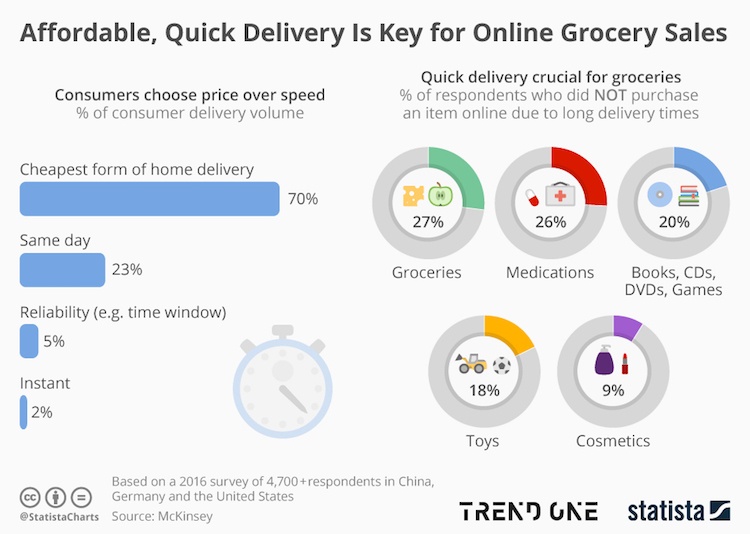 Source: Statista
What is the cost to develop a Grocery Shopping App?
It is easy to evaluate the cost to develop a grocery shopping app with the help of three key elements: App Complexity, Region where the app is being developed and the number of dedicated platforms required by the mobile app.
Different regions have different budget regions, like:
U.S. based developers: – $50 to $250 per hour
Eastern Europe based developers: – $30 to $150 per hour
India based developers: – $20 to $80 per hour
The below-mentioned estimate of your mobile app will help in finding defined estimate for app making. Cost of app development can be calculated on the basis of these integral activities.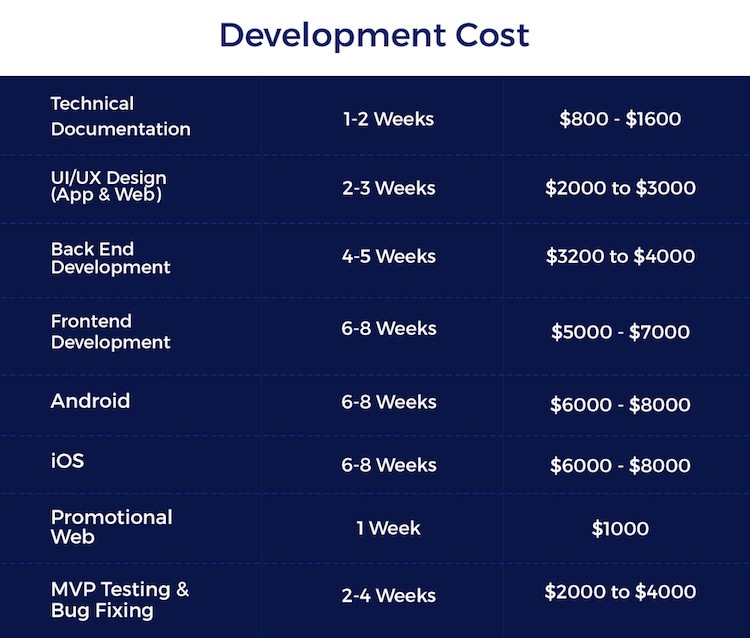 Thus, as we calculate the overhead costs, it is found that the making of an average grocery delivery app may cost up to $15,000-$80,000 for a single platform (Android or iOS). As more features are added to the app, the cost may go up to $50,000. 
Conclusion
The growth might be slow but e-grocery is certainly an upcoming market and it is vital for grocery chains to be prepared for this big change. A number of customers are already looking forward to using the online service of their favorite store and we see more customers getting involved soon. Thus, getting a grocery mobile app development to appear as the best solution, and we would be more than glad to help with the right assistance. Get in touch.  At Octal IT Solution, we have huge experience in developing grocery delivery apps, so that can benefit you immensely. You can reach them at the following email.