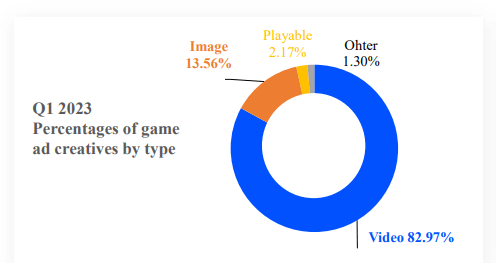 The first quarter of 2023 saw an overwhelming majority (92%) of mobile game advertisers release new creatives. This equates to nearly 50,000 advertisers in the mobile gaming space who introduced fresh ad content during this period, finds ad intelligence company SocialPeta. Video ads accounted for 83% of all ad creatives during the quarter, while Image, Playable, and other ad types accounted for 14%, 2%, and 1% respectively.
Android accounts for most creatives
The report highlighted a staggering number of new ad creatives in the mobile gaming ecosystem were released for the same period, reaching a total of 7.80 million. This represents 67% of all ad creatives placed in the quarter. It indicates the mobile gaming industry's continued growth and dominance in the digital advertising world.
There was a notable surge in the number of Android creatives during the first quarter of 2023. Android creatives accounted for 70% of all ad creatives, while iOS creatives made up the remaining 30%. This suggests that the Android platform is becoming increasingly popular for mobile game advertising, perhaps due to its wider user base or other factors such as more accessible app development tools.
Android (green) accounted for more ad creatives than iOS (blue)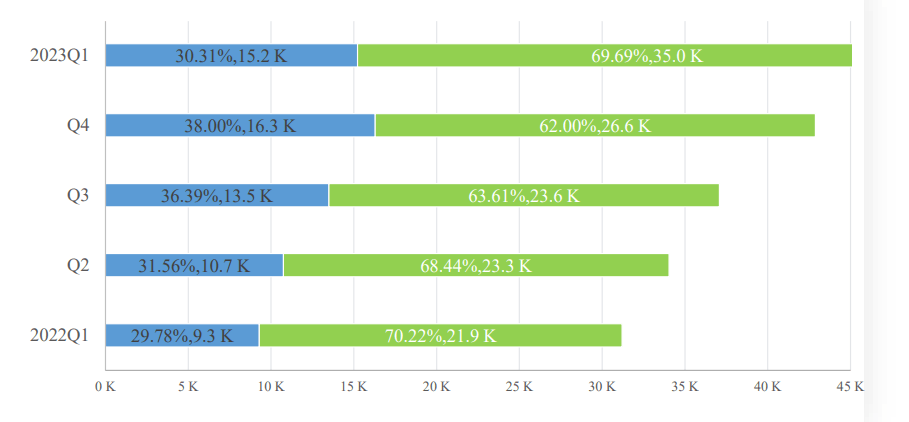 Source: SocialPeta
The shift towards Android could have significant implications for advertisers looking to reach mobile gaming audiences, as they may need to adjust their strategies accordingly to ensure they are effectively targeting their desired audience.
Casual dominates gaming industry
Casual games dominated the mobile gaming industry in the first quarter of 2023, ranking top for the number of advertisers and creatives. The genre experienced a year-over-year increase of 2.29% in the number of advertisers and 12% in the number of creatives.
Following Casual were Puzzle, Simulation, Action, RPG, Casino, Arcade, Strategy, Card, and Adventure categories, respectively, indicating a wide variety of genres that are attracting mobile game advertisers.
Casual games dominate ad creatives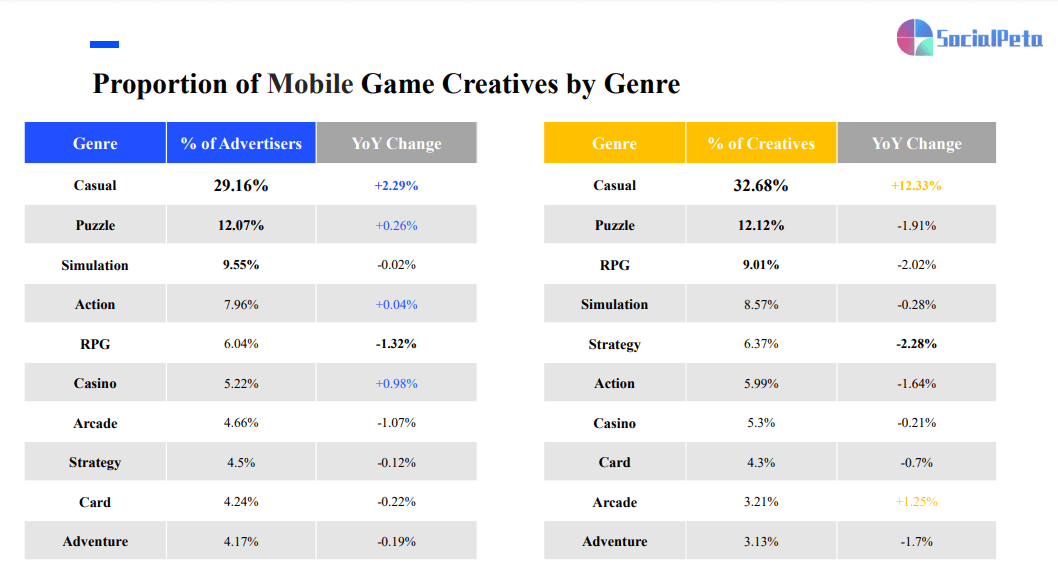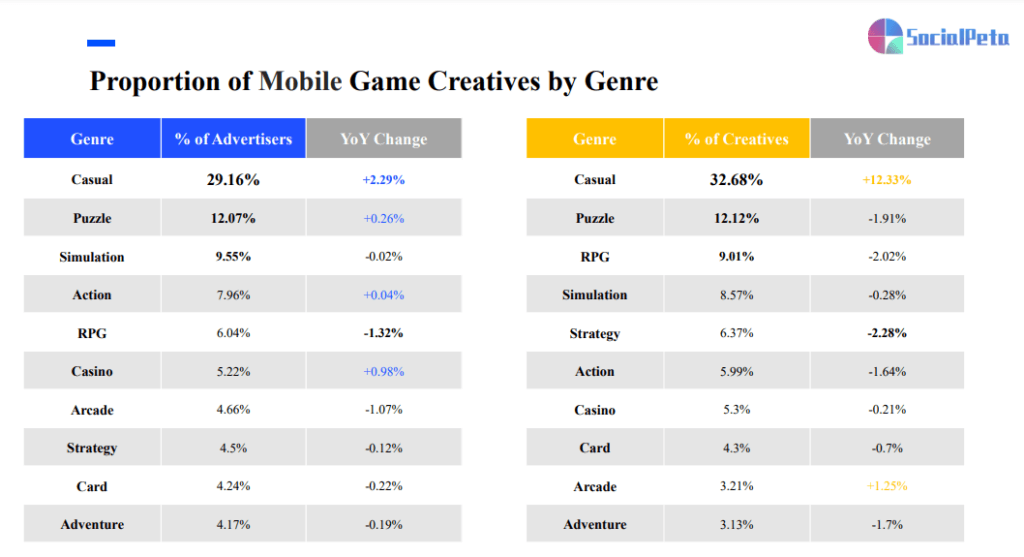 Source: SocialPeta
In terms of the number of creatives, the genres that saw the most activity in Q1 were Puzzle, RPG, Simulation, Strategy, Action, Casino, Card, Arcade, and Adventure. This suggests that advertisers are exploring a broad range of genres to reach and engage with mobile gaming audiences. The report's findings indicate that the mobile gaming industry is continuing to grow, with an increasing number of advertisers and creatives being developed to target this growing market.
Interestingly, North America led the pack in terms of the average number of monthly mobile game advertisers during Q1, with an average of 12.7K advertisers. This figure represents a 31% increase over the second region on the list, Europe.
However, in terms of the average monthly creatives per advertiser, Hong Kong, Macao, and Taiwan topped the list with an average of 239 creatives per advertiser, followed closely by Japan & South Korea with 230 creatives and Southeast Asia with 222 creatives. This suggests that mobile game advertisers in these regions are actively developing a large volume of new creatives to target their audiences.
Key takeaways
Mobile game advertisers released 7.8m new ad creatives in Q1 2023
Video ads account for 83% of all ad creatives
Casual games dominate mobile gaming ad creatives