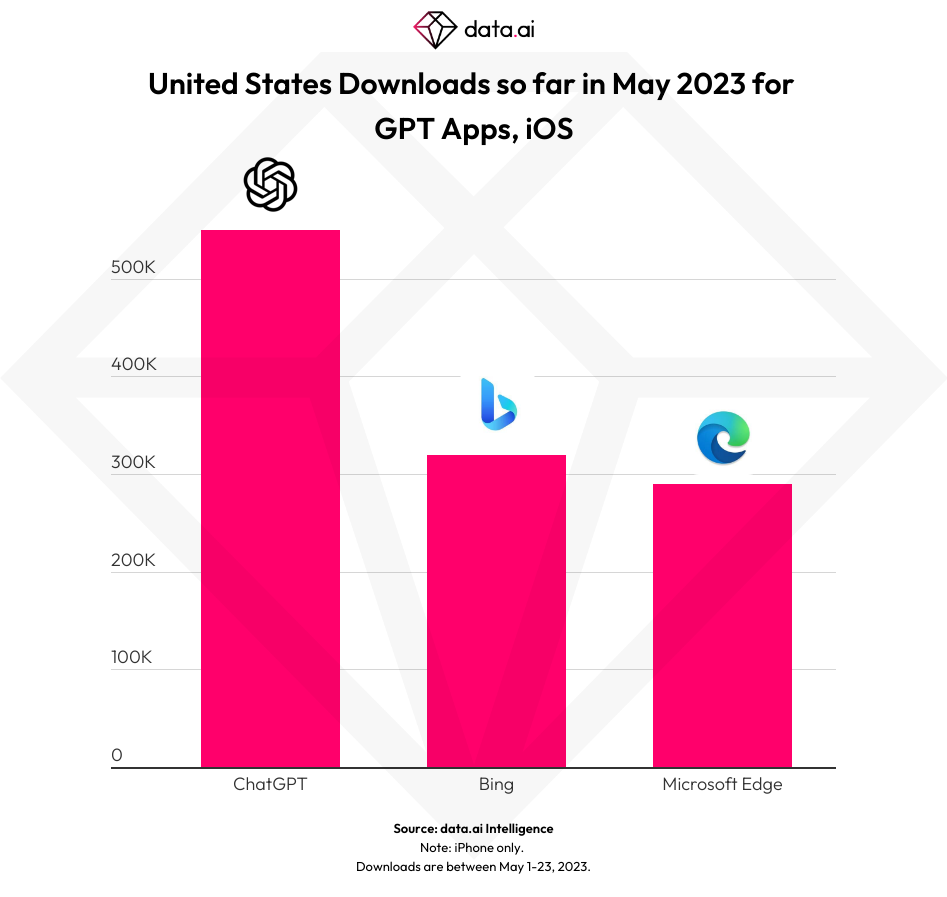 OpenAI's ChatGPT saw downloads jump to 500k during the first six days after its launch, only surpassed by Truth Social, which garnered over 600k downloads. What makes the results even more startling is that by then, the app had only been available on iOS in the US. Let's take a look.
Top iOS downloads in May
Since ChatGPT has been available as an app, its makers have launched the app in 11 more countries. That's according to new data from mobile experts data.ai.
Only Microsoft Edge and Bing saw similarly impressive downloads during five days in 2023. 
When comparing the number of iOS downloads alone, ChatGPT outperformed Bing and Edge by a significant margin. ChatGPT amassed an impressive 480,000 installs, surpassing Bing's 250,000 and Edge's 195,000 downloads.
In May, when considering all US downloads across both app stores, Bing and Edge still held a lead over ChatGPT. However, when specifically examining iOS installs for the month, ChatGPT surpassed both Bing and Edge. This suggests that ChatGPT is on track to potentially surpass search-focused alternatives in the near future.

Bing and Edge still in the lead for downloads in May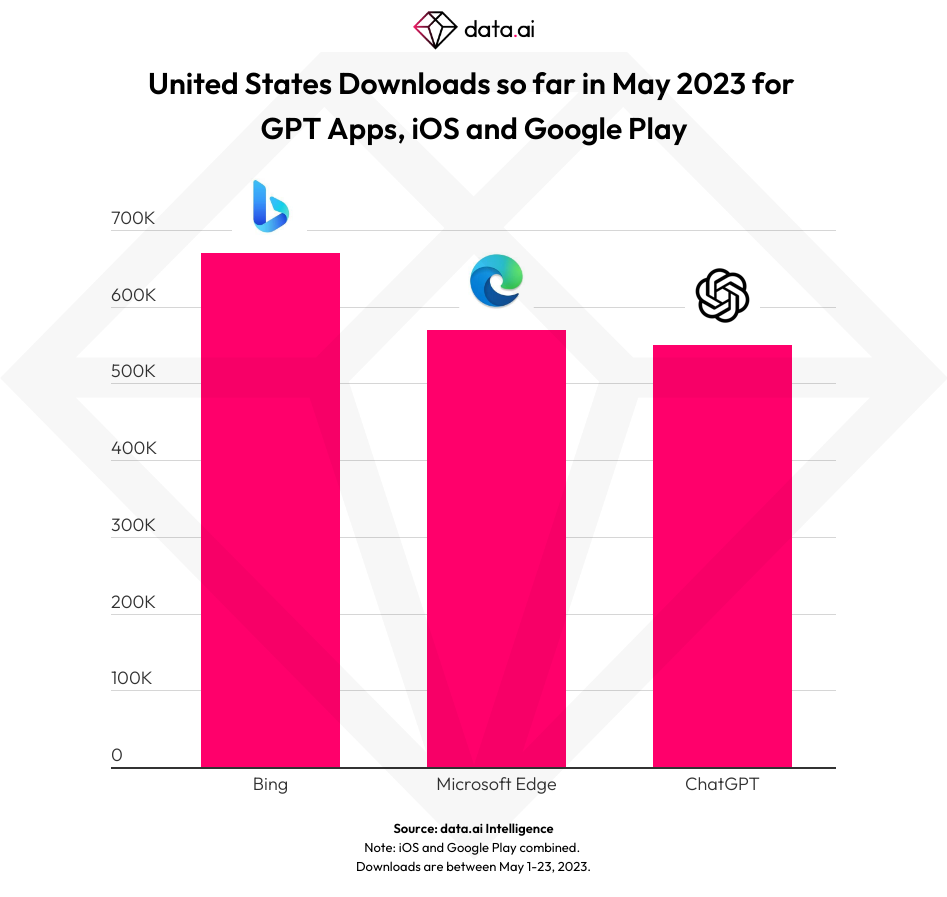 Source: data.ai
As the demand for AI chatbots soared among consumers, numerous third-party apps emerged in the App Store, branding themselves as "ChatGPT" or "AI chatbot." While a significant portion of these apps were essentially fleeceware, deceptively urging users to subscribe to costly plans in order to utilise their AI capabilities. 
With such a competitive environment prevailing among AI chatbot apps, one might have expected challenges for an official ChatGPT app to establish a foothold in the market. However, contrary to expectations, this has not been the case.
Competition? What competition?
Based on Data.ai's analysis, ChatGPT not only outperformed its competitors but also surpassed numerous apps that took advantage of generic names to capitalise on consumer searches for "AI" and "chatbot" on the App Store. In terms of downloads, ChatGPT ranked among the top five when compared to other apps' best five-day periods throughout 2023 on both the App Store and Google Play.
Downloads of chatbots on app stores in 2023
Source: data.ai
However, it's worth noting that one app managed to exceed ChatGPT's performance. "Chat with Ask AI" garnered 590,000 installs from April 4th to 8th, 2023, surpassing ChatGPT's 480,000 installs between May 18th and 22nd of the same year, as indicated by the data.
In comparison to other chatbot apps, ChatGPT showcased commendable performance by amassing a total of 550,000 downloads. This tied it with Genie – AI Chatbot, the closest-ranked AI chatbot app in terms of May downloads on the U.S. App Store.
Top chatbot apps by downloads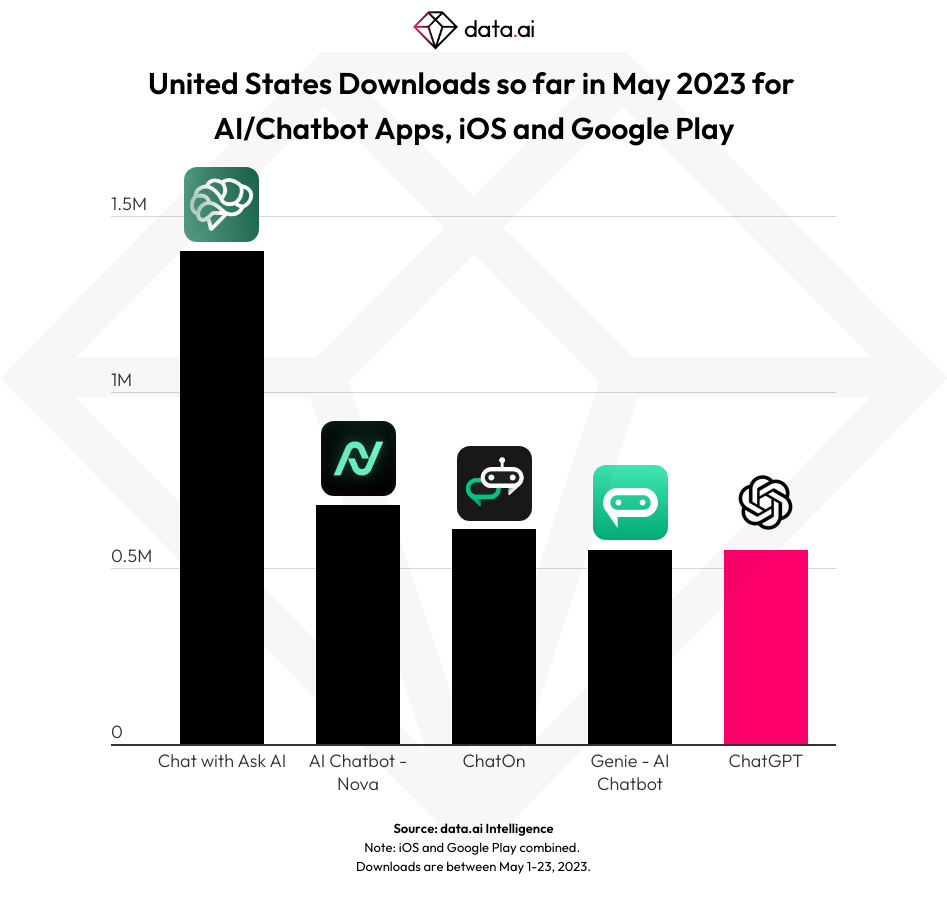 Source: data.ai
While a few other apps, namely ChatOn – AI Chat Bot Assistant with 610,000 installs, AI Chatbot – Nova with 680,000 installs, and Chat with Ask AI with a significant 1.4 million installs, maintained a lead, it is worth noting that ChatGPT swiftly surpassed the milestone of half a million installs. This impressive growth indicates that ChatGPT is poised to potentially surpass these competing rivals in the near future. However, it's important to remember that downloads often do not equate to usage. That data remains to be revealed.
Key takeaways
ChatGPT: 500k downloads in 6 days, 2nd largest launch after Truth Social
ChatGPT outperformed Bing and Edge on iOS with 480k installs
But "Chat with Ask AI" surpassed ChatGPT's with 590k installs