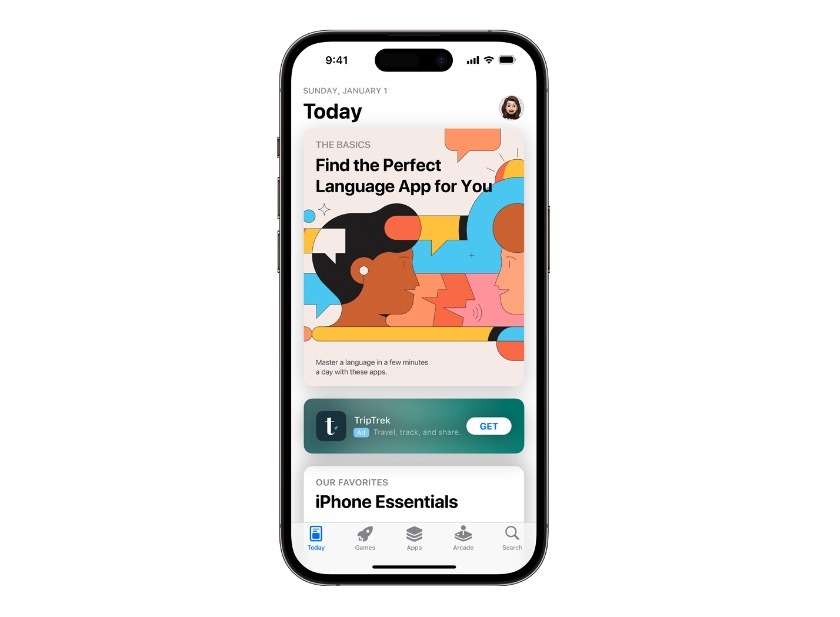 Apple revealed a new ad format for the App Store, exclusively tailored for the Today tab. The revamped design presents a more concise layout compared to the previous full-height card style. Let's take a closer look.
What's the new Today tab ad format?
If an app is featured on the Today tab it's displayed on the front page of the App Store. This means users will instantly see apps.
To enhance the user experience, the new format for the Today tab will be streamlined to showcase essential elements such as the app icon, name, and subtitle as entered in App Store Connect.
In this updated format, ads will be fully visible on the Today tab without the need for scrolling. Users will no longer have to navigate through the page to view the entire advertisement, ensuring a more convenient browsing experience.
The simplified design will be implemented across all countries and regions where Today tab ads are currently featured. But it's important to note that the new format will only be available on iPhone devices running iOS 16.4 and later. Users with iOS 16.3 or earlier versions, as well as iPad users, will not have access to the Today tab ads in this updated format.

Cutting time by cutting the review process
Some marketers will rejoice at the mention that due to the new ads no longer utilising creative content from a custom product page, the custom product page designated as an ad tap destination won't undergo a review process before an ad is launched.
However, it's important to note that Apple Search Ads will still review app icons, names, and subtitles to ensure compliance with the content guidelines specific to Today tab ads and adherence to Apple Advertising Policies.
Updated ad guidelines
Apple also shared some updated ad guidelines. App marketers should not use images in app icons and names or subtitles that are considered inappropriate. Pricing or phrases such as "game (or app) of the day" are also not allowed. Custom product pages for redirects much be localised to the primary languages and app names and subtitles should match the language for associated countries and regions.
Existing campaigns will be changed over to the new format in July and developers won't need to take any further actions.
Key takeaways
Apple's Today tab gets a sleek ad makeover, showcasing app icons instantly without scrolling.
The new format is limited to iPhone devices on iOS 16.4+, not available on older iOS versions or iPad.
The review process for custom product pages was eliminated, but ad content is still subject to Apple's guidelines