Founded in 2019 as an extended arm of the US-based technology consulting firm –  KMS Group, KMS Solutions establishes itself as a leading provider of software development, quality assurance, and digital consulting within the APAC market.
Throughout three years of operation, KMS Solutions has recorded a remarkable growth rate of 260.35% – ranked 9th spot on Clutch's Top 100 Fastest-Growing B2B Providers and won the ''Fast Enterprise'' award at APEA 2021. The company is also a trusted partner with multiple tech giants, including AWS, Katalon, GoodData, Microsoft, Thermo Fisher Scientific, and many more. The company provides IT consulting and services with a key focus on digital transformation with a mission of developing innovative digital apps and platforms for businesses. 
In today's interview, we welcome KMS Solutions' COO – Mr.Abhishek Nema – to explore trending topics revolving around digital platforms and how enterprises can deploy them to scale faster. 
Digital platforms have been around for a while. Most industry leaders have had at least one digital platform for themselves. Yet, not all executives fully understand the term or why they might need one. Do you mind explaining to us the term and its importance?
Conceptually, a digital platform is a combination of hardware (e.g. a server) and software (e.g. an operating system) that the company uses to connect interests with users. Uber, for instance, is a service-oriented platform that brings together a driver who wants to work and a customer who needs transport from point A to B. Digital platforms come in various forms, depending on the company's business model and the specific purposes they aspire to deliver. 
Given the current rising digital transformation wave, online platforms have been at the forefront of the business agenda lately. Our clients also recorded increased brand exposure, improved customer experience, and sales boost through this tech-enabled business model. As more and more clients are switching to digital, there is no doubt that the number of online platforms will spike in upcoming years.
Considering the digital world we live in today, digital platforms are no longer a strategy for digital natives but rather an absolute necessity for any company. However, not every digital platform launch is a success. What challenges do businesses usually deal with when building an online platform?
In my experience, a strong launch often needs persuasive early adopters to join before the platform gains popularity. The risk is significantly greater for multisided platforms, which require not just a large number of users but a diverse group of users. A ride-sharing platform, for instance, needs a considerable consumer base who want to book cabs through smartphones and drivers willing to take those bookings to operate effectively. Getting a massive sign-up from the start can pretty much terminate unpredictability about a platform's outlook since it productively generates vital scale into the platform's network. 
For your product to stand out and attract new customers, it will need to have a distinct feature to differentiate itself from competitors. This requires enterprises to conduct extensive market research to explore unmet and undiscovered consumer needs. Nevertheless, these are no easy tasks, especially in today's saturated market.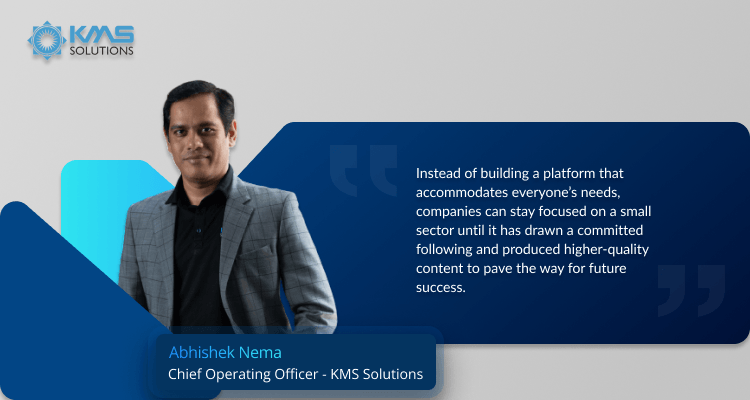 Do you have any advice to help organizations alleviate these problems?
There are heaps of ways to acquire new users for digital platforms, from referral programs and influencer campaigns to affiliate and partner marketing. With that being said, firms have to develop a unique and memorable brand identity in the hope of getting customers hooked. Maintaining a consistent and compelling brand message across marketing channels is also recommended to increase engagement. 
If signing up a huge amount of users is not attainable, business leaders should search for ways to deliver value to individual consumers. I'd advise entrepreneurs to clearly define their industry niche to determine what kind of stand-alone value to provide and to whom they should offer it. For some platforms, targeting clients in a comparatively narrow market where the platform can more promptly acquire traction is a good strategy. Instead of building a platform that accommodates everyone's needs, companies can stay focused on a small sector until it has drawn a committed following and produced higher-quality content to pave the way for future success.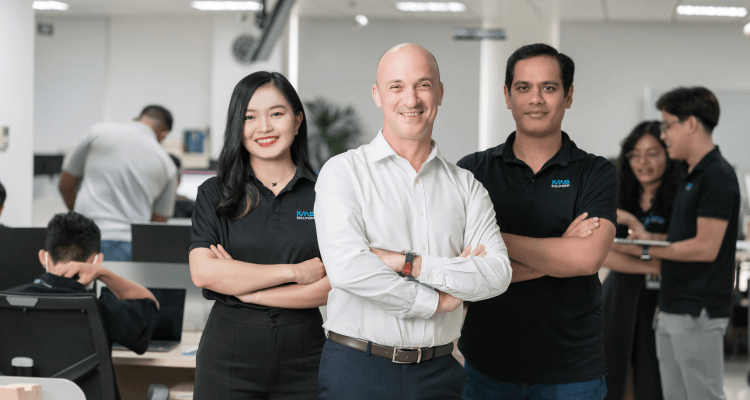 You would also need to convince clients that your platform is worth joining, particularly if doing so requires a considerable investment, as is the case with game consoles. A way to entice initial users is to recruit a marquee platform contributor. For example, an e-commerce platform needs to illustrate that highly sought-after brands will be available. In turn, they would have to pay well-known brands to have their products displayed on the platform. For maximum impact, the participation of the marquee contributor should be exclusive. Platform creators can pay brands a premium to offer their items exclusively. Thus, if devoted consumers want those merchandise, they have no choice but to use the platform. 
What are the criteria businesses should take into account when building a digital platform?
A mistake I usually see in enterprises is that they don't have a clear vision and expectations for the project. A digital platform is a long-term, multiphase project that relies on consistent iteration to scale and enhance to stay relevant. Before heading to the implementation phases, I always advise my clients to first decide on the capabilities they will build, the sequence in which they'll do so, and the timeline over which they'll progress. We also suggest clients develop and deploy a minimum viable product (MVP) to help demonstrate progress and accelerate time-to-market. 
For software development processes, the majority of corporations partner with IT service providers to get help with choosing technology, outlining digital ambition, and establishing long-term development and maintenance. Hence, selecting the right technology partner is extremely important as it vastly influences the project's success. Price, experience, portfolio, customer services & support are crucial vendor selection criteria you should consider.
Culture and change management is other critical aspect that determines project success. With IT outsourcing, especially offshore vendors, cultural differences are inevitable. Hence, companies should anticipate cultural gaps and generate strategies to manage cultural diversity effectively. Despite detailed prior planning, changes can always be made during the project development. For efficient change management, project managers need to clearly define the change, and craft a new thorough, and realistic plan. Throughout the change management process, a framework should be established to monitor the changes' effects on the project and measure their effectiveness.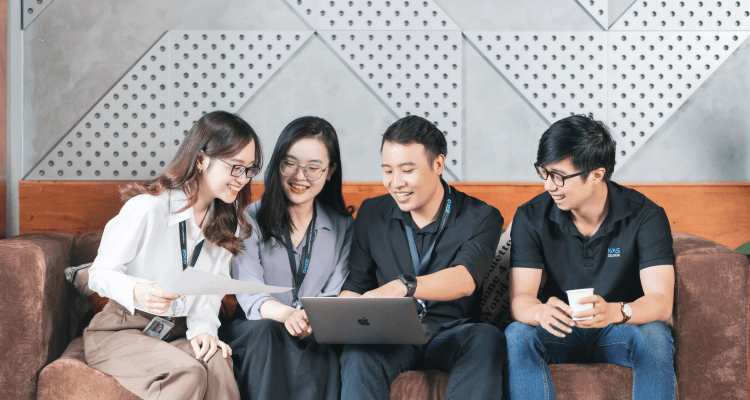 With a mission of developing transformative digital platforms for APAC companies, how will KMS Solutions plan to achieve this goal?
We offer technology consulting sessions for each project to create a product roadmap tailored to consumers' needs. Having the latest IT infrastructure and dedicated IT teams with diverse skill sets, KMS Solutions strives to develop world-class solutions that help companies scale faster and enhance user experience. To ensure a smooth development process, KMS Solutions developer teams will accompany clients through every stage of Digital Transformation, from Requirement, Implementation to Testing and Production Deployment.
Furthermore, we assist businesses in adopting Agile methodology to accelerate time-to-market and increase productivity. Over the years, we've delivered multiple projects for corporate giants like Accenture, Prudential, Circle K, Tricentis, etc. Hopefully, this year we will have the chance to collaborate with even more enterprises, helping to bring their visions into reality. 
You can learn more about our service here.