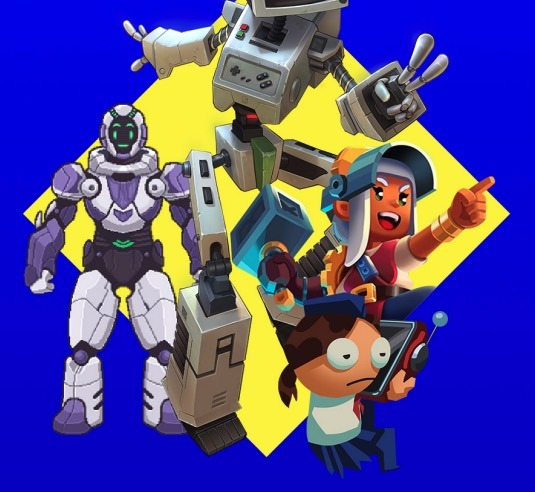 A whopping 38% of all games developed in Brazil between 2020 and 2021 were primarily designed for mobile devices. That's according to data from Abragames' 2022 Brazil Games Industry Report. What does this mean for Latin America and the mobile gaming industry at large?
Brazil emerges as a mobile gaming powerhouse
Brazil has quickly emerged as a leading force in the global gaming market, currently ranking as the tenth-largest market worldwide and the foremost market in Latin America. The immense popularity of mobile gaming has contributed to this growth, with a diverse range of developers and over 12,000 employees working across more than a thousand game-making companies.
Games developed for various device types

Source: Brazilgames
Notably, Wildlife Studios has been recognised as the country's first unicorn achieving a valuation of $3 billion in 2020, further cementing Brazil's status as a key player in the gaming industry.
All eyes on Brazil
This has attracted international investment such as Epic Games' investment in Aquiris Game Studio. This move resulted in the acquisition and rebranding of the studio as Epic Games Brasil.
57% of the country's 1,009 developers reported generating revenue from abroad, either through games or services provided to foreign partners, amplifying Brazil's global reach.
Revenues from abroad
Source: Brazilgames
Among respondents, 55% identified the US as a major market, showcasing the nation's enduring significance on the world stage. Following closely behind were Latin America (53%), Western Europe, and Canada, with each region capturing the attention of 49% of respondents. Curiously, China, renowned as the world's largest mobile market, was recognised as a major market by only 23% of respondents, sparking intrigue and raising questions about its relative prominence in the industry.
A diverse sector
The report notes that Brazil stands out among LATAM countries, with revenue surpassing $2.3 billion in 2021, reflecting year-on-year growth of 5.1%. Some 75% of Brazilian consumers are dedicated gamers, frequently indulging in gaming experiences primarily on phones, tablets, and PCs.
What's more, Brazil's gaming industry is rather diverse with 30% of employees being women, and a majority of 62% holding essential positions in art design, programming, and project management.
Women in the industry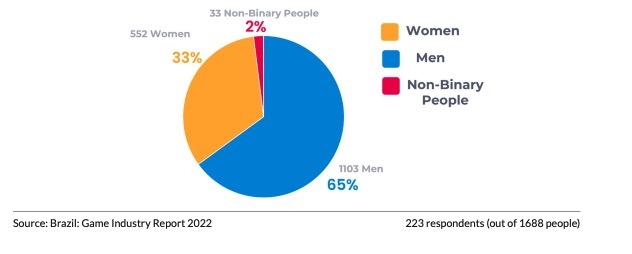 Source: Brazilgames
Emphasising inclusivity, 57% of Brazilian game studios actively cultivate diverse workforces, embracing individuals from diverse ethnic backgrounds, the queer community, people with disabilities, and those who are neurodiverse. This commitment to diversity contributes to the vibrant and inclusive nature of Brazil's thriving games industry.
Key takeaways
Brazil's gaming industry witnesses a staggering 38% of games developed for mobile devices
Brazil emerges as the leading gaming market in Latin America, with revenue exceeding $2.3 billion in 2021
Brazil's gaming industry embraces diversity, with women comprising 30% of employees and inclusive workforces in many game studios