China's leading mobile publishers contributed a 38.7% share of the global revenue for the month of October. That's according to the latest data from Sensor Tower. Let's dive in!
37/100
A whopping 37 Chinese mobile publishers secured spots within the top 100 global revenue earners for October 2023, contributing almost two-fifths of revenue. Collectively, they generated $1.91 billion in revenue during this period.
Familiar names in mobile gaming, like NetEase and miHoYo, performed particularly well. NetEase's game, Danzi Party, held the number two spot for daily active users for the 10th month in a row. It expanded its reach to Southeast Asia, Taiwan, Hong Kong, and Macau in September. NetEase's Pig Man also noted a 47% rise in revenue and returned to the top 10 best-selling iOS mobile games in China.
MiHoYo experienced a 10% month-on-month growth in mobile revenue in October, making it their second-highest revenue-generating month of the year. This growth was driven by updates to Genshin Impact and Honkai: Star Rail.
Top 30 Chinese mobile game publishers by revenue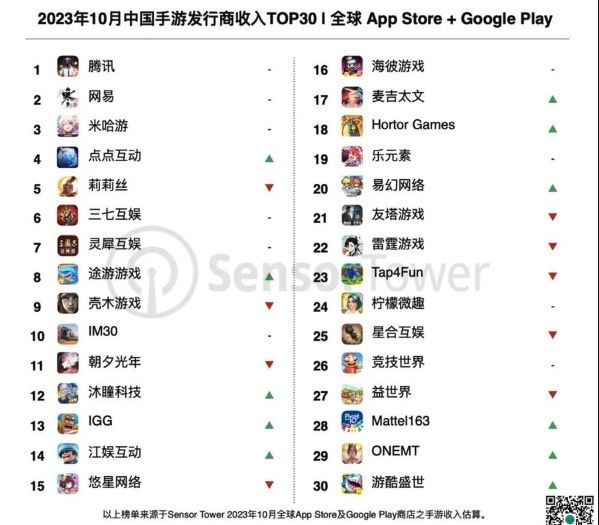 Source: Superpixel
Diandian Interactive has shown continuous growth for 12 consecutive months. In October, they increased the revenue of Whiteout Survival by 10%. Overall, Diandian Interactive's revenue went up by 5%, achieving a new personal best and ranking fourth among all Chinese publishers.

Tencent, not surprisingly, had a successful month in October, thanks to the eighth anniversary of Honor of Kings, which boosted revenue by 12% compared to the previous month.
Standout games
In terms of individual game releases, Hortor Games' casual card-based title "King of Salted Fish" within the Three Kingdoms setting experienced remarkable growth in October. Its revenue increased by an impressive 129% compared to the previous month, ranking it among the top three best-selling iOS games in China for October.
Another card placement game, "Toto Brave" contributed to a 10% revenue growth for its publisher Yihuan Network.
Goat Games' "Dungeon Hunter 6" achieved the top position on the iOS download charts in the US and Germany on its release date. This success made it the highest-grossing mobile game for the publisher, effectively doubling its overall revenue compared to September.
Chinese App Store mobile game revenues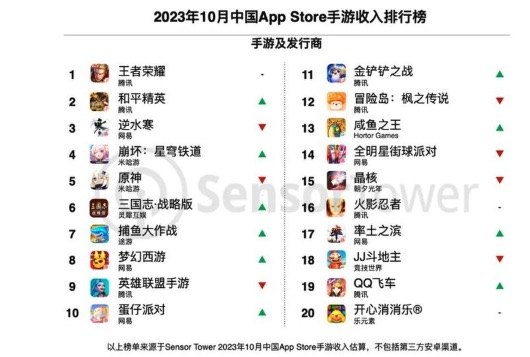 Source: Superpixel
Despite the growth of individual companies and games, it's worth noting that collective revenue among Chinese publishers decreased last month, falling from $1.96 billion in September, primarily due to the absence of two additional companies within the top 100.
Key takeaways
Chinese mobile publishers dominated October, contributing 38.7% of global revenue, led by NetEase and miHoYo's impressive performance
"King of Salted Fish" saw phenomenal growth with a 129% revenue increase, among top three best-sellers
Despite individual successes, collective Chinese publisher revenue dipped in October due to two absent top 100 companies