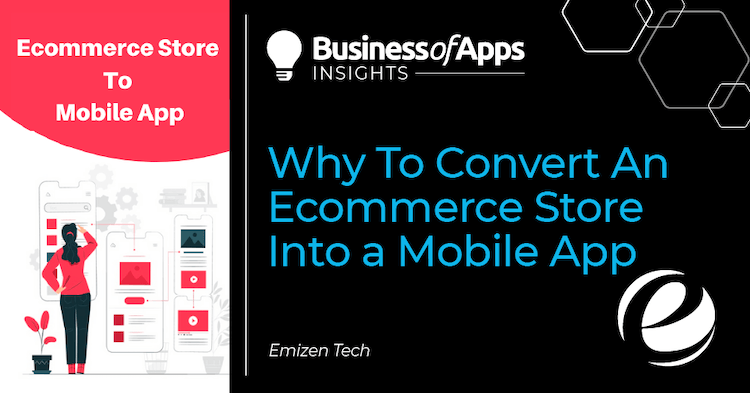 As the Ecommerce market is growing rapidly, a mobile app is becoming a need for businesses and online stores. In this digitally revolutionized era, where Ecommerce stores are progressively converting into mobile apps, more and more desktop users are becoming mobile users. Besides, an increasing number of consumers are now found spending more and more time on Ecommerce mobile apps. And this development is expected to speed up in the upcoming years. 
Well, the only reason behind this sudden switch from online stores to mobile apps is the convenient, easy, and magnetizing eShopping experience. Consumers always get attracted to unique online products, specifically, that meet their preferences and needs. Furthermore, the ease of browsing and ordering the products, anytime and from anywhere, offers enhanced exposure to online sellers. Because of the Ecommerce apps, the customers are getting a personalized shopping experience, even being at home. 
Well, one-third of online shopping is done using mobile apps. Despite this fact, presently, you will notice only a few Ecommerce sites that are having mobile apps for their eStores. Let's take a few names who are ruling this Ecommerce world having their mCommerce apps. 
Top Players Who Nailed In 2020 In mCommerce World
| | |
| --- | --- |
| Names | Users (Million) |
| Amazon | 150.6 |
| eBay | 62.15 |
| Groupon | 35.5 |
| Walmart | 86.05 |
| Target | 45.4 |
| Ibotta | 47.07 |
mCommerce sales & mobile app usage statistics
As per the statistics recorded lately, the transaction value of mCommerce sales that was $460 bn and $700 bn, globally, in 2018 and 2019, respectively, is expected to reach $3.56 trillion in 2021.
| | |
| --- | --- |
|   Year | Revenue (Million USD) |
| 2019 | 365.207 |
| 2020 | 419.879 |
| 2021 | 474.540 |
| 2022 | 524.091 |
| 2023 | 565.696 |
| 2024 | 599.186 |
Today, about 70% of the sales are generated via apps, apart from that, conversion rates are now 3x higher as compared to websites. In fact, a recent study says, all over the globe, about 47% of consumers use mobile apps, 20% and 33% prefer using mobile websites and desktop websites, respectively. 
As compared to websites, mobile applications offer a faster, simpler, and excessively interactive user experience. Moreover, mobile devices come with various features, like GPS, camera, etc., and other applications, like payments and social networks. That's why not only the giants, small vendors from every corner of this globe have started selling their products and services on various Ecommerce platforms, such as Amazon, Flipkart, and lots more.
Why do we need an Ecommerce mobile application?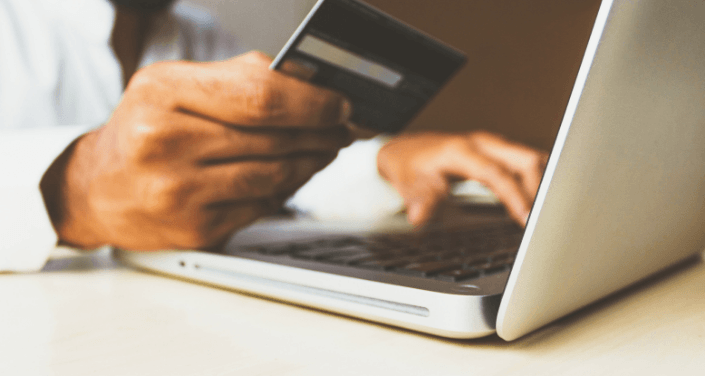 Research says that by 2040 we can expect online platforms to cover over 95% of purchases. This prediction creates a big and clear picture of the Ecommerce business market along with its unlimited possibilities. A study says that by the end of 2021, the global Ecommerce business is going to reach $4.5 Trillion in sales, and obviously, it's not too far. 
Let's check out various reasons that will encourage you to launch your mobile app for your Ecommerce business. 
Time-saving – because of faster load time & quick order placement
Using mCommerce apps, we can place our orders 30% faster than we can do with a website. Moreover, apps pages load faster as compared to websites. Obviously, if your page takes more than 3 seconds to load, your visitors are likely to switch to your competitors' business.
Brand recognition – by making a strong connection between brand and customers using smart branding tactics
The mCommerce applications increase brand marketing and assist us in building a long-term relationship with our customers. Also, you can integrate social media platforms into your mobile apps to allow your customers to discuss your products. Moreover, to leave a lasting impression on the customers, the mobile apps use smart branding techniques along with engaging UI/UX designs. Also, replying to all the customers' queries would make branding effective. This would be an add-on to your brand's recognition.
Enhanced customer experience – through personalized content, mobility, latest technologies, and offline access
Your mCommerce apps holding the power of the latest technologies, like AR, VR, and AI would facilitate you to optimize your mobile customer experience to an extent. Apart from that, mobility, personalized content, and offline access benefits of a mobile app significantly improve customer experience.
Data accumulation & analysis – data gathering helps in delivering updates, build promotional campaigns, & develop a marketing strategy
Ecommerce mobile apps can help us in collecting insightful information about our consumers, such as persona, behavior, and more. Through this useful information, you can deliver improvements, develop efficient promotional campaigns, create the personalized content, and build a marketing strategy.
Improved conversion rates – lead to increased sales and revenue
Through a mobile app, our products get better exposure. That's why the conversion rates through mobile apps are 130% higher as compared to mobile websites. So, increased customer experience leads to improved conversions that in turn increase our sales and revenue.
Ease of use – users need to login only once
A mobile app stores the details of every user and the user needs to sign-in only once when they download it, unlike a website, that demands the user login every time. This enhances the ease of use that results in ultimate user satisfaction.
Various payment options – easy contactless payments for a smooth checkout
The mobile apps are integrated with various mobile wallets that lead to fast processing. The payment process results in smooth checkout that mitigates Cart Abandonment Rate.
So, to understand that the Ecommerce business is actually growing like anything, there's no need to apply rocket science. Behind the revolutionary growth of the Ecommerce market, mobile apps are playing a key role, so that the entire success story may revolve in their circumference only.
Enhanced marketing communication – by including the features that help to reach customers in a better way
Through mobile apps, customers can stay connected with the brands, and may also get exciting offers, deals, and coupons effectively. Mobile apps allow better communication with your consumers, like through push notifications. A message with a push notification will appear on the home screen of the users directly. On opening the message, the user would be taken straight to the app. So, this is also an easy way to buy.
Type of Ecommerce mobile apps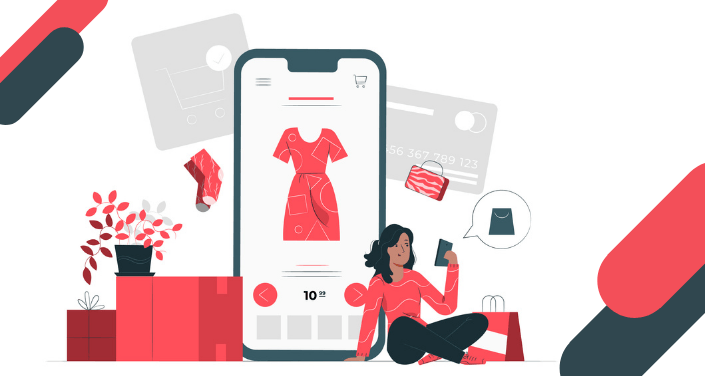 Let's now classify Ecommerce apps in relevance to mobile app development. 
The apps that are developed to deliver products and services between two businesses is the B2B Ecommerce app. The businesses that purchase such products are raw materials for them. Such sort of mobile apps sells computer components, spare parts of vehicles, etc. Alibaba mobile is the best example of a B2B Ecommerce mobile app where individuals and businesses purchase products in bulk to sell further. 
Today, B2C apps are much in use. These mobile apps connect businesses to consumers directly, the former sells products, and the latter one purchases those products. For example, Amazon, which is an all-inclusive marketplace, sells stuff relevant to varied industries. 
Ecommerce aggregators mobile app
The mobile apps that connect the service providers to end-users. The best examples for such apps are movers & packers apps, online food delivery apps, etc. For such apps, the infrastructure is not required, just an Ecommerce mobile app is enough.
Auction/Bidding Ecommerce app
Recently, such Ecommerce apps are much in trend as these apps capture a wide customer base and lower-down the cost of the venue for auction and auctioneers. The online bidding mobile apps are integrated with various shopping platforms to permit their users to place an auction. 
Ticketing & Booking Ecommerce mobile app
Today, booking tickets for music concerts or movies has become as easy as pie. Through ticket and booking apps you can book hotels, travel tickets, etc. This is an easy and fast way to get the best experience and socialize with people. Such apps connect the event organizers and customers for better and expected results. 
Differences between Ecommerce and mCommerce
| | | |
| --- | --- | --- |
| | mCommerce | Ecommerce |
| Concept | New | Old |
| Platform | Web Stores, Hybrid Apps, Native Apps | Web Stores |
| Devices Used | Handheld, like Smartphones | PCs, Laptops |
| Mobility | Yes | No |
| Reachability | Unlimited | Limited |
| Location Tracking | Unlimited | Limited |
| Security | More | Less |
| Payment Gateway | Mobile Banking, Credit Card | Credit Card |
Ecommerce devices are not portable, that's why you can't carry them easily.
On the contrary, mCommerce devices, like tablets, smartphones, and PDAs win when it comes to portability. 
The use of the internet in the case of Ecommerce apps is not mandatory.
When it comes to mCommerce, some activities of the apps can be performed even when you are offline. 
As Ecommerce devices are not easy to carry, the location tracking trait is also not present in Ecommerce. 
Whereas, in mCommerce, the location tracking capability gets strengthened through the latest technologies available in the mobile apps, such as Wi-Fi, GPS, etc. 
It's not a part of an Ecommerce store.
Through mCommerce, push notifications can be achieved.
Again, the portability factor and the non-availability of push notifications, affect the reachability of Ecommerce apps. 
Comparatively, the reachability of mCommerce is more because of its mobility trait and push notifications.
Ecommerce supports credit cards only for online payment.
Whereas, mCommerce permits contactless payment through mobile banking and credit card as well.
The security of Ecommerce depends on the security of the web.
On the contrary, mCommerce security relies on web security linked with in-built security features of mobile. 
How to convert your Ecommerce website into An mCommerce app?
Starting from an idea, to deployment, you need to take care of lots of phases while developing a mobile commerce platform. Well, on our way to a mobile app, we need to consider various things, and this will demand a proper procedure for flawless workflow. So, let's check out an ideal process to develop a successful mCommerce app. 
Know your market and user – to create the app best-suitable for your audience
Deep research and proper understanding are the reasons behind every successful mCommerce app. Before you start, perform market research thoroughly. You should begin your research about your target audience, their age group, their likes, and dislikes, and the products they are using now.
Such data will help you to create your app that your customers will love. 
Choose your business model – to know your value proposition & customer segment
While you plan to develop a mobile app for your Ecommerce business, you need to finalize your business model. Before you begin developing your app, you need to create a feasible business model to help yourself know your customer segment, value proposition, and revenue streams. You may choose one among these two business models, B2B and B2C as for mCommerce these two are best. We have mentioned these above also. 
Decide your tech stack – to make your mobile app competitive
After performing research and finalizing your business model, it's time to decide what technologies you are going to include in your Ecommerce mobile app. Just remember, that your decision for a tech stack will directly affect your cost for mobile app development. Moreover, to ease your decision, you should first find which device is mostly used among your target audience and the geographical area of your soon-to-be-launched mobile app.
Choosing the right Ecommerce platform – leads to enhanced sales
The key to your business is the right platform that you choose. Well today, a name that is widely-recognized and mostly- accepted among the small and medium-sized businesses, is Shopify. This Ecommerce platform has almost everything important when it comes to the Ecommerce business. By choosing Shopify for developing your Ecommerce app, you will experience an improvement in your sales. Additionally, Shopify permits customization as per your needs. It is best at security also and offers the required customer support. 
iOS or Android? – Figure out who are your clients to come up with a perfect choice
Next, one more important decision that you need to take is regarding the mCommerce application you want to build, iOS or Android. Users vary with the OS of their mobile devices. So, you should check who your clients are and come up with your right choice depending on that.
Get same look & feel – the consistent look is  important for branding 
As you already have your regular website, it's recommended to imprint the exact look and feel into your mCommerce app and Ecommerce platform. It's not just about the images, color palettes, and fonts, you should also consider the tone, and above all, the user experience. Your customers should feel the same experience all through your business, as they were receiving from your Ecommerce store. A consistent look is important for the branding purpose also.
Finalize key features – remember that including all important functionalities & features
Next, you should finalize all the important features and the functionalities that you shouldn't miss in your app later. For example – push notifications, payment methods, verification, and more. 
API development – for successful data exchange with the database
To make the process of website development easy, CMS plays a vital role being a software component. As all the software components, like frontend, database, web server, and platform, all are part of the same system, so the data exchange is done between them without any issue. Moreover, there is no security issue. 
Though, the same scenario doesn't go with mobile apps. They don't build a closed system with the database. So, in the case of a mobile app, for successful data exchange with the database, it takes place through a bridge known as Application Programming Interface (API). 
So, to develop a mobile app from the same database, API developers need to build various APIs.
API integration – for secure & improved performance of the mobile app
If you want your mobile app to perform efficiently, a strong integration of the application view and APIs is important. The view leads to the addition of a lot of products' details. There exist two sorts of apps, static and dynamic. The former one sticks to the page and the latter one is pulled from the server by the API. To make your server and users' devices securer and even better, you need to have robust API integration. 
Quality assurance – to test all the parameters of mobile app
Well, the proper working of the mCommerce app is important, regardless of whatever alternative or tool you choose. You should never compromise with the quality of your app. So, you should perform testing which is an important part of an app that should be conducted after the post-development phase. It should be tested to various parameters. The quality analysts make sure that your app meets a standard quality parameter and client's choice. Alternatively, manual testing is also performed where a professional testing team uses the applications to report bugs.
Deployment – time to launch your mCommerce app
After crossing the testing phase successfully, it's time to upload a best-quality mobile commerce app to an Application Store for further distribution. In general, there are two app stores available globally, the Apple App Store and Google Play Store. Although, there exist various other third-party app stores also.
Find a suitable Ecommerce app development company – to get a bug-free & properly working app
Well, to deliver an out-of-the-box digital customer experience, you may hire an Ecommerce app development company. For that, you need to check out their feedback, reviews, portfolio, their clients' for reference, and more. To ensure the development of an efficient mCommerce app, you are required to find how skilled they are at integrating advanced technologies. You should be doubly-sure while finalizing a proficient mobile app development partner. Post-development, be sure that you invest in testing your Ecommerce mobile app to get a bug-free and smoothly performing app.
Features of mobile commerce apps – you shouldn't miss to include in your mCommerce app
Apart from attractive UX/UI, the long success of an app relies on the experience and service you offer to your customers. So, to make your app excessively exciting, it would be best to include some latest features in your mCommerce app. Well, there is no restriction when it comes to incorporating new features but, below we will check out some features that are going to provide an exceptional user experience. 
Authorization – ease sign up & login jobs for customers
Simply permitting our users to signup and login into your mCommerce mobile app seems quite a normal idea. So, to make it a little advanced and ease their life without expecting them to remember their user IDs and passwords. Let's allow them to Social Login and Signup through their Gmail and Facebook ID on their mobile devices. This process will just demand a tap from your customers and they will find themselves capable of accessing the menus of your app. This would lead to a huge upliftment in the user experience. 
Setting and push notification – notifying customers in an impressive way
The installed apps on our smartphones send us hundreds of push notifications per day. These notifications send alerts, reminders, updates, and more important information intuitively and smartly. If we notice closely, we will find that push notifications lead to enhanced user engagement. You can also use such notifications to notify your customers about the new and exciting offers on your services, send their order confirmation message, payment confirmation text, and more. 
Efficient CRM systems – to manage lasting relationships with customers
An adaptable CRM assists in executing various tasks to meet its objectives, like managing lasting relationships with customers, and more. While facilitating you in accumulating, managing, and evaluating customer data efficiently, CRM systems permit transferring your marketing approaches, execution, and reporting. 
Different payment methods – to ease checkout process for customers
To keep your customers happy and ease their checkout process, you should integrate multiple payment gateways with your app. Various widely-used payment gateways support many payment methods, including Google Pay and Apple Pay. 
tracking purchase – to offer real-time tracking details of orders
This option will allow the users to check their order status, via SMS functionality you can notify the customers about every detail of their orders. 
Multilingual & currency – to offer a personalized customer experience
Well, to reach the customers living all over the world your app is required to support various languages and accept varied currencies also. Such features will offer your customer a seamless and personalized shopping experience. 
Behavior tracking – to show suggestions suiting the behavior of each customer
On an app to track the behavior of each customer, a modern feature has arrived, namely behavior tracking. It uses such information to exhibit relevant suggestions to them suiting their behavior. This is actually an amazing step that will make your mCommerce app more customer-oriented.
Role-based dashboard – shows data according to the role of an admin
A unique dashboard, a role-based dashboard shows the data that goes perfectly with the role of a specific admin. Such dashboards are designed exclusively to offer complete real-time data of the app on distinct dashboards. Moreover, it assists admins to get a better understanding of the data with no distractions. 
Chatbot for customer support – resolves customer queries & save your money and time
Including a Chatbot feature in your mCommerce app, you can make your app more interactive. It serves the customers always by answering their general queries. This saves a considerable amount of money and time that we invest in human resources. That's why it is always accepted as an add-on to your app.
Real-time analytics – provide real-time data that helps in decision making
When you want to get real-time data of your app related to your online users, transactions, most-trending products or services purchased, and more, you can get assistance from the real-time analytics feature of your app. Every minute detail may become a useful chunk of information that may help you in making an effective decision for attaining success.
Progressive web apps (PWA) – when you need eCommerce & mCommerce apps, both
On the contrary, if you think that having an Ecommerce website and a mCommerce app, would be right for your online business, then Progressive Web App (PWA) would be a perfect consideration for you. It's an alternative that will meet both of your purposes. Well, the credit goes to its technology which facilitates the customers to access the business not only from their desktops but also from their mobile devices, through a web browser or an app. 
How much does it cost to build an Ecommerce mobile app?
Well, while we estimate an approximate cost of developing a mCommerce app, we need to consider various components. Let's check them out:
Development Cost
Infrastructure (If to be developed in-house)
Salary for the Development Team including Project Managers, Designers, Developers, and QAs.
Web Services
Cost for Hiring a Mobile App Development Company (If Outsourcing)
Features (You Include in App)
Platforms (iOS or Android)
Native or Hybrid Apps
Marketing
Development Region (where your app would be developed)
Social Media Integration
Notifications
Support
Updates
Additional Costs
Apart from that, when you choose iOS apps, such apps need less time for development, so are cheaper as compared to Android apps.
Whereas, Android apps take longer to develop, so are expensive.

 

Moreover, you should consider the complexity of the project also.

 
The development costs for mCommerce app may range from:
$150,000 to $220,000 (For developing a fully-fledged Ecommerce App including modern UX/UI and advanced features)
$50,000 to $80,000 (For MVP model App)
$80,000 to $ 120,000 (For MVP model with improved UX/UI and extra features)
Conclusion
Now, as you know almost everything about mCommerce mobile apps (its type,  its conversion steps, features, cost, and more) it's time to take a fresh and zealous start.
After going through various reasons (mentioned above), you can now imagine how wide is the mCommerce world and how impactful it will prove to be your online business. Above all, it enhances your customer engagement and makes your business get connected with your target audience. Hence, to catch up with strong clientele and higher revenue, developing a mCommerce app following the process (given) would be your first step towards conversions and popularity. If you need technical assistance for converting your Shopify Ecommerce store into an app then hiring a reliable app development company like Emizentech is a good idea.
At Emizentech we have vast experience in developing astonishing mobile apps. You can reach the company at the following mail.