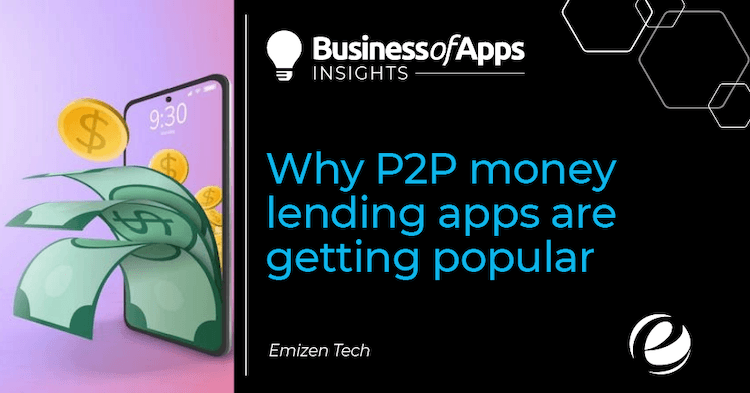 Peer-to-peer lending apps are a relatively new approach to the lending-and-borrowing experience. By saying goodbye to traditional financial institutions, such as banks, borrowers can access funds quickly, and even the investors may receive a healthy return.
On peer-to-peer lending platforms, the borrowers apply for the loans, while the investors choose loans that look like a good risk. An investor can select to fund even a part of a loan (or loans) individually. Borrowers may get funds from various individual investors. 
Today, we will know almost everything about peer-to-peer lending platforms, their working, key features, pros and cons, and much more. 
Let's get deeper!
What are Peer-to-Peer (P2P) money lending apps?
A loan app, also known as a Peer-to-Peer lending app, or Person-to-Person lending app, states issuing and receiving loans directly by individuals. The person doesn't need to go through the conventional financial institutions, like an intermediary. 
Such apps connect borrowers to lenders directly, also known as investors, who loan money to qualified applicants. In brief, such apps connect people interested in lending money with those who want to borrow money. 
Companies/intermediaries develop P2P software and get their income from both creditors and borrowers. It can be received in fixed payments format, or they just charge a small percentage of the creditor's or borrower's loan sum. This shows you will have a network of lenders, the P2P lending app, that you can harness. 
How do
 

Peer-to-Peer (P2P) money lending apps work?
For borrowers:
Sign up
Firstly, a borrower signs up in the app. He needs to hold management information and a year-old financial account to be eligible to sign up. Also, the borrower would be asked to describe his business to make lenders know whether the borrower is safe to lend.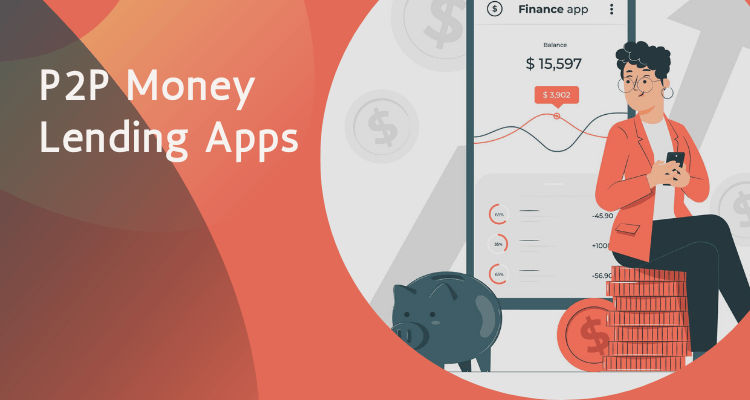 Crediting
After the borrower signs up, the app's admin will let lenders know the rewards and risks of lending to the borrower's business.
Loan market
There would be a loan market on the app which the borrower's loan will go live immediately after the approval. Here, the lenders start bidding to fill the loan, competing against each other to offer the most competitive price. Finally, a bid with the lowest interest rate is accepted that the borrowers need to pay for their loan. 

Accept the loan
After the loan gets all the funds, the borrower needs to accept the terms and conditions for his loan. The app charges an amount from the borrower while transferring money into the borrower's account.
Repayment
A suitable date is finalized for each month for the loan repayment so that the borrowers would know the repayment dates in advance. 
For lenders
Sign up
Like borrowers, investors also sign-up as money lenders on the app according to the classification and appropriateness. 
Choose account
For the lenders, there are different types of accounts, like 
The growth accounts that demand a quick and straightforward method of developing a diversified portfolio of business loans,

 

The income account is for the one who wants to generate a constant level of income from a lump sum, or

 

A self-select account in which the investors can choose which business they want to lend money to.

 
Add your funds
After choosing an account, the lenders need to add funds to their account using available payment modes. 
Lend to borrowers
The lenders can bid for the loans for which borrowers have applied. 
Repayment
The lenders will get monthly repayments of interest and capital from every business to which they have lent. To keep earning the returns, the lenders can lend this money to other companies also. 
What key features do a money lending app need to have?
The concept of money lending apps has improved the way of lending and banking. To make such an app idea a success, we need to include some key features in P2P money lending apps. Let's check out a few below:
Registration
User is vital for any sort of business. Here also, users mean a lot to you. So, the first impression of the user needs to be frictionless and easy. You should try making the registration process short and easy. It's not necessary to collect every information right at the time of registration. You can accumulate data about every user later on when the user fills his loan application. 
In your app's user registration form, you can ask for the user's name, phone number, social account, etc. 
User profiles
After your users register themselves next, it's time for their profile management. Here you can ask for their personal details and more relevant information. Additionally, allow the users to update their information later also whenever they need it as things change with time. 
Facilitate the users to view their bank account details and access other essential features from the user profile page only. 
Loan application
While developing a personal loan app, your app should allow the users to complete every critical loan application step directly by using their mobile device. 
To make the user experience better, you can break down your app process into various small sections and guide your users through the entire process. 
Transactions' record
Besides, your app needs to allow your users to view their transactions' logs. It includes cash advances received, loan payments made, remaining debt, and direct deposit history. All such details should be easy to find and understand. 
Payment options
Your app can allow the borrowers to pay back their loan balance directly using your app. There are a plethora of payment options available in the market. The more you integrate into your app, the more consumers are likely to use your app. 
Allow your users to make payments using their debit card, credit card, bank account, and alternative payment mode, such as Bitcoin. 
Push notifications
A key feature of the mobile experience is push notifications. Notification can assist in making the user remind about the upcoming payments, loan approval, and much more. 
The app users expect receiving push notifications. So, you need to include it in your P2P money lending app to let your user be well-informed about the vital information. 
AI-based analytics
Both the users and admins can get benefit from real-time analytics. Investors can evaluate the KYC details of the potential borrowers and assess their credit history. Additionally, admins can get detailed analytics on many aspects of platform operations, using AI and big data in money lending to attain actionable insights and enhance user experience. 
Reward points & ratings
Lenders and borrowers can be given points for fulfilling their obligations timely. Such ratings help them shine as reliable partners for future deals. 
Chat support
A chatbot feature would help your app users when they have any issue or a question. When it's about financial matters, your app is going to get flooded with various relevant questions. So, including a support system will make your user know that you are there for them in their need. 
Credit score checker
As we know, the credit score affects the personal loan terms and repayment options. So, integrating a free credit score checker in your app will make your users know about their eligibility for a loan. 
Cryptocurrency
Including cryptocurrency features, like a wallet and other crypto buying and selling options, would be beneficial as including such a feature is quite common nowadays. 
Peer-to-Peer lending: advantages and disadvantages
Advantages of P2P money lending
For borrowers
Peer-to-Peer loans provide a few advantages over other sorts of borrowing, like more competitive interest rates, a convenient and fast online app process, and flexible terms. 
Let's check them out in detail.
P2P loan app is convenient & fast
Today, P2P lending platforms have caught up with the online space; it states that the app process has become convenient and quick. If you want to secure your funds efficiently, then this would be very handy. 
Combining P2P platforms with an automated process will make the time-consuming process of giving and receiving money relatively quick and easy. 
Credit score will stay unaffected on getting a personalized quote
If you are interested in getting a loan through P2P lending, you can get an initial quote that will not affect your credit score. This way, you will get a better idea regarding the rate you will get and the affordability of the prospective loan.
Initially, while enquiring about a loan, the widely-accepted P2P platforms will just perform a 'soft search' on your credit transactions that would stay hidden in the future searches of other loan providers. It will offer you the detail you need without affecting your credit score for future finance apps. 
You can access lower rates
With person-to-person lending, borrowers would access loans with interest rates lower than what they usually got from traditional lenders, such as building societies and banks. When investors offer money to borrowers directly using a P2P platform, most financial service providers charge no overheads. This way, both parties receive benefits. 
For lenders
Can access a much higher rate of return
Using P2P money lending apps, the investors would get a chance to access a higher rate of return than other investments currently in the market, like bonds or deposit accounts.
Some websites offer contingency funds 
Some P2P money lending platforms offer contingency funds to the investors to protect them if the borrowers default on loans. 
Lenders can select the level of risk
While using the app, the investors can pick the risk level as per their convenience in terms of borrowers' profiles they would lend money to. 
Disadvantages of P2P lending
For borrowers
Need to pay an application fee
The borrowers must pay a loan arrangement fee while applying for a loan with a building society, bank, or other lenders. However, P2P loans usually charge an arrangement fee. 
P2P money lending platforms make money by arranging a loan by matching borrowers and lenders. This fee may also be charged in the name of protecting lenders from defaulted loans. 
Need to pass a credit check & other internal checks to secure a loan
By using P2P lending platforms, you can remove the requirement for traditional banking. It doesn't mean that you are not required to follow the underwriting process. Any P2P loan platform demands you to pass a credit check to make sure that you are creditworthy. It is usually for protecting the investors' funds as it assists in identifying the defaulters. 
For Lenders
The Financial Services Compensation Scheme does Not cover such Loans
The Financial Services Compensation Scheme does not cover the loans you offer through Peer-to-peer money lending platforms. So, if a borrower fails to repay his loan, the investor will suffer a financial loss. 
A loan arrangement process may take time & will charge
The P2P money lending platforms arrange a borrower for a lender so that he may lend his money. The platforms charge an amount from both parties for these arrangements and may take more time than expected.
Lower returns if borrowers replay early
If a borrower repays early before the repayment date for his loan amount, the lender may receive lower returns than expected. 
Best money lending apps
SoFi: student loans and refinances
A leading source for student loan finances, SoFi's, the Social Finance site, offers student loans, mortgages, and personal loans. 
Lending club: largest P2P lending platform
A peer-to-peer lending platform, Lending Club is a website that attracts borrowers and lenders together to get benefits by receiving and offering loans. The whole app process performs on the site and completes in just a few minutes. 
Prosper: first P2P lending platform
Holding more than 2 million members, this widely-accepted Peer-to-peer lending website, Prosper, is expanding worldwide. The whole process takes place on the web and at a faster pace. 
Fundraise: property investment
This platform deals in real estate. The one looking to invest in properties without performing the day-to-day duties of a landlord may invest with Fundrise. 
Funding circle: business loans
A P2P lending website, Funding Circle, is best for the one who is looking for a business loan. Small businesses can take advantage of this platform as the banking industry usually underserves them. 
Conclusion
So, whether you are a borrower, a lender, or the one who wants to start an online money lending business, this post would resolve almost every relevant query. 
Hence, if your business requires a mobile app then getting in touch with an app development company like Emizentech is a good idea. Every journey demands the right resources to catch up with success. So, start your app development journey today! 
At Emizentech we have lots of experience in building scalable mobile apps. You can reach the company at the following mail.