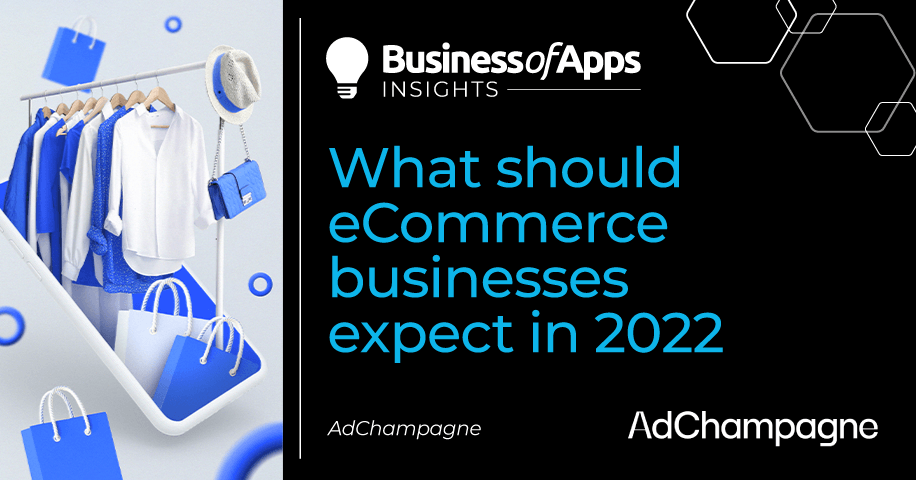 eCommerce in today's context
eCommerce is an ever-changing industry with rapidly evolving technologies, tendencies, and a competitive environment. It is beyond question that the current world events are a turning point for this segment.
Customers resorted to the eCommerce market to take their minds off the painful reality of COVID-19, purchasing everything from luxury items to automotive parts. People continue to consider shopping as a way to de-stress despite rising costs and product prices while advertising budgets are growing rapidly on a variety of platforms. This trend strongly affects both short-term and medium-term eCommerce planning: consumer demand is transforming and it's becoming harder and harder to deliver brand value to your client.
According to recent studies, new shoppers mostly come from India, Indonesia, Brazil, and a handful of other large emerging markets. It's also important to reconnect with «one-time buyers» and turn them into recurring customers with creative solutions and special tools.
So what eCommerce clients are looking for today? Here are AdChampagne's four critical insights to keep in mind as you prepare ahead:
New payment methods: Not only credit cards
Many eCommerce retailers are offering new payment options, especially post-payment (BNPL): such instalment plans can usually be set up just with the click of a button. Therefore, they help to boost brand loyalty, encourage larger purchases and give merchants end-to-end control of the client experience. As an example, online stores and services increase their revenue by an average of 20% by providing a one-click payment option for their customers (according to Assist research). That allows for reducing social anxiety as not everyone has full access to a credit card and prefers other payment models.
Within Europe, there are a lot of payment options for retailers: traditional digital wallets, bank cards, or local payment tools. As for the innovative ways, there are cryptocurrency transactions, eChecks, as well as facial recognition, and voice commands. Choose the one you like best!
Human-like interactions: AI and machine learning
Innovative AI solutions are improving the eCommerce segment, as well as revenue and profit significantly. With AI businesses can predict shopping patterns based on the goods that customers buy. eCommerce AI tools or special assistants, like Google Duplex, help to improve capabilities such as making grocery lists (from the shopper's natural voice) and even placing online shopping orders for them. There are other types of assistants – virtual chatbots that provide 24/7 support to all eCommerce online customers. Among the main tools, voice-activated payments, virtual conversations, and voice searches are increasingly used among marketers.
Technology-driven trend: Dynamic pricing
Dynamic pricing includes scalable and continual repricing strategies that involve a constant change of product pricing based on supply and demand trends, market tendencies, or inventory levels. While this isn't a brand-new pricing strategy (as the term was introduced in the early 80s), it is currently taking eCommerce by storm. Prices can be set for permanent intelligent adaptation – benefiting both brands and their customers in creating the optimal price points for different products and services. With this pricing model, it becomes possible to respond quickly to consumer demand in an ever-changing world.
Retail eCommerce sales from 2014 to 2024 (worldwide, in billion U.S. dollars)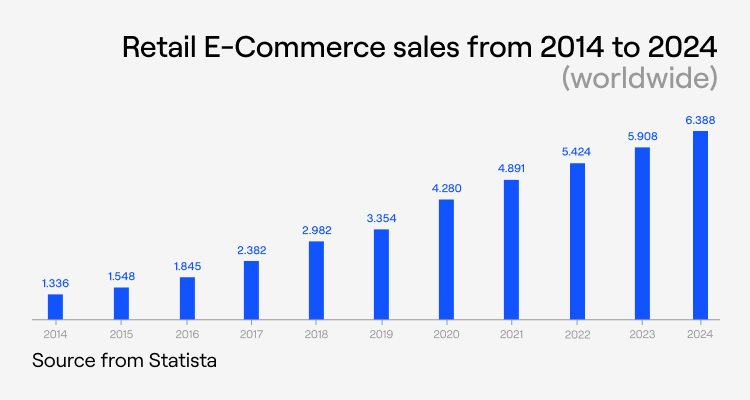 Source: AdChampagne
Social media boosting: TikTok as the Future of eCommerce
There is no doubt that users demonstrate more loyalty to TikTok than other social platforms.

91% of users visit the app more than once a day, and the average time spent on the app is 52 minutes. It gives plenty of opportunities for eCommerce: from 3D stockers and face filters to Brand Takeovers. Besides, TikTok is constantly testing and introducing eCommerce features within its platform. Suppose that Social Commerce includes eCommerce links that allow the purchase of various products and represent a new method for marketers to advertise and sell their products. In October 2020, TikTok announced a partnership with Shopify to enable more than one million merchants to use the Canadian shop system to reach a younger audience. During the pandemic, the platform also launched its «Small Gestures» feature that allows its customers to send virtual gifts on the app. It makes in-app shopping real, further pushing the social commerce aspirations of TikTok.
The TikTok platform has more segmented and livelier advertising compared to the rest of the platforms. We see that pandemic has brought a greater need for sincerity. People today are in search of what they will be willing to believe. Therefore, User-Generated Content – the story about sincere dialogue with the user without trying to deceive him. It is the language of communication, understandable for all. 
Andrew Bobrow 
Head of Marketing, AdChampagne
Our approach with TikTok ads
Joom
There are multiple ways to utilize consumer loyalty to TikTok that we have described earlier. If we look into the trends of the European market, a large percentage of the audience uses Joom shopping app, and AdChampagne has reached over 430K installs per month for them via TikTok Ads. In partnership with Joom, we ran In-Feed Auction Ads as the central solution, with a core focus on re-engaging audiences. The brand made multiple value-based optimization (VBO) campaigns across various regions, and the ads were optimized towards ROAS. The approach was always-on, cost-efficient, and featured creativity that felt native to their key audiences who had already shown an affinity for Joom products. Besides, authentic and creator-owned short videos, optimized for a target consumer, were incredibly funny, demonstrated products in use and raised awareness for different categories (especially, clothing and accessories).
Video Ad (1)
Source: AdChampagne
Onfy
Another successful case of TikTok Ads was achieved for Onfy team, whose goal was to ensure a high click-through rate (CTR) and low cost per acquisition (CPA). Our team developed a 3-month marketing programme in line with selected categories of products. We concentrated specifically on beauty goods and food supplements because of the strong audience demand. The creative concept of the campaign was based on the unique characteristics of each product, which resulted in a high-quality presentation of the items and their benefits. We tested User-Generated Content as our main approach and were able not only to increase CTR, but also to scale our ads campaign. Just in two weeks, Onfy saw a strong improvement in their installation rate to over 150+ purchases daily.
Video Ad (2)
Source: AdChampagne
Global forecasts for eCommerce apps
Nowadays, mobile app developers are producing more and more eCommerce apps and making them increasingly sophisticated, creating a very crowded market. As stated in eMarketer, worldwide eCommerce sales will surpass $5 trillion in 2022, accounting for more than a fifth of overall retail sales. Apart from that, the global mobile coupon industry is expected to progress at a CAGR of 56.5% by 2025. We consider it a positive sign proving robust and continued growth for the eCommerce vertical. These insights present advertisers with a huge opportunity to harness the benefits of the mobile app market share by reaching global markets and AdChampagne, a leading mobile advertising company based in Tallinn, can become the partner they need to achieve it.
How AdChampagne can help?
If you want your customer acquisition done right and go viral in eCommerce – we can create storytelling through digital with you. AdChampagne is working with different sources such as:
TikTok
Snapchat
Facebook
Twitter
Xiaomi ads (we will help with releasing your app at Xiaomi GetApp Store)
Apple Search Ads
All the creatives can be built for our user acquisition.
We'll keep you updated on any progress. Stay tuned and check our latest articles on the Business of Apps!