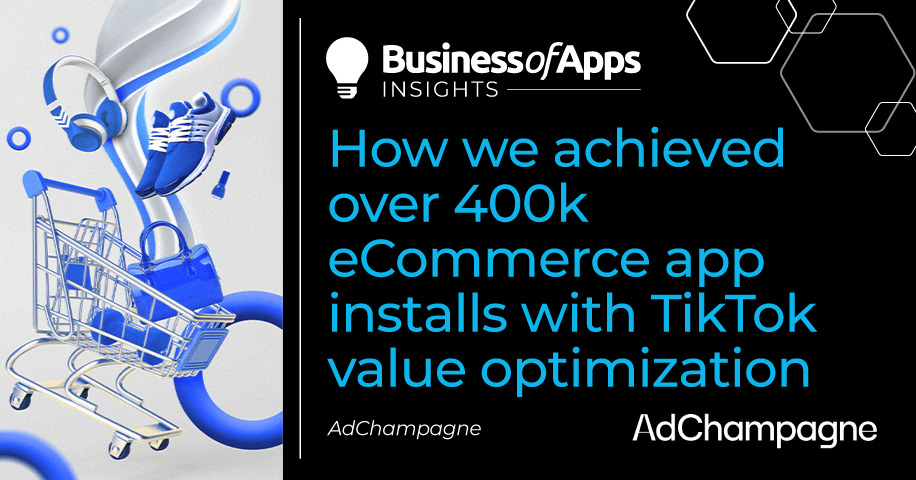 There is no doubt that eCommerce apps are growing and advancing at a phenomenal rate. As more people shifted business and everyday life to home-based solutions –  mostly out of necessity during the global pandemic – mobile apps in the business categories have grown in both demand and popularity. Customers turned to the eCommerce market to take their minds off from the painful reality of the COVID-19, trying to buy everything from luxury items to automotive parts. People continue to consider shopping as a way to de-stress.
According to Appinventiv, 55% of people who shop on their smartphones made a purchase after seeing a social media ad. So, how can a eCommerce app stand out and make its mark?
New solutions for eCommerce: Make TikToks, not ads
TikTok has long been unintelligible and confusing for many brands. They were tiptoeing around that video-sharing app for quite some time, not taking it seriously and not understanding the value it brings. Though, today we cannot deny its reach: TikTok became the most effective marketing channel that allows you to reach a huge audience in a short period of time, simply because it is one of the most popular media platforms among people of all ages.
A critical driver behind TikTok's success is raw, authentic and sincere content, as well as harmonic combination of music and video. It allows people to be themselves: honest and transparent. This unique mix draws interests from audiences across different age groups and locations, and the number of viewers grows immensely each year. The UK currently has 17 million active TikTok users and they tend to spend 66 minutes a day on the app. Besides, the average engagement rate is incredibly high – around 29%.
How to find the right approach: AdChampagne's experience
TikTok is the new source of growth for eCommerce – with an intelligent algorithm it gives users what they want to see. A unique mechanism randomly decides which videos to display to users on their For You page based on consumers personal choices. Meet specific target audiences you can focus on!
What's more? Firstly, literally under one second it takes to decide if users are going to watch your video ad, or they're going to swipe away. Therefore, short videos length 15-30 seconds work well. People are more likely to watch them until the end. Secondly, it's important to be up close and personal with users. Our creative community weave familiar elements into the content – something that audience already knows and can relate to, including viral trends, chart music, and popular filters. Instead of this, you can upload your own TikTok sound which users will begin to actively use and create organic traffic, as well as a lot of conversions.
Joom case study
Joom Marketplace helps consumers make shopping easy and entertaining, giving access to high quality goods from around the world. The brand was looking to capitalise on the buying potential of new users through their campaigns, as well as find a new way to reach engaged audiences. For the past years, Joom has been trying different ways but unfortunately all methods weren't quite effective. The client approached AdChampagne in March, 2021 to work out the same challenge and hoped to leverage deep funnel solutions to reignite solvent customers and increase sales.
Overview
Sources: TikTok, Snapchat, myTarget
Geo: EU, US, CIS
Platforms: Android
KPI: Conversion Rate to purchase 10%
Model: RevShare
Our main objective was newly launched items sales, with different in-app event optimisation targets, such as installs, add-to-cart buttons or in-app purchases.
In partnership with Joom, we ran in-feed auction ads as the central solution, with a core focus of re-engaging audiences. The brand made multiple value based optimisation (VBO) campaigns across various regions, and the ads were optimised towards ROAS. The approach was always-on, cost efficient, and featured creative that felt native to their key audiences who had already shown an affinity for Joom products. Besides, authentic and ownable short videos, optimized for a target consumer, were incredibly funny, and above all, demonstrated product use and raised awareness for different categories (especially, clothing and accessories).

Video Ad (1)
The creatives included strong native TikTok elements such as text overlay, an intro within the first 3 seconds, text-to-speech, and trending sounds from the GML. Our team leveraged these organic videos as Spark ads and ran in-feed campaigns aiming to deliver a strong ROAS while maximizing conversions. We highlighted the most selling products along with the message: «Joom – buy with pleasure!», while targeting predominantly female audiences ages 18-55+. Due to TikTok unique algorithm, we were able to catch the right users with the right products, grabbing their attention and connecting them in a way they hadn't been able to achieve on other platforms.
Video Ad (2)
AdChampagne team localised creatives in ten different languages, which gave an authentic feel to ads and appealed to a wider range of local target audiences. The brand built confidence and trust with consumers by putting a unique twist on their repurposed organic videos. The content demonstrated the type of products available through the Joom website and used TikTok's in-app editing tools to overlay text and voiceover to highlight the quality of their offerings.
Our approach with TikTok ads
Part of the strategy implemented to achieve this business goal involved using a robust TikTok Ads campaign. We took a series of well-planned steps as outlined below.
Audited Joom past campaigns and determined what performed well and what could be improved
Created TikTok short-form videos specialized for the client and developed a testing strategy
Launched initial setup including managing of control groups, test balancing, budgets, and confirming testing windows
Procured all data tracking was in place by checking the conversion tracking and MMP were set up correctly
Monitored the campaigns daily to get the lowest cost for the best ROAS
Conducted biweekly meetings with the client to discuss findings and develop next steps and strategies based on the Joom's new categories and features
Due to the close-knit teamwork our team managed to create, adapt and test dozens of videos. We use three main formats with an eye on building trust, raising brand's credibility, and increasing customers loyalty (as well as different videos for retargeting):
Shopping imitations and add-to-cart videos (to motivate to make a purchase)
WOW-effect during the first 2-3 seconds (to draw customers attention)
Unboxing (to show products exactly as they are)
The test lasted two month and gathered enough users to achieve statistical significance and confirm our hypothesis – Joom's installs grew by 112 %.
In just a few months, Joom drove more than 400k installs working with AdChampagne. Combining VBO and App Event Optimisation strategies produced great results with over 14,000 purchases made off the back of the In-Feed Ad campaign.
App installs growth dynamics (iOS & Android)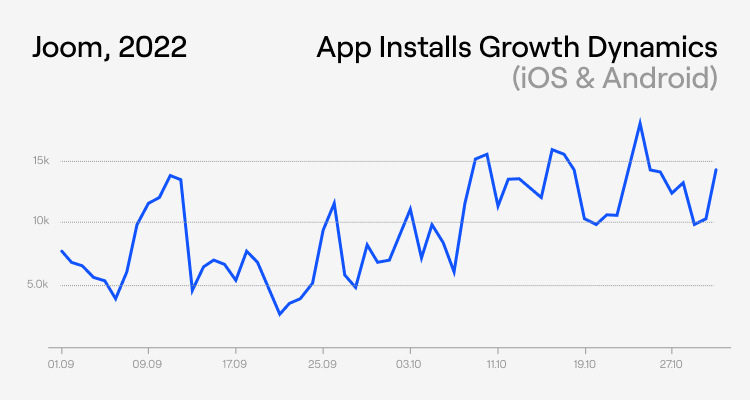 Source: AdChampagne
Joom enjoyed working with AdChampagne and they were happy with the results. We are looking forward to continuing the partnership.