Online education is the new normal and with it, flexible is the new learning trend. Online learning platforms have been in talks for at least more than 10 years. Platforms such as Coursera started from scratch early in the decade and today Coursera alone stands at $2.5 billion in terms of market valuation. 
The reasons for such sky-rocketing growth in online learning platforms is primarily the flexibility of timing and a wide variety of options to study about along with access to tutors from around the world. Such learning experiences encompass all limitations of land and tongue. Allowing students to reach out to world-famous award-winning professionals, online learning platforms and apps also enable these professionals to impart their knowledge and experience to a far greater range of learners. Thus, they have just the perfect opportunity to give something back to the world that made them heroes.
All of these aspects highlight the value that learning apps provide to both the students and teachers on these platforms but what about the learning app itself? Is it favorable to develop a learning app and what should it be like? Let's dig into a little more detail on it.
What is an online learning app and what drives its value?
An online learning app is a platform that has courses uploaded on it so that interested people can access them and add to their knowledge.
Online learning platforms provided a superb buffer during the COVID pandemic 2020 where colleges and universities were closed but people were still learning from their beds and couches. Though the pandemic is still not over but even after it is over, there is little chance that we will try to move away from online education, be it the full degree programs or 1-2 month-short courses.
There are following main reasons for online learning being such a favorite:
Resilience 
There are no necessities for the teacher or the student to follow a defined schedule or be at a particular place. Either of them could be at their home or traveling in a train, as long as they have access to the internet, they are always good to go.
This effect is further multiplied when it comes to recorded video lectures. The teacher records the lecture once and it is available for pupils as long as the information does not need an update. A student can view it any time, as many times as they need to absorb the concepts.
Beyond Limits
There are no limits for a person that he can only learn about iPhone app development or management or statistics. A person who is by profession, a lawyer can learn about marketing and a marketer can learn about biology. And that too from the best pros out there. No matter if they are from a far-flung village in Africa and their teacher is from China.
Opportunities to learn
A mother with a full-time job and two kids can never even imagine about going to a university to learn further. But such a busy person can also make use of online learning opportunities. After she has put her children to bed and is done with the chores, all it takes is 30-minutes daily and she might upscale herself for a promotion. A little learning goes a long way.
Should you consider developing your learning app?
Currently the big online learning platforms such as Coursera, Udemy, Skillshare and EdX have captured whole of the market but there is always room for one more.
Let's discuss things here from a different perspective. A student is looking for information that adds to his specialty. As long as the content intrigues him to learn, he will continue the course on any platform that he finds useful.
This interprets into our analysis like this. We have to look for a niche that has relatively little or no content and certifications available online, especially on fairly recent developments that, for example, in-practice doctors will be looking for a refresher on. 
Key features to include in any online Learning app
Every learning app should include certain features that are typical of all online learning platforms. These features help to improve the students' educational experience by imparting the ideas in a better manner.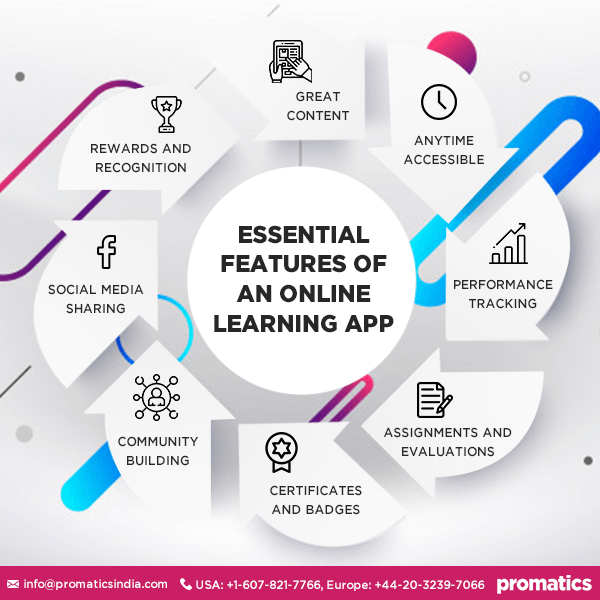 Quality content
As a learning app, your content will be your primary-most asset and there should be no compromise on its quality. When it comes to learning on an online platform, majority of the times it will be because the person is taking an initiative to learn something new on their own. 
The information on your learning app should be one that ignites this spirit even further. Concepts coupled with case studies and fun facts are always helpful in capturing the learner's interest. 
Ease of access
As our previous example of a mother with a full-time job with two kids, it is often impractical for people to continue their studies with a certain defined schedule. Any learning app should at the very least have the functionality to provide the learner liberty in this regard. 
Learning management systems (LMS) can either feature on online learning setup or offer recorded lectures. While live classes may be a more interactive experience, recorded lectures should also be available in such cases where the user at least has the option to catchup later. 
ID creation and profiles
Your learning app should have a process to create an ID on your platform so that users' performance can be properly tracked and recorded against their ID. Furthermore, once they have finished with the course, they can be issued an electronic certificate that can be accessed anywhere from their account.
A learner's profile will also allow to input his field of specialization and his interests. This can be helpful in recommending courses that may be useful in his profession. Additionally, the aggregate details about students can be used for marketing purposes like 'more than 50,000 engineers have completed courses on our platform. Enroll yourself now'.
Linking accounts
The online learning app should have the facility to allow learners to link their profile to their Facebook, Google or LinkedIn accounts. This will help them share their achievements easily and promote your app on one hand.
A much greater interest in this regard is the integration with LinkedIn accounts. LinkedIn is the most popular platform among corporations and many of them even look for suitable candidates for job on LinkedIn. 
People will be eager to share their achievements on their accounts so that companies can reach out to them and consequently end up hiring them because they showcased their abilities and skills in the right manner. 
Certifications and Recognition
An appropriate but unique example of recognition are the Badges. Apps developed this unique feature for anyone who appears for a certification exam and passes it. The popular the platform the more valuable the badges are. Exams are always seen with a certain regard and the badges showcase your worth as someone who has passed the exam. 
While badges may be an exclusive feature, certifications are very common and all platforms provide one or offer to provide one to each student who completes the course. 
While the content for the courses might be accessible to any user on the platform, the certifications and badges are earned. They can only be retrieved once the student has passed the course and the badge signals he is not faking it. 
Assignments and tests
Any education system is incomplete without an effective assignment system and same goes for your online learning app. Courses must be coupled with appropriate assignment that are short enough that can easily be completed within the given timeframe but comprehensive to sufficiently test the student's learning. 
Generally, the tests are in the form of multiple-choice questions where the learner has to choose from provided answers. However, it can be in the form of a 'fill in the blank' as well.
If you want to take things a little further, you may want to integrate fun activities especially for relatively young students. Nevertheless, everyone enjoys a fun little sheep holding their answer in its neck.
Gimmicks and Reminders
Features like a reward system and certain gimmicks such as 'double XP on studying everyday' can improve the learner's attention. There must be a motivation behind everything but there are times when the student gets bored and wants to neglect his studies. 
These features are for such moments that inculcate a sense of loss if they miss out. Also, it has been observed that courses without a deadline and less likely to be completed than ones with a deadline. Such attractive qualities can be useful for both the learner as well as to improve your platforms retention. 
Build a community
This one is a must. Your learning app should allow your teachers and students to interact with each other and themselves. A healthy discussion always brings something new to the table and clarifies concepts.
While teachers may opt to share or not share their personal contacts, they should always be able to contact on the platform for the student to remove any confusions. 
Include after-lecture discussions and FAQs sections to satisfy such needs. 
How do you make money with a Learning app?
Making money is important for any platform to grow and same goes for any online learning app. There are a number of different business models that are being followed and you can opt any of them or go for a hybrid:
Ads
You can include ads on your platform and you charge companies to display their product but this is not the most recommended model for a learning app. However, you can still implement it for free courses.
Subscription
The student pays a nominal amount per month and gets access to content on the learning app. A subscription based is model has both its pros and cons. While it may be useful for a college student having plenty of time to derive value from the app, other busier ones might opt out because they are getting a lesser benefit.
In such a case, providing tier-based subscription and changing timelines and access features can be really helpful to cater needs of all sorts of learners.
Course enrollment fee
The most popular among the bunch is the course-based fee similar to any other course offered online as well. You pay for what you want to learn and nothing else. This model is being followed by major platforms like Coursera and EdX. You might also want to for it.
Sponsorships and Partnerships
Sponsorship and partnerships can allow good revenue stream from big boys and corporates. This will allow you to keep the learning free to an extent. The sponsorship model usually works when the user base is big enough to attract sponsors. This works well for both the learners and sponsors. For example, one can bag a sponsorship from Salesforce which allow any users to learn salesforce based courses for free. 
You can also consider partnerships, that entail collaboration with another app or website such that both of you supplement each other. It can be a mutually beneficial relationship that can helps you sustain running costs while providing free content and opportunities for users to learn without paying. 
How to develop the content?
While if you can create your own content if you are an expert in a certain field, it is highly recommended that you partner with any local, national or international institution or university. This will help to auto-market the product to the university's students and lend credibility to the learning. 
For example, Harvard University courses are available on EdX. It becomes something like creating a brand using an existing brand. 
In the nutshell…
Creating a learning app is a great opportunity if we foresee the upcoming educational trends. Research on your niche, develop an interactive platform, create quality content and you will be in profits in no time.