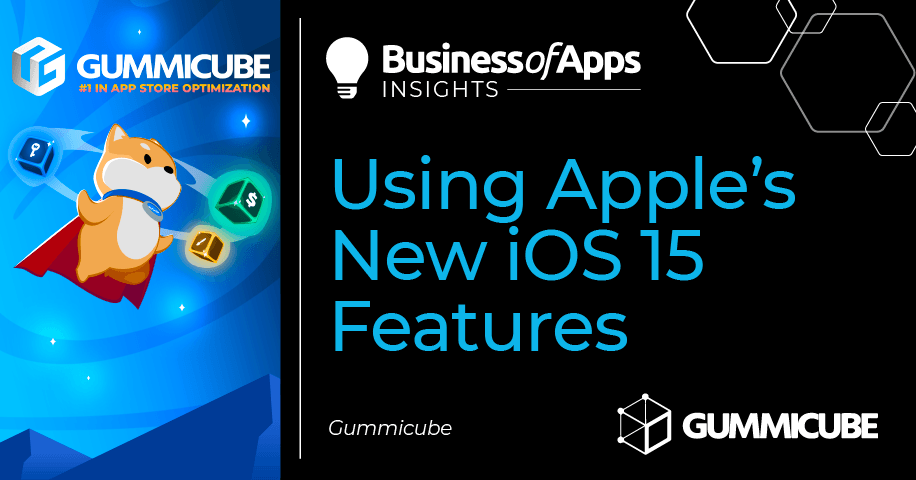 When Apple finally released the rollout of its new operating system iOS 15 in September 2021, users and mobile marketers alike were eager to explore the exciting new features it had to offer. From spotlight search to increased privacy features, Apple's iOS 15 update burst onto the scene with massive updates that plugged users into the Apple universe like never before.
With additions like Apple's newly launched native A/B Testing platforms, In-App Events, and Spotlight Search, app developers now had a slew of opportunities to maximize and further enhance their mobile marketing and App Store Optimization strategy. In the process of App Store Optimization (ASO), it's crucial to remain cognizant of how operating system updates may affect your app store performance.
If you haven't quite grasped how the iOS 15 changes may be affecting your app performance, you are not alone. Or, if you're looking to further empower your ASO performance in light of these new updates, chances are, you may need a refresher on what iOS 15 features impact ASO performance. Let's take a look at some of the key iOS 15 features all developers should know about and how they can potentially improve ASO performance on the App Store.
iOS 15 A/B Testing
iOS 15 addressed one of the biggest pain points for iOS app developers and marketers. Before the release of iOS 15, performing an A/B test directly within the iOS App Store was virtually impossible. With the iOS 15 update, Apple introduced two new A/B testing tools: Product Page Optimization and Custom Product Pages. These two testing platforms combined not only allow you to test singular creative elements but also generate custom product pages based on unique target user demographics.
Product Page Optimization (PPO)
What is PPO?
Product Page Optimization (PPO) allows developers to test app creatives across 3 different product variations. Using Apple's internal Bayesian statistical model, PPO shows app developers which variation and treatments produced the most effective organic traffic pull.
What can it do?
Developers can test different variations of their app icon, screenshots, and app preview videos to better understand what speaks to their target users. App developers can run a test for up to 90 days to allow for adequate and substantial testing over a longer period of time. PPO also lets you gauge and monitor valuable metrics like total impressions, app installs, and conversion rates. With PPO, app developers can also select traffic proportions for each treatment and localizations for international territories.
How can PPO impact your ASO performance?
PPO is a useful tool to test the effectiveness of your app creatives. Before native A/B testing, developers often had to rely on Apple Search Ads (ASA) alone or third-party tools to increase conversion rates in hopes that the campaign yielded desirable results. This approach was not ideal. It wasted both time and valuable resources on chance. Now, app developers can freely test their creative assets with a wider audience and achieve more concrete and actionable results without having to jump over any unnecessary hurdles.
Custom Product Pages (CPP)
What is CPP?
Through Custom Product Pages (CPP), developers can create up to 35 custom App Store product pages. App developers can test multiple elements of their app product page like screenshots, preview videos, and even promotional text for a more adaptive and customizable user experience.
What can it do?
While PPO and CPP share a few commonalities, CCP lets developers track and manage the performance of each CPP through a unique App Store URL. For mobile marketers, CCPs present a lucrative opportunity to target specific audiences and users with treatments that speak to them the most. Developers and mobile marketers can use CCP URLs in emails, websites, and any other relevant marketing campaign to attract and convert users in more engaging and personalized ways.

How can CPP impact your ASO performance?
PPO allows app developers to more accurately gauge the effectiveness of their ASO strategy and creative assets. Before, iOS app developers and marketers were limited to other means of A/B testing that were less directly attributed to testing and more speculative by nature. Native A/B testing allows app developers to work within the confines of a specific app store platform, thus creating an accessible, centralized, and concentrated testing model.
iOS 15 In-App Events
When it comes to discoverability, App Store Optimization is key in increasing visibility in the App Store. And when new opportunities emerge to harness more visibility, developers should actively engage with and understand how these new developments may help their app store performance.
What are In-App Events?
Launched in October of last year, In-App Events are one of the latest new features offered in the App Store that could help app developers further their mobile marketing efforts right from an app page, search result, or App Store editorials. Developers can showcase additional images, videos, and invitations to in-app events. Popular apps like TikTok and Snapchat have already used in-app events to promote new releases, updates, and features.
What can they do?
In-App Events not only allow app developers to promote special in-app events, but they also have the ability to track in-app event analytics through App Store Connect. Mobile marketers can get valuable insights and data regarding how users are engaging and discovering their app. Developers can view valuable insights like views, notification data, and app downloads across multiple territories and devices to see how exactly they're reaching their users.
How can In-App Events impact your ASO performance?
In-App Events are a great resource to help apps increase visibility and conversion rates. Mobile marketers and app developers alike can use In-App Events to promote timely or seasonal events to a broader and more eager-to-discover audience. For users, In-App Events provide a more exciting, engaging, and immersive experience in the App Store with added descriptions, interactive elements, and enhanced visuals. Not only that, but In-App Events also directly support re-engagement efforts. Dormant users may need a reminder of an app's value, features, or offerings – and what better way to remind them of those than through In-App Events?
It's up to app developers to attract these users by actively optimizing their app's metadata and creative assets for effective organic performance outside of In-App Events campaigns. Think about it this way – once an in-app event is over, how will users be able to find your app? With the right ASO technology, developers can arm themselves with crucial metadata sights that enable them to execute more effective methods of maintaining organic search performance.
In conclusion
When the App Store changes, app developers must change with it. But with new changes, come new opportunities to grow. To take full advantage of the vast new tools iOS 15 has to offer, developers must equip themselves with the data and strategies necessary to sustain app store success. Exercising smart iterative practices when testing and understanding their impacts is a step in the right direction towards robust organic growth.
While there are still some notable constraints surrounding Apple's A/B testing platforms, it allows developers to take some of the guesswork out of optimization. And with In-App Events, developers and mobile marketers gain a new opportunity to increase their visibility and conversion rates to further support organic performance. With the help of an experienced ASO company, navigating and optimizing for iOS 15 makes the process of adaptation to the App Store of tomorrow simpler and more efficient.