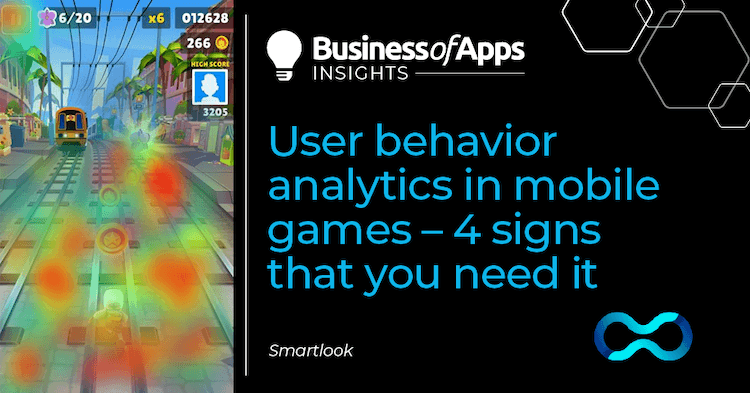 When your players experience problems or don't progress in the game(s) you offer, you don't have to play guess what, when something goes wrong. A user behavior analytics tool might be just what you need to deliver better customer service, understand what your users need, and fine-tune your game(s). Do you think this could be an interesting solution for your company? Then read further.
4 Signs you should consider getting a user behavior analytics solution
When you want to know more about user behavior, understand it better, and use this knowledge to help you improve your product, there are analytics tools that you can use for those very reasons. Take a look at these 4 situations where investing in a user behavior analytics tool can give you an ace up your sleeve – keeping you ahead of the pack.
You spend a lot of time solving blindspots
Debugging doesn't end when your game goes live – that's where the ultimate testing takes place. Yet, when you can't see what went wrong and have to rely only on partial information from your systems or customers, you have to dedicate a lot of time and effort to get to the root of the problem. With session recordings, you can just hop in and see what happened just before the problem occurred, what it looked like, and what occurred next.
When you come up with new ideas: additional options, levels, missions, or characters, user behavior analytics tools let you measure your adoption and retention metrics. In this way, you can check how your ideas were perceived and get insights for further development.
Those metrics are taken straight from the UX world, yet these are also useful for games. If you want to learn more about key UX metrics, you can head over to our guide on that topic.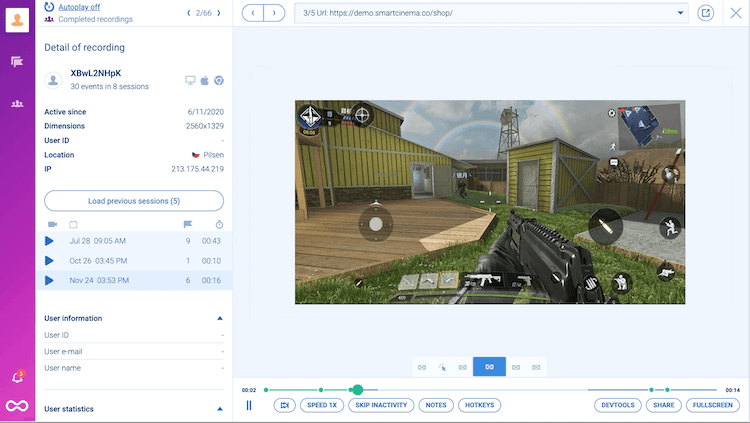 You don't hit the sweet spot of level complexity
When creating games, you need to spot the moment where the difficulty is perfectly balanced: not too easy, so the players get hooked on a challenge, nor too difficult. User behavior analytics tools show you when your players stop playing and how the adjustments you make impact their behavior.
You can observe where your players are struggling, which missions are easier than expected, and what options are hard to find. In this way, you can adjust not only the solutions you've implemented in the game but also the supporting materials you add. For example, adding some better explanation in the appropriate places can help your players enjoy the game more.
You learn about bugs from customer complaints
If the only way you learn about some problems is by an increasing number of customer complaints, you should definitely consider getting an analytics tool. There, you can not only observe what's going on – or events – but also set up notifications when an anomaly occurs. For example, when your players can't register or access the game, you'll get an alert, and you'll be able to act on it sooner than before you had an analytics tool.
You want to understand your revenue streams
User behavior heavily impacts the business value you get from your game. Whether it's about ad revenue in the free version or buying coins and unlocking premium features, information about revenue-related behavior is crucial for further optimization.
Change the game with Smartlook
When you face some of the situations we've just mentioned, having a direct look into what your users do in your game lets you deal with the problem firsthand.

Smartlook is a user behavior analytics solution that works with websites and native mobile apps – including games. With session recordings, heat maps, and event analytics, you'll get access to a unique source of insights.
Several game studios use Smartlook for their analytics, including Madfinger Games. Take a look at the case study to learn more.
It doesn't slow down your players' experience
When you care for each technical aspect of your players' experience, adding a user behavior solution can seem like an unnecessary hassle. Smartlook doesn't interfere with your game, taking screenshots every two seconds instead of streaming a regular recording. You can also set up the frequency and quality of the screenshots.
Data mobile usage is also intact, as, by default, the information flies only when the device is connected to the Wi-Fi network. That's how Smartlook helps you improve your game without disturbing your players.
Works also with Unity, Cocos, and Unreal engines
When you use cutting-edge technology for your games, your toolbox should follow. Smartlook also integrates with Unity, Cocos, and Unreal engines, supporting you in your work.
No one gets access to your users' sensitive data
Data privacy is crucial, especially when we're talking about sensitive user data. Smartlook automatically masks fields with delicate information like passwords or credit card data, meaning that they don't appear on the recording, and neither you nor Smartlook has access to it. To customize your needs' protection, you can automatically add more situations where the data doesn't get recorded.
Smartlook is GDPR compliant by design, meaning that you don't have to set it up in a special way. Also, we work according to the newest data security standards, encrypting your data and hosting it on AWS infrastructure.
To recap
Managing your players' experience and delivering them with excellent customer service is a hard nut to crack. With a user behavior analytics solution, you can observe how the players interact with your game, how they perceive the changes you implement, and what works the best, so that you can achieve your business objectives.
Use data when making decisions, solve issues in a timely manner, and improve your players' experience. All with an appropriate analytics tool like we provide at Smartlook.