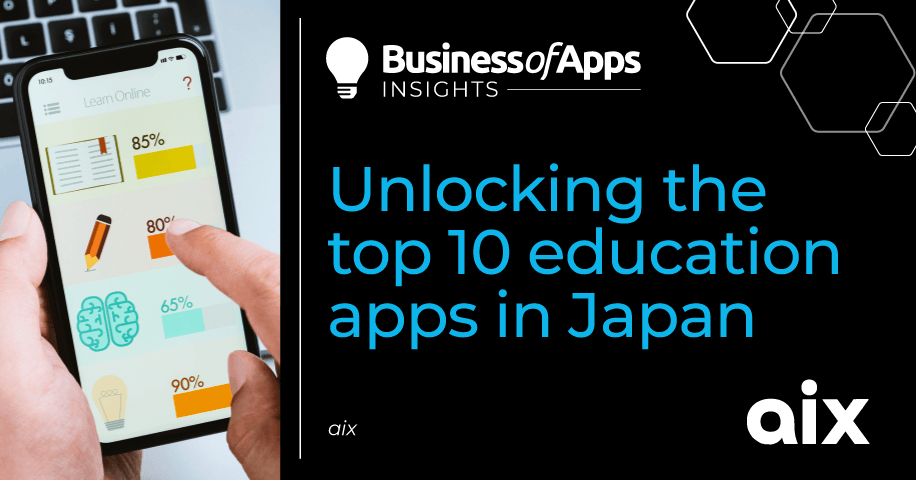 The rise of educational apps has revolutionized the way people engage with learning materials, making education more accessible and interactive. In this article, we delve into a comparative analysis of the top 10 educational apps in Japan's App Store and Play Store.
By examining the keywords in their metadata, design patterns, promoted functions, and user reviews, we gain valuable insights into the trends and preferences in the Japanese educational app market. This article is in addition to our series about digging deeper into understanding Japan's mobile market.
To conduct this research, we meticulously reviewed and identified the top 10 apps in the education category of Japan's App Store and Play Store as of May 2023. The specific rankings and popularity of individual educational apps may vary with time. These apps were selected based on their popularity, ratings, and relevance to educational content.
Japan in numbers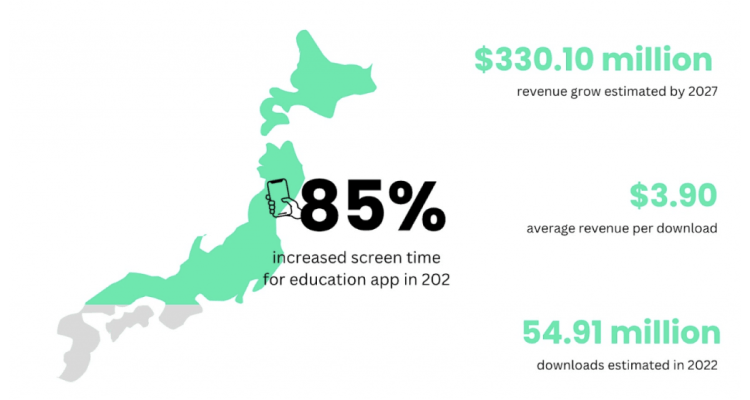 Source: Statista
In 2020, educational apps surged in popularity – time in educational apps increased by 85%, based on a study by Hatago Consulting. According to Statista on the Education Mobile App Market in Japan, the total revenue for education in Japan is expected to project a market volume of US$330.10m by 2027. With the number of downloads in the education market projected to reach 54.61m downloads in 2022, the average revenue per download currently is expected to amount to US$3.90.
Top 10 education apps
App Store
In the free app ranking of the App Store, "Duolingo," originally developed in the United States, holds the leading position. With its gamified language learning approach, "Duolingo" has garnered a massive user base in Japan and worldwide.
Following closely is "Picture This," a plant identifier app from China. "Google Classroom" ranks third, while other positions are occupied by English learning apps and learning assistant tools.
Free apps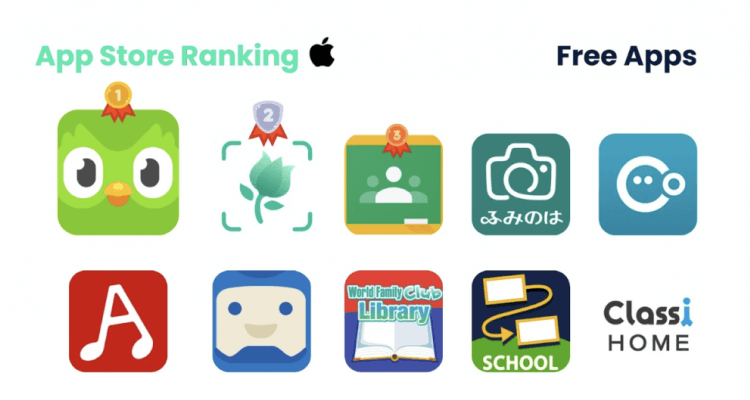 Source: aix
For the paid section, the leading app is "らくがきAR," an app that turns drawings into AR objects. It has a competitive price of only ¥100 (~$0.72) and a user-friendly interface, which makes it popular among children users.
The other top positions in the paid apps category go to learning assistant tools, mainly for exams and qualifications, ranging in price from ¥600 (~$4) to ¥3.500 (~$25).
Paid apps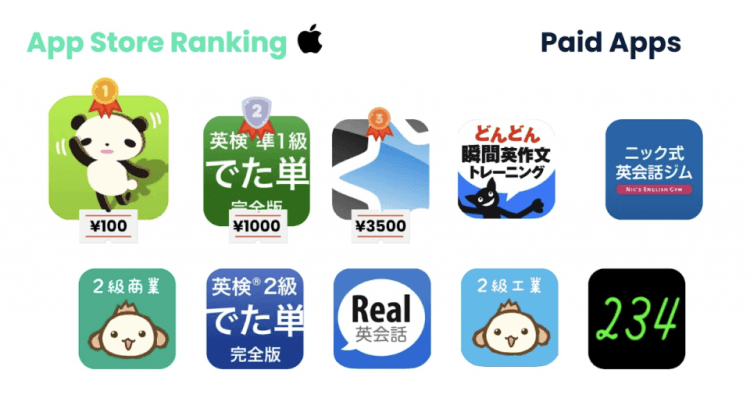 Source: aix
Play Store
In the Play Store's free app ranking, the top two positions remain the same, with "Duolingo" and "Picture This." "EWA," an English and Spanish learning app developed in the United States, ranks third, while the majority of other positions are occupied by English-learning tools.

Free apps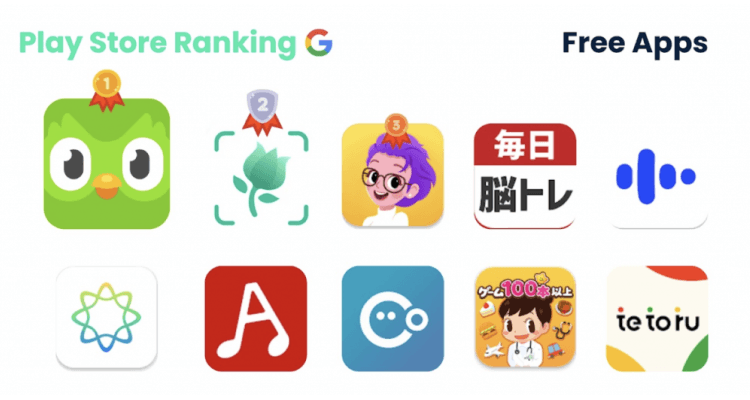 Source: aix
In the paid-app rank, "パブロフ簿記2級商業簿記 日商簿記仕訳対策 2023年度版," a CPA qualification training app, ranks first, which costs users ¥700 (~5$) to install. The following places go to other exam-training apps, which charge users anywhere from ¥150 ($1) to ¥3000 ($22) for the apps.
Paid apps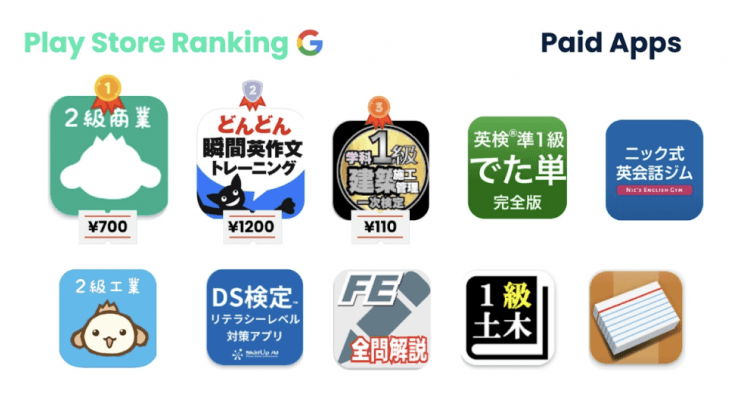 Source: aix
Category and promoted functions
Among both store platforms, it can be observed that language-learning apps dominate among the top-ranking apps. While exam-preparing apps tend to cost users a certain fee to install, study tools like classroom assistance or flashcards are usually free, giving them a larger share of installation from students, parents, and teachers.
Most popular app categories and learning purpose in Japan
Source: aix
Metadata analysis
One crucial aspect of app visibility and discoverability is the effective use of keywords in an app's metadata. Through our analysis, we identified common keywords that frequently appeared in the metadata of popular Japanese education apps.
In the case of language learning apps, which account for the majority of the ranking, some vital keywords can be found within the descriptions. Let's take "Duolingo," the top-ranked language learning app on both platforms, into consideration.
Important keywords for Duolingo Japan
Source: aix
With exam-practising apps taking over the paid category, "パブロフ簿記2級商業簿記 日商簿記仕訳対策 2023年度版," a CFA exam-preparing application, provides the below keywords:
Important keywords for exam-practising apps in Japan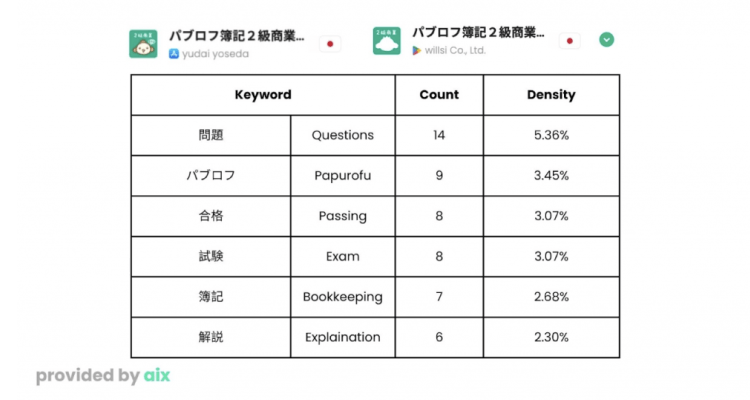 Source: aix
The examples mentioned above show that tailoring the meta keywords matters, with the significance of providing a clear, attractive description in the local language.
Design pattern analysis
Visual design plays a significant role in user experience. When it comes to designing educational apps in Japan, there are several popular design patterns that reflect the essence of learning and appeal to users. These include:
App Icon
Clarity and professionalism: Simple text with a solid background is a popular design as it focuses on clarity and simplicity, making it easy for users to identify the app at a glance.
Playful and engaging visual experience: Using anime or cartoon characters as mascots is also favorable as these characters create a friendly and inviting look for the app. They can also help establish a sense of identity and connection with the target audience, particularly for educational apps targeting children.
App icon preferences in Japan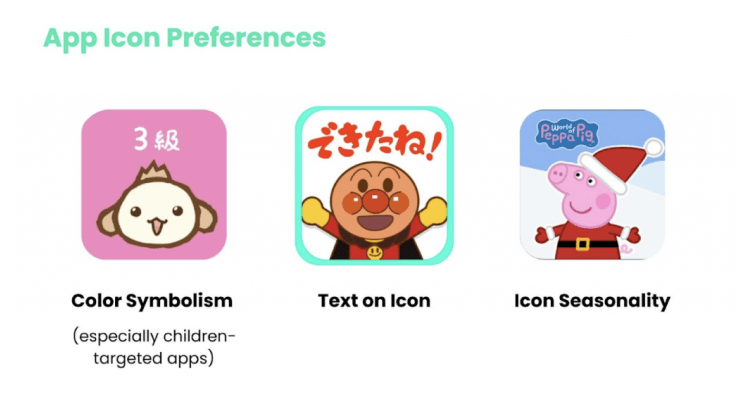 Source: aix
User interface
Information-fulfilled navigation: Japanese users appreciate clean and organized layouts with a clear hierarchy of information as people are used to gathering all the information they need in one place. Interestingly, in Japan, what we consider to be a visual overload is a vivid and "complete" design for them. The Japanese can see simple designs as not trustworthy, but everything should be within reason.
Visually appealing interfaces: Bright and vibrant colors and gamification elements, such as badges, rewards, and progress tracking, are popular in educational apps as they help create a fun and interactive learning experience.
Visualization preferences in Japan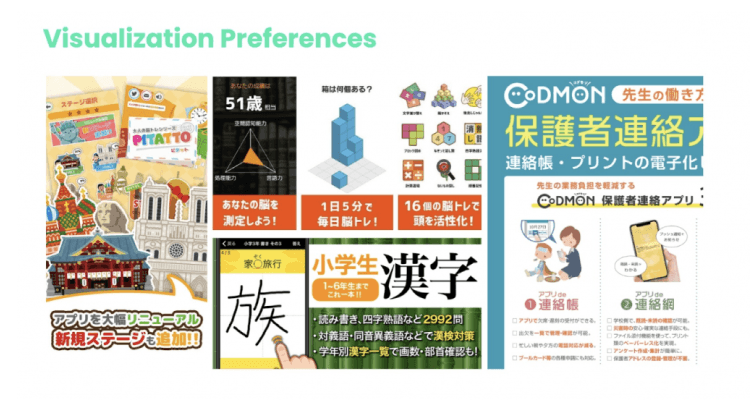 Source: aix
User reviews analysis
User reviews provide valuable insights into the app's effectiveness and user satisfaction. Through an analysis of user reviews for the top educational apps, we identified common reactions, concerns, and suggestions expressed by users.
"らくがきAR," the most popular paid app for the App Store, receives an overall rating of 4.48/5 from 4,715 users. The frequently repeated keywords in the user reviews are as below:
Repeated keywords in user reviews for らくがきAR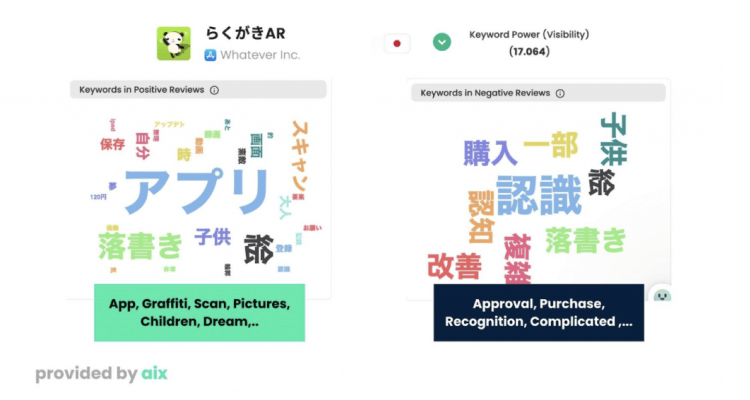 Source: aix
Other common keywords found in the education category of both the App Store and the Google Play Store include:
Keywords found in the education category in Japan for both the App Store and Play Store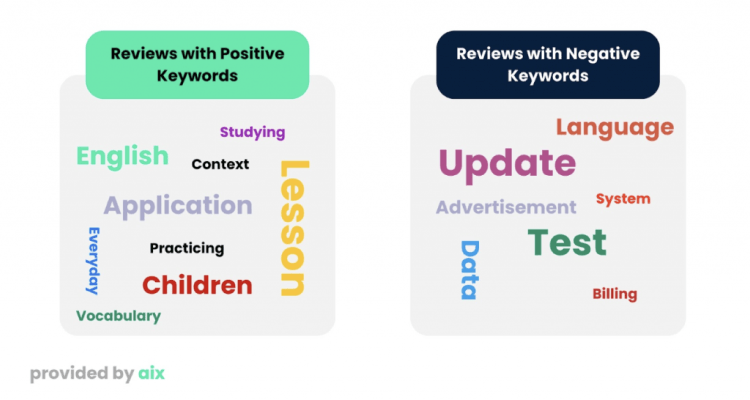 Source: aix
Insight summary
Based on the above elements, marketers can incorporate these insights into app development and marketing strategies to better position the app to meet the needs and expectations of the Japanese audience.
When it comes to education and learning, Japanese users tend to pay for exam-practising applications the most frequently.
Cultural values in app preferences of Japan and the USA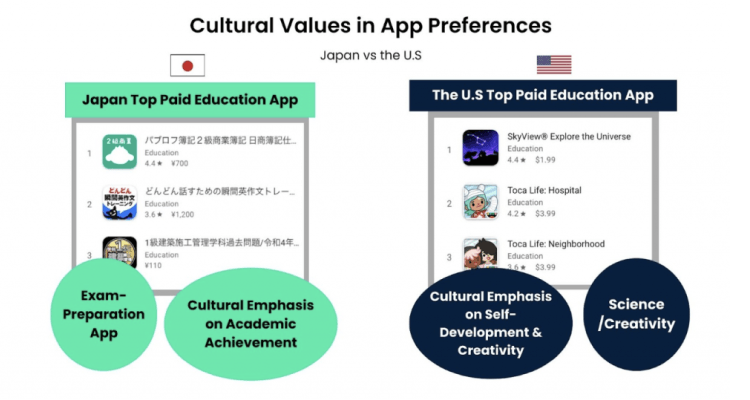 Source: aix
Language-learning apps are usually free to install with in-app purchases integrated.
Japanese users prefer an information-fulfilled visualization to provide them with enough essential information.
When bringing a new app to the Japanese market, localization of screenshots, captions, and interface is key to make sure users don't lose trust in your app the moment they first open it, tanking its credibility.
Meta keywords should include keywords in your native language, English, kanji, katakana, and hiragana. The translation of these keywords should be done meticulously.
With its collectivist culture, Japan values recommendations and reviews. Therefore, app creators should pay attention to review scores and adopt appropriate referral reward systems and positive word-of-mouth engagement.
Conclusion
As the popularity of educational apps continues to soar, it's evident that they have become integral tools for learning in the digital age. The comparative analysis of Japan's top educational apps has provided valuable insights into the market's trends and user preferences.
By examining keywords, design patterns, functions, and user feedback, app creators and developers can gain a deeper understanding of what resonates with Japanese users and tailor their offerings accordingly.
This knowledge can drive the development of more effective and engaging educational apps that meet the specific needs of learners in Japan, ultimately enhancing the educational experience for users of all ages and backgrounds.
Expand your knowledge about the Japanese mobile market by visiting the ASO index.