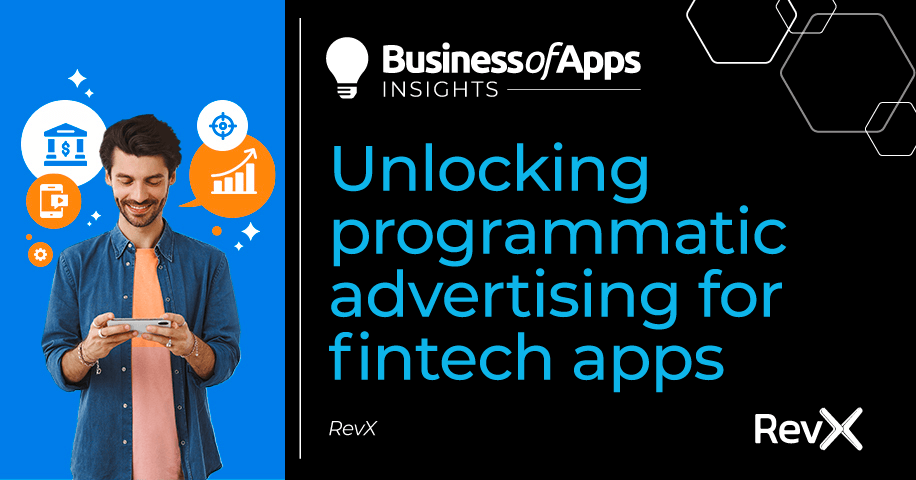 The fintech industry's growth story is unmatched. Worldwide usage of financial services increased from 16% in 2015 to 64% in 2019. (EY) The pandemic greatly increased this trajectory of expansion, which was already upward. The rest is history.
The year 2021 brought about unprecedented increases in advertising spending, and since then, the trend has been increasing through 2022 and into 2023. Yet, the journey toward fintech's use of programmatic advertising has only begun.
Let's address the preconceptions and issues that commonly prevent fintech apps from adopting mobile advertising.
Challenges facing programmatic adoption
As digital technologies reshaped financial services, fintech apps became an integral part of people's everyday lives. It didn't take too long for the world to accept the idea of managing their finances via their mobile devices. Fintech apps grew rapidly, especially in emerging markets in LATAM, APAC, and Africa, fuelled by a need for more innovative finance solutions.
By 2020, fintech was the 2nd highest in terms of the number of apps and the 6th largest by install volume (AppsFlyer). Yet, there's a disparity in the percentage of fintech apps that have adopted programmatic advertising. Why is that?
A perception problem
Real-time bidding, algorithms, data management platforms, demand-side platforms, and ad exchanges Let's face it: programmatic advertising is no rocket science, but it can certainly seem so to the uninitiated. Programmatic advertising is still a relatively new concept, particularly for fintech.
Here's how you can do a basic hygiene check to ensure that you're working with trusted partners.
Source: RevX
Regulations and compliance: A roadblock to advertising adoption?
There are many regulatory issues in fintech, from compliance to user privacy to regulations about the market.
This poses a major hurdle to the adoption of digital advertising for fintech app marketers. Partnering with a DSP, for example, as an AdTech partner, entails:
Providing the data required for user retargeting
DMP and CRM integration for a thorough insight into the user journey
MMP integration for precise measurement and attribution
All of this may sound new, but novelty need not be a bad thing.
How does programmatic work?
Programmatic advertising was born out of a need for automation and efficiency in digital advertising. It uses AI-powered algorithms to figure out who your app's best users are and automatically bids on the best ad spaces. It enables advertisers to access high-quality and relevant inventories, at scale.
From audience segmentation to campaign optimization and reporting, it is made to be accurate, scalable, customizable, and highly efficient.
While resistance to a new channel is understandable, programmatic advertising is far too powerful to be ignored. Furthermore, programmatic advertising has evolved to be highly privacy-compliant.
Source: RevX
How do we do it at RevX?
No collection of personal data: Audience targeting is done solely through device IDs to be able to run better retargeting campaigns. The sole purpose is to target the right audience with the right ad, every time. We have employed industry-standard security measures and information security policy. We also undergo ITGC and DPTM audits, and vulnerability testing, while following private data handling practices.
Transparency in our tech and our culture: Most importantly, transparency is a pivotal part of our culture. Our platform was designed with user privacy at its very heart.
Publicly listed company with stringent compliances: As a part of the Affle Group, a publicly listed company with strict compliances, we take strict measures to uphold data safety.
We simply can't afford to have loose ends and are compliant with major privacy laws like GDPR and CCPA.
Fintech apps are an important part of people's daily lives because digital technologies are changing the way money works. However, there is a major gap in awareness and education about fintech around the world. See how RevX can help your fintech app get ahead of this.