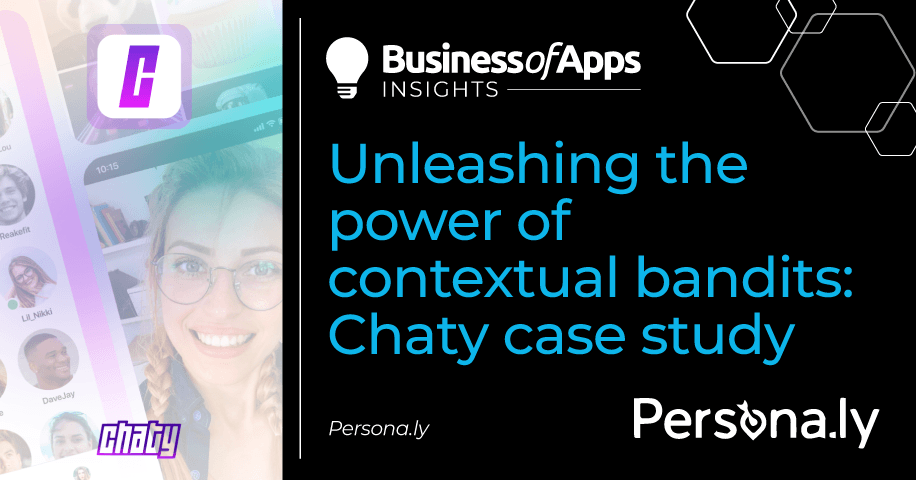 We worked with social networking app Chaty to acquire users for its iOS and Android apps in the US. Chaty is a unique app allowing users to connect with like-minded people in the area. The goal is for users to share their thoughts, participate in meaningful conversations, and meet new friends.
Results at a glance
x1.5 D7 ROAS (cohort) vs. KPI
100% D7 ROAS by week 6
x4.3 Campaign scaling in 12 weeks
Campaign goals
The primary campaign goal was to acquire users who would purchase the in-app currency to access premium app features. In this case, D7 ROAS was a primary KPI along with eCPI.
This post was first published on persona.ly.
Priding itself on being completely ad-free, Chaty's monetization model is based on in-app purchases. It allows Chaty to maintain the quality of users and bring those with high intent to engage in genuine conversations with other users.
The process
When we started promoting Chaty, our approaches to UA for iOS and Android were principally different.
On iOS: For post-iOS 14.5 / SKAN campaigns, we applied Contextual Distance targeting. Using machine learning capabilities, our in-house DSP targets placements based on the contextual distance between the promoted bundle and the placement. NLP (Natural Language Processing) algorithm utilization allows us to pick the placements based on the store description rather than a category. Taking into consideration that the app store categories can be tweaked to improve the ASO, the ML algorithm creates a vector representation of the app description for each bundle and measures the contextual distance between the apps. This allows us to target the placements in a very granular way.
On Android: Following the initial campaign exploration, once enough attributed data had been gathered to safely predict which audience segments would engage with the app and start making purchases, we built the lookalike audience of Chaty's paying customers. From there, we began to gradually expand the audience.
Campaign results
Campaign scaling and D7 ROAS KPI
When we started running campaigns with Chaty, our machine learning algorithm focused on finding the most prominent audience that would download the app.
By week 4, our proprietary programmatic bidder established an ML model and identified which audience segments would convert by making an in-app purchase (and those that wouldn't convert). This allowed us to outperform the D7 ROAS KPI and scale the campaign almost 3 times.
Campaign scaling and ROAS D7
Source: Persona.ly
Once the ML model matured, it was able to predict the users who would make the first in-app purchase and continue making the purchases with high probability. With that data, we managed to scale the campaign by x4.3 while topping the KPI by a significant margin.
Contextual bandits for creative optimization
Thanks to the latest addition to the bidder infrastructure – contextual bandits for creative optimization – we reached another level of campaign optimization that allowed us to outperform the KPI and scale the campaign simultaneously. These contextual bandits allow for the most relevant audience-specific creatives to be displayed to different audiences based on the audience context.
The contextual bandits creatives optimization algorithm derives from the MAB (multi-armed bandit) algorithm where, contrary to A/B testing, multiple creatives are being tested at the same time. In MAB, the creative "champion" is getting the highest share of impressions, while the less successful creatives – "challengers" – are still being displayed and tested on a significantly smaller scale.
With contextual bandits, using reinforcement learning where both positive and negative interactions are considered, the algorithm assesses multiple contextual data points (predicted gender, predicted age, placement) to display the relevant creatives to the relevant audiences – even for iOS campaigns.
Context to creatives
Source: Persona.ly
"I highly recommend collaborating with Persona.ly DSP. Their approach is goal-oriented and focused on achieving ROAS/KPI targets. We have witnessed remarkable outcomes in just a few weeks of working with them. Their commitment to understanding the product and maximizing its potential is unparalleled. Moreover, their extensive experience and helpful nature make them an excellent partner."
Alina Dobrzinsky, Managing Director at Spyke Media GmbH (marketing agency of Chaty)
About Chaty
Chaty is a fun and lite way to get in touch with interesting people, share thoughts and enter meaningful conversations. Chaty is a convenient and simple messenger that offers direct connections to find and stay in touch with new people around you. It encourages users to talk about sports, music or their favorite series and get to know real people.
"We are excited to work with a new app vertical. The campaign's success proves the versatility of our machine-learning algorithm. We have found synergy with the Chaty team from the start. They are extremely thorough and clear on objectives, which helps us adapt our strategy and achieve great results."
Daniela Purinson, Business Development Manager at Persona.ly