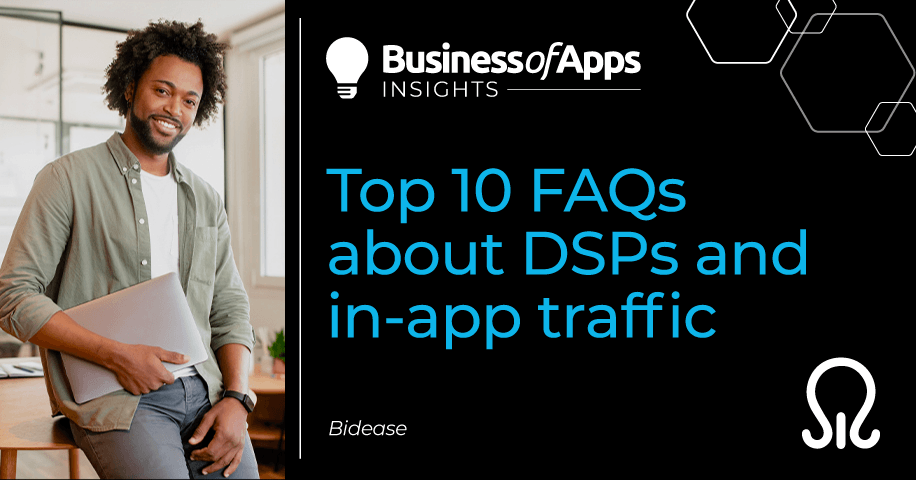 We live in the world of apps. Virtually any service has a mobile version these days: food delivery, taxi and travel, shopping, games of all genres, financial and educational products, you name it – one could hardly imagine a modern man's life without those.
As the mobile ecosystem develops, in-app advertising is gaining momentum, as well as becoming more and more attractive for brands. While in-app promotion wasn't often taken seriously in the past, we now have every tool available to analyze its efficiency, verify traffic, and develop engaging ad formats while utilizing emerging inventory platforms. And since we carry our smartphones with us almost all the time, presence in this communication channel is a must for brands.
In this article, we gathered the most frequently asked questions from advertisers regarding in-app traffic, programmatic buying, and DSP operations, and provided clear and concise answers. So, let's get started!
Why are CPA pricing models not the best choice for beginning user acquisition through DSPs?
Hoping to secure their marketing budgets and avoid spending money in vain, some advertisers want to purchase in-app traffic through DSPs using their target CPA right away but the main issue is that in-app traffic attribution is different than mobile social media traffic attribution.
For in-app marketing, a wise and forward-looking decision is to use a CPM pricing model because the ad exchange bids are constantly affected by multiple parameters, ie. creative formats, number of advertisers bidding, the verticals they belong to, time of the year or month, target audience etc.
In the long run and in most cases, eCPM-based media buying will result in reasonably lower eCPI, and, thus lower eCPA and higher ROAS. The most efficient way to test multiple ad creative formats, audience segments, exchanges, and apps, is through eCPM buying and sticking to a fixed eCPI and/or eCPA because it will keep your campaigns dynamic instead of only targeting small sample sizes to start, which will limit scale in the long run.
Conversely, only aiming for a low CPI may lead to missing out on sources and audiences that could otherwise provide a better LTV (cost per subscription/purchase etc.)
By setting a fixed CPI for your user acquisition campaigns, it will become much harder, sometimes impossible, to test premium placements, and will narrow audience segments, as well as ad creatives that can be run.  Additionally, it will lead to an increased CPI and "wasting" of budget, even if such traffic is high-quality and the audience is more loyal and solvent.
We would like to emphasize that reaching your target CPA is a gradual process that requires patience and time to acquire the necessary amount of data to train the platform and predictive algorithms with the ultimate goal being to reach your target audience at scale.
Why is in-app CPI higher than, say, on social media?
Social media is a good resource for targeting a specific audience, however, it becomes difficult to scale over time as their audiences are eventually drained. Because of this, the initial CPI may appear low in the beginning but is not sustainable in the long run as those audience segments burn out.
In-app advertising allows for a broader audience reach and almost infinite scalability as the number of apps is constantly growing.
One more important point is that DSP algorithms require a significant amount of impressions and actions in order to deliver the results you want, at scale, not to mention, cheaper installs don't necessarily mean good campaign performance considering people often end up deleting newly installed apps days after installing without ever using it. A well-trained predictive algorithm can help you communicate with highly relevant users and continue to build models based on the results delivered and not just the initial install.
Do we really have to use a mobile measurement tracker?
For advertisers who like to keep track of their unit economy, a solid and reliable mobile tracker is indispensable. Mobile measurement partner (MMP) allows you, the advertiser, the ability to correctly attribute ad campaign traffic and show which stages of the sales funnel we need to focus on.
In turn, this gives the advertiser an understanding of which apps, exchanges, ad creatives and approaches work best, which can later be useful for other advertising activities and you can make an informed decision as to what works best for your app in particular.
Why focus on post-view attribution in in-app campaigns? We only want clicks!
Post-view attribution is very important and even more so in recent years as more brands tend to choose video ads as one of the main ad formats.
The main reason not to ignore post-view attribution in campaign analysis is that users often watch a video ad without any further actions, which is especially true for rewarded videos. Essentially, post-view attribution allows marketers to get a better understanding of their video ad campaign performance by measuring conversions hours after seeing the video ad. We see a similar situation with Playable Ads but in this case, the user is actively engaging with the creative, which is much more valuable than just viewing a video.
Banner ads are no exception. The user sees an ad, and information about the product is imprinted in their memory but the user wants to remain within the game or app they are in, so they choose to download the app hours or days after viewing the banner ad.
In addition to post-view attribution being necessary for creative formats, it is also vital for marketers working in emerging markets, where users can watch an ad but may not have the ability to download the app right away so they do so after connecting to Wi-Fi (when the connection is fast and free).
It's best not to discard post-view attribution but rather set it up in the range of up to 24 hours so you can get a more profound understanding of upper and lower funnel performance and be able to assess user interaction with the ad, without performing an immediate action such as click or install.
What about in-app fraud?
This used to be a popular buzzword several years ago, but now things are quite different due to reliable participants of the ecosystem who keep track of the quality of their inventory etc.
On our side, we are fully integrated with all the main MMPs and their respective fraud protection tools, i.e. AppsFlyer and their fraud tool Protect360, as well as, Adjust, Kochava, Branch, and Singular. We are also integrated with 3rd party fraud detection tools such as MOAT and DoubleVerify and we have our own in-house fraud detection tool to ensure there are checks and balances across all actions we deliver.
Why buy traffic through DSPs if we have direct access to ad exchanges?
Our goal is to be an extension of your team and to work in conjunction with your user growth efforts. We can always help consolidate your efforts by running on our integrations with certain exchanges and/or not running on those SSPs. Running with a DSP opens up a lot of opportunities to test multiple sources at once, so you have more time to focus on retention and other down-funnel events.
What budget should I allocate for testing in-app promotion?
The marketing budget for in-app promotion depends on a number of factors. As a rule, the media buying team recommends the required and sufficient budgets depending on the target country, the app advertised, and a number of other nuances. Recommended starting budgets are prepared for each individual app and are based on feedback from the advertiser.
What GEOs are available for targeting?
In-app advertising is available wherever there are smartphone users, mobile internet and/or Wi-Fi. The settings can be super broad targeting, such as targeting an entire country or focusing on specific regions, states, cities, zip codes, and so on. You can also exclude specific locations from your targeting and only focus on areas that show the best results.
Why shouldn't you change in-app ad creatives too often?
Switching creatives too often or prematurely may have a negative effect on the algorithm as it does not allow for a sufficient amount of statistically significant data for proper algorithm training and model building. We usually recommend running ad creatives for a week or two to identify what apps and app categories work best and not lose the opportunity to find the best solution for that specific app or advertiser.
What is the difference between DSPs and ad networks?
Both provide access to in-app inventory but with ad networks, the advertiser can ONLY show ads in apps that have their SDK of that specific network. DSPs, on the other hand, let you procure inventory of multiple ad networks in one place.
In other words, to get the same reach that a DSP has, an advertiser has to integrate every ad network individually, – which is the most difficult and time-consuming.
DSPs allow the advertiser to test several ad exchanges at a time and reap the benefits of automated media buying coupled with predictive algorithms, resulting in high-quality users and significantly larger amounts of traffic and scale.
Conclusion
As mobile apps grow increasingly popular, their close contact with the target audience and the impact on their daily life leads to many brands restructuring their marketing budgets in favor of in-app traffic.
The advantages for advertisers are quite obvious:
The broad reach of the channel, in-app inventory for millions of popular apps;
Ads are shown to users with the highest level of interest thanks to programmatic media buying;
A multitude of ad formats that significantly increase ad memorability and incentivize target actions.
It must be noted that in-app inventory is not a magic bullet. Attaining your goals will take patience, time, and money to invest in training the DSP and predictive algorithms. This process is best approached as an investment for the future.
We hope that this article will help brands better understand the subtleties of in-app advertising.
If we missed anything, just drop us a line and we will gladly answer your questions.