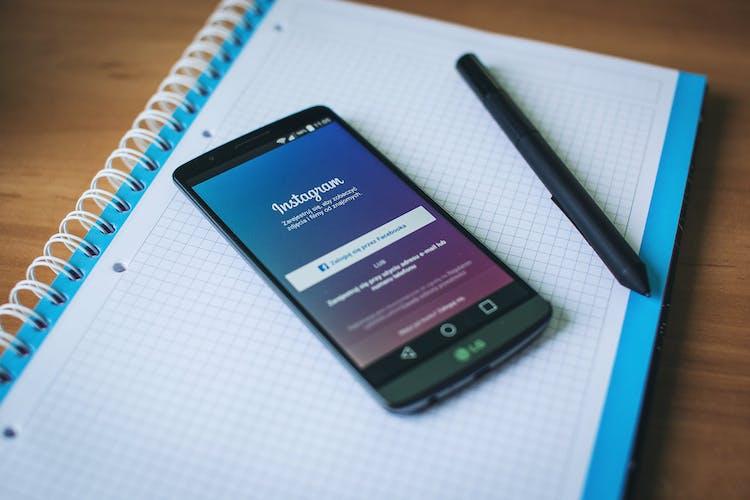 Social media has become a part of our lives and so Instagram. It is not just a photo-sharing platform, but it has now transformed into a much professional network, a bridge between end-users and brands. It has also incorporated the in-app checkout process for eCommerce brands which allows users to shop without leaving the app. 
As per research by Statista, the number of active users on Instagram is 104.7 million in the USA by the end of 2018 and projected to reach 120 million in 2020. Being an app startup, you can't avoid this huge user base available on one platform. 
To drive app downloads and to engage your customers on the app, Instagram is one of the most effective ways. It's irrefutable fact that you can't involve users by just posting pictures. To get success with Instagram, you will have to build a perfect marketing strategy. In this article, I have listed top tactics that can be helpful to drive more engagement on Instagram. 
Top Tips to market your app on Instagram
#1 Partnering up with Influencers
An influencer is an individual who has a great following in a particular industry and has an engagement with them, who has the ability to affect the buying decisions. Connecting with influencers and asking them to promote your app is the most powerful tactic on Instagram. 
Search influencers in your industry and reach out to them. It's easy to connect with them via email which is already mentioned on their profile for business inquiries or via direct message. 
Make sure you do personal message to every influencer and don't copy the same content in email or direct message.
Be creative. Write a creative subject line that encourages them to check your email.

 

Keep it short. Don't write too much text or irrelevant information.

 

Offer something valuable like Money or gift.

 
Niche influencers can help you reach out to the related audience. For example, Banana Republic, a clothing brand, has done influencer marketing and it has achieved success.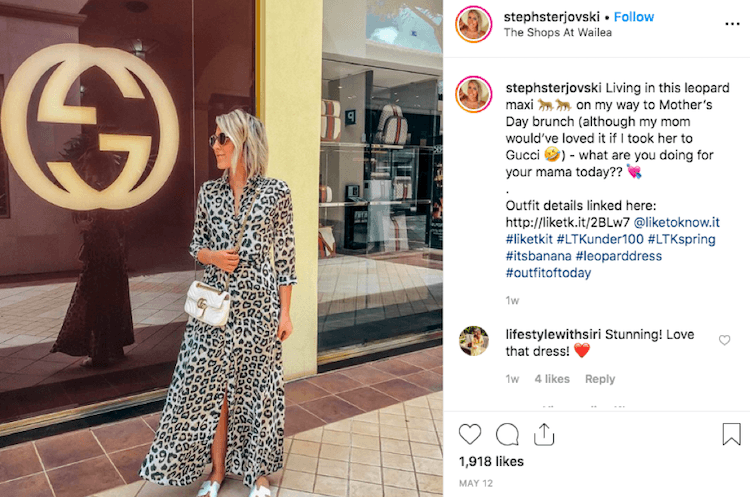 Source: Instagram stephsterjovski
#2 Use of related hashtags
To extend your brand's reach and boost your app on Instagram, hashtags are one of the most significant channels. In order to get benefits of hashtags, creating a hashtag strategy can be useful to increase the visibility of your app. According to Agorapulse, having at least one hashtag on Instagram post can get 70% more likes and 392% more comments. 
Research related and targeted hashtags before you use them
There is 30 hashtag limit in every post so use them.

 

Avoid using general hashtags that everyone follows.

 

Research your audience and hashtags they use. Include them in your post.

 

Include both hashtags – short hashtags like #fashion and long hashtags like #fashionblogger
Avoid putting hashtags in just comments. Do experiment by putting hashtags in comments and in posts and analyse results.

 

Create one branded hashtag and include in your every post.

 

Don't forget to post hashtags in your Instagram Stories.

 
Here, Mobile Patterns has included hashtags in both posts and comments.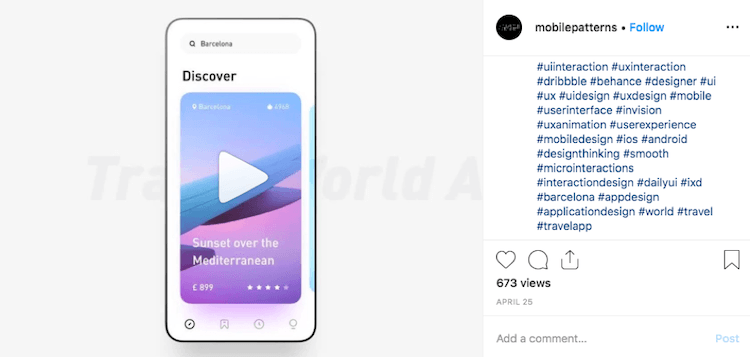 Source: Mobilepatters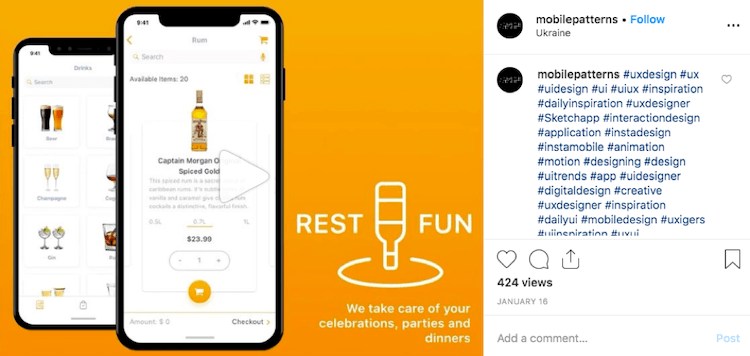 Source: Mobilepatterns
#3 Ad Campaign for App Install
Instagram ads for apps are sponsored ads that drive more app installs. It allows creating image ads and video ads for app install campaigns along with different CTAs.  
You can choose from :
Book Now
Download
Learn More
Play Game
Shop Now
Sign Up
This CTA will be redirected to Play Stores and users will be able to download your app. Due to the native style of advertisement and singular scrolling, users don't distract to any other layout and each photo gets attention. According to Salesforce, Ads on Instagram likely get 2X clicks than Facebook Ads. 
#4 Instagram Stories
Instagram stories is a great way to engage your users, even without posting so many pictures. Brands that actively sharing stories get 37% of their total impressions from stories. This means users are actually engaging with brands.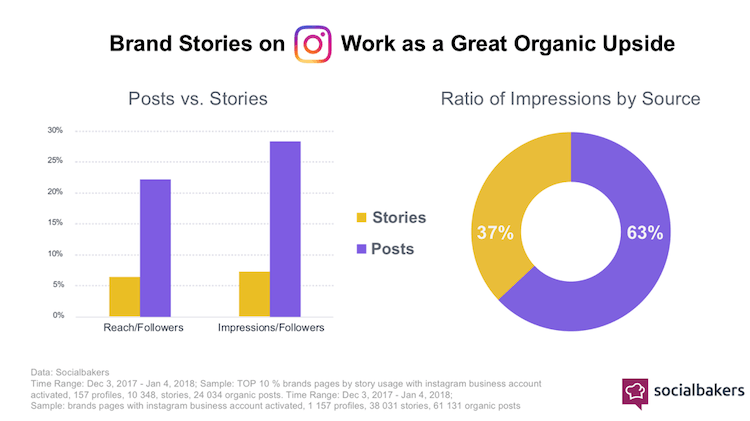 In January 2019, there are 500 million users actively sharing Instagram stories which shows how stories can bring more engagement and increase the brand value. Stories take the full mobile screen, and so they don't allow users to divert to any other app. So, be creative in stories.
3 Ways brands can use Instagram stories:
Behind the scenes content 
With stories, you will have a chance to create content and tell a story about the company and the story behind the posts. For example, a beauty company that makes all handmade products can include stories about how they make all the products and so that can bring more trust factor. 
Question & Answers on Stories
This brings 1:1 communication for brands as they can directly communicate with their followers. Brands running question & answers will get more trust value and so more conversions. 
Live Broadcast
Instagram stories allow users and brands to create live video content. Users are curious about live content and so they engage more with live video and broadcasting. Answering questions on live video is one of the best ways to interact with your audience. 
Contest and Giveaway
A contest is the most powerful way to drive more engagement and an interactive way to generate user content. Brands that run contests and giveaways can get 70% faster follower growth than others who don't.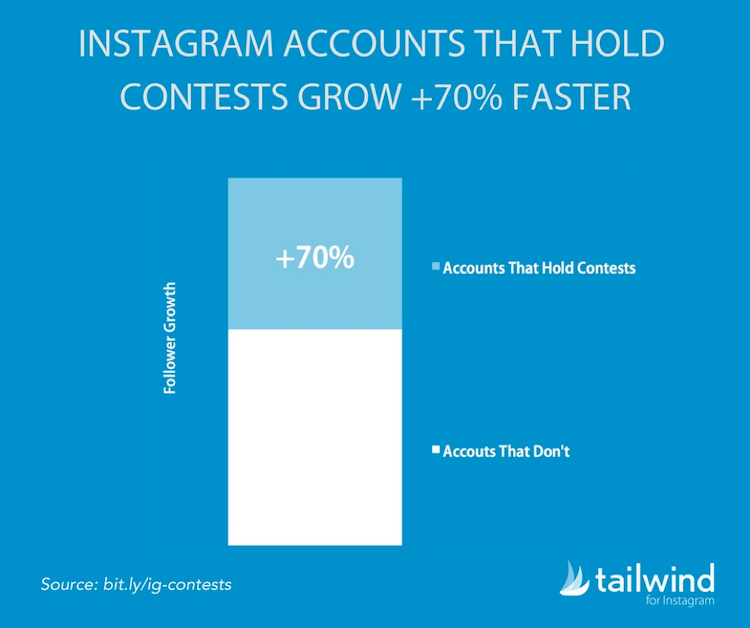 Including contests and giveaways in your Instagram marketing strategy can help you to gain thousands of followers and app downloads in a short span of time. 
A common rule to enter into the Instagram contest is to follow the account who is running the contest. Thus Instagram contest is a great algorithm to boost followers growth.
Wella India, a well-known brand for hair care runs a regular contest on Instagram.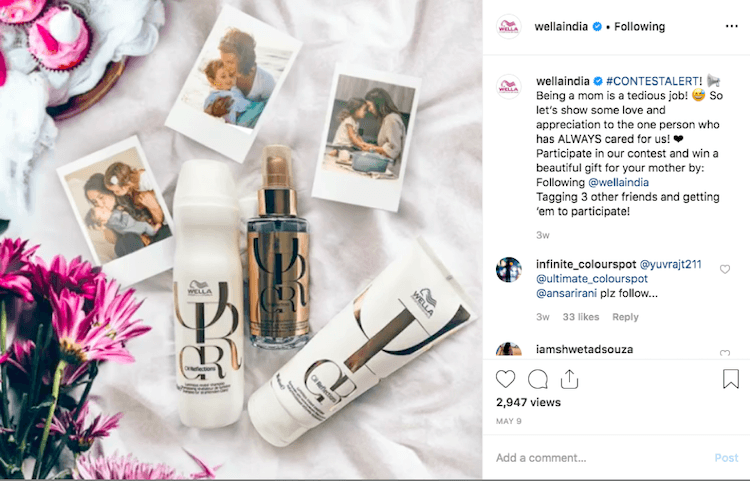 Source: Wella India 
In this contest, Wella India has asked users to tag three people on the same post and those other three has to tag another three users. You can see the effect on the post – 391 comments. Encouraging others to participate in the contest brings more followers and engagement. 
Conclusion
Instagram is the most powerful social media tool that can bring more app downloads and increase app retention rate. Keep in mind, every industry has different terms to follow for Instagram marketing. Following these tips can help you to gain more user base for your app.