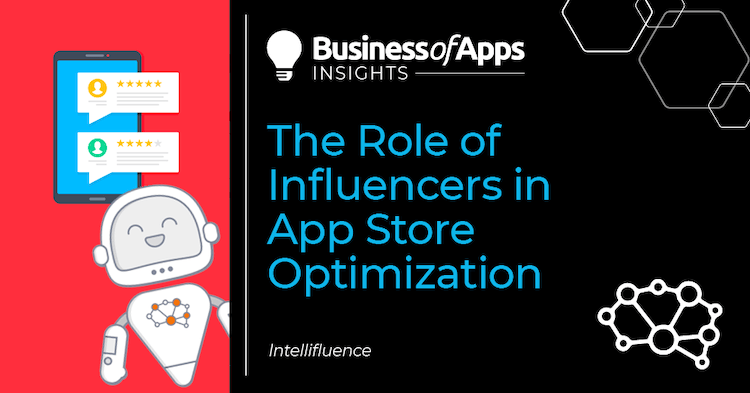 Let's get the basics out of the way. If you're looking for general App Store Optimization (which we'll abbreviate to ASO), there are resources dedicated to ASO which cover some of the on-page elements in deeper detail. When we look at the ASO we tend to bucket them into two areas: on-app store and off-app store. On-app factors would include your app's name, description you use, keywords associated with the app, usage stats, freshness, and uninstall rate. Off-app store factors would therefore be the other variables developers have to care about: external link sources, ratings and reviews, and downloads. 
For the purpose of explaining how to work with influencers for the App Store Optimization, we're only going to look at a couple on-app factors while focusing on all of the off-app store factors.
What is influencer marketing and why is it applicable to ASO? The core tenant of influencer marketing is to have someone else tell your story for you. In the case of apps, the story is why the app should be used by focusing on individual cases in which the app was used to solve a need. As we explore each factor, you'll see that using peer level influencers can have a dramatic impact in getting the outcome you want.
Off-app store factor: downloads
Starting with the most obvious, asking prospective users of your app to simply download it is somewhat straightforward. The key with downloads is they need to be from real people, with active history. Avoid the lure of unsolicited email promising 10,000 downloads in 30 minutes as they will be as temporary as one's hopes. Many influencer networks will segment based on mobile device type, making it easy to create a campaign where the goal is a simple install.
Off-app store factor: ratings and reviews
Should simple installs be your campaign goal? Whenever it's possible to work in multiple dimensions we should do just that, since asking for a helpful rating and honest review of an app requires a download as a prerequisite. Therefore, within an influencer campaign one can segment based on a variety of factors to get closer to the actual end user of the app in order to drive relevancy within the review language. Don't underestimate the vitality of a user expressing why the app is specifically useful in the app review section as a selling tool to prospective users. In the case of niche apps without broad appeal, consider structuring your influencer campaign to focus on the UX or non-business elements of the app, so that the reviews can still be relevant from a usage perspective, even if it's not fundamental to why your future users will need to download the app.
Off-app store factor: external link sources
It's true that bloggers are worth more than their links, however in the context of boosting the number and quality of external references to your app page, the goal is those references. Influencers for such campaigns are especially ideal when they are in closest relevance to your core users, providing the option to explore the pros and cons of your app at depth. The key to success on these campaigns is to ask for absolute honesty and depth on the review. Some reviewers will be critical of the app, but it's important to allow for this as you'll see shortly.
Taken a step further, you could request a more complex YouTube authoritative review campaign of the app, linking to the app within the description of the view as part of the campaign. Similar to a blog review, the depth of the review and honesty of it is key. For the overly positive reviews, consider taking those videos and running a secondary blog campaign asking for an embed of the video along with a more basic review of your app (complete with link reference to download of course). These secondary reviews tend to be less expensive but have the added benefit of giving you both another reference plus driving traffic back through the positive review, to help it rank in both YouTube and Google.
On-app store factor: usage
Now that you have those posts, you'll want to syndicate shares on larger social platforms to get the majority of the attention focused on the reviews you find most useful to your potential core audience. Influencer campaigns designed to share links with minimal commentary are exceptionally easy to do and given you can segment to general audiences that simulate your expected core audience, you can set yourself up to drive core usage. It comes down to being able to take those social reviews, such as those posted on Facebook and boost them as paid ads directly to your exact core audience. Usage of apps tends to be at its highest when the people the app is made for have it on their phones. Extremely targeted UGC ads exhibiting peer level influence of your target market can drive this initial usage. 
On-app store factor: freshness
Freshness has also been referred to as newness or recency. App stores want to provide the hottest selection that are the most up-to-date and freshness is a heuristic used to help deliver that. Remember the critical reviews from before? The feedback received, while difficult to read the first time, is a call to action to improve features, remove bloat, increase functionality, and more. By acting on real user feedback and updating the app accordingly, on an iterative cycle, you'll be tackling the freshness factor. 
Further, this can result into something far better. In your release notes, thank the individual that pointed out the issue or requested a change. Then, reach out to the influencer directly to let them know you took their feedback to heart and provided the update; in 99 cases out of 100 this will result in a follow up promotion of the app and/or an update to the original post that includes how responsive of a developer you are for making changes that resulted in a superior app. Your users want to feel seen, and the response chain of critical feedback to development to feedback updated is an incredible buying signal. This will drive more downloads, more reviews, more usage, and more happiness for you.
Need app store reviews? Intellifluence features over 100,000 trusted influencers including electronics & apps specialists who can help you build trust and awareness.