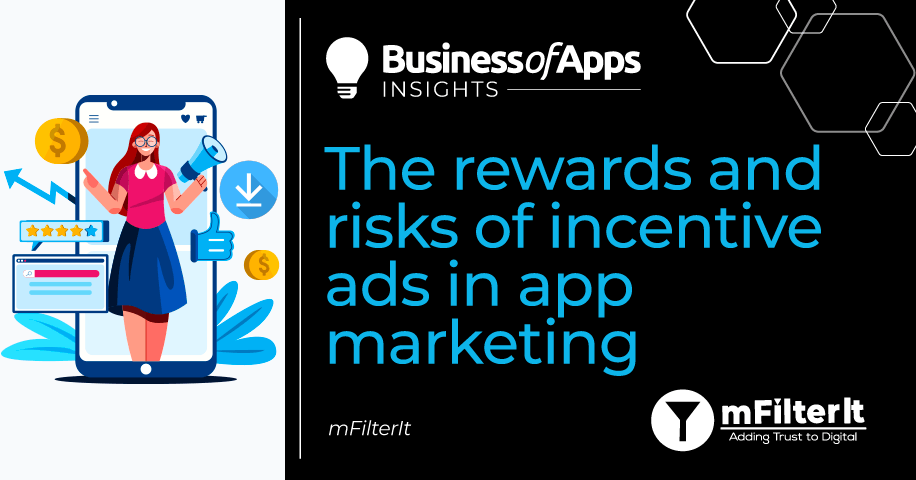 Creating a mobile app that delivers a delightful experience is only half the battle won. For any app to be considered successful, it needs downloads, and that's where app marketing comes in.
There are many ways to market an app and drive downloads. This is both a boon and a bane. The availability of options can be confusing. However, for those who understand app marketing, the same availability of options can act as a competitive advantage. If you fall in the first category and are confused about the best ways to market your mobile app, this article is for you.
In the upcoming sections, we will discuss two of the most commonly used tactics to market mobile apps- incentive and non-incentive campaigns. This article will also provide you with all the information you need to employ them to your advantage and attract genuine users to your app. Let's jump right into it.
Understanding incentive ads vs non-incentive ads
If you have done even a little research on app advertisements, you must have come across the term incentive ads. These, and non-incentive ads, are two of the most common ways to advertise apps to drive more downloads. Let us look at what both terms mean.
Incentive ad campaigns
As the name suggests, incentive ad campaigns provide users with an incentive when they take a predefined action. With incentive ad campaigns, the cost per install or CPI is remarkably low. However, the same incentives that drive a low CPI are also responsible for inaccurately inflated install numbers that may diminish after a few days. This usually happens because many users download the app (or perform the desired actions) solely to get rewarded. Once they have received the rewards, they may uninstall the application from their device.
Usually, the user lifetime value is low in incentive campaigns. However, there are exceptional cases where some users that learn about the app because of the incentive ad campaign may download it and find it useful or engaging enough to continue using it.
Non-incentive ad campaigns
Unlike their incentivized counterparts, non-incentivized campaigns don't reward users for downloads or other in-app actions. These campaigns depend heavily on the relevance of the app and the ads marketing it to the users. If the users find the digital ads interesting and the app relevant/useful, they hit download.
Without the incentives, the CPI for these ads is much higher than incentivized ad campaigns. However, since there are no incentives involved, a large percentage of the users that download the app because of the campaign may continue using it as they are genuinely interested in it.
When are incentive ads better than non-incentive ads?
By now, it must be apparent that both types of ad formats offer their pros and cons. But, is one better than the other? How do you choose one?
Fortunately, you don't have to choose. Smart marketers can employ both types of campaigns to develop a holistic ad campaign strategy that delivers results in the short and the long term. Reward-based ads can be used close to the launch of your application, enabling you to drive those initial downloads. Since the CPI of an incentive ads campaign is low, you can get a lot of downloads for a relatively low investment.
Once your app receives massive installs, you can start using a non-incentive ads campaign as a way to 'retarget' ideal users and retain them. If they have claimed the reward offered in the initial campaign and uninstalled your app, a low-volume non-incentive ads campaign may be able to convince them to reinstall your app.
Alternatively, you can employ a cost-per-engagement (CPE) campaign that rewards users for specific actions that are taken after an app has been downloaded. For instance, for an iGaming app, such an action can be completing the tutorial of the game. However, the success of these strategies depends heavily on the app's ability to drive user interest. If the users download an app to get a reward and then don't find the app engaging enough, there is little hope to retain them.
Pros and cons of incentive ad campaigns
Here are some pros and cons associated with reward-based ad campaigns:
Pros of incentive campaigns
Reward-based ad campaigns can deliver massive results in a short period of time. This is highly advantageous in newly launched applications that are trying to break into competitive markets.
Rewards can incentivize even the most difficult users to give the app a chance and download it once.
Engagement-based rewards can be incredibly compelling. This is because the users have to invest their time (besides installing the app) to get the rewards. This investment can further encourage them to continue using the app in the hopes of getting a return for their investment in time.
If an incentive ads campaign reaches a user that may find your app relevant, the reward may act as a way to build goodwill. This goodwill may inspire loyalty and prevent the user from switching to a competitor's app later.
Cons of incentive campaigns
The relevance of the users downloading the app is questionable with reward-based campaigns. Many users that may have no real benefit from using your app may download it solely for the sake of getting the reward and then uninstall it later.
If the rewards are not properly thought through, it may result in a failed campaign or worse, a negative ROI. If, for instance, the reward offered for installing the app is not lucrative enough, then your campaign may not be able to attract enough users. On the other hand, if the reward is costing your business a lot of money, making a positive ROI from your campaign may become challenging. The worst part is, there is no dependable way to verify the expected impact of the reward you are planning to offer before actually running the ad campaign.
Another disadvantage associated with reward-based ad campaigns is the likelihood of fraud. The incentives may motivate scammers and fraudsters to download your app and manipulate the results of your ad campaign. How are incentive ad campaigns manipulated? Let's find out.
How are incentive campaigns manipulated?
While incentive campaigns are a good way to attract new users, the fraudulent affiliates use them as a medium to fool advertisers. They use mediums like messaging platforms like Telegram and Whatsapp to reach users at a larger scale. This keeps the advertiser in the dark as they think they are getting high traffic.
The affiliates use incent campaigns to manipulate the app traffic. Here are a few ways they keep advertisers in the dark:
Inflated install numbers
The affiliates use incentive ad campaigns to attract users into installing the app in exchange for a reward. This way the affiliates bring a high number of installs and make them believe their ad campaigns are performing well. However, the users installing the app are interested in the reward and they often uninstall the app once they are able to avail the reward.
As the users uninstall the app after availing of the incentive, this results in a high uninstall rate and a low lifetime value. In the end, the advertisers end up wasting the ad budget on users which doesn't bring a significant impact on the ROI.
Faking app events
To attract users, the fraudulent affiliates post offers on messaging platforms with incorrect messaging. They lure the customers using shiny offers and ensure they complete the action to meet the KPIs. For example, "Sign up and get Rs. 30 instant cashback." These offers often encourage the users to complete an event like signup, register, etc.
By manipulating the users to sign up, affiliates claim their payout on events and the advertisers end up with low-quality users.
Real case
We identified incentive campaigns running for one of the largest private-sector banks in India. These campaigns had misleading messaging with the intention of luring users into installing the app in exchange for cashback. Users were additionally asked to do a 1Re transaction to meet the publisher's KPI.
Example of a fraudulent incentive ad campaign
Source: mFilterIt
Key takeaways
Incentive ads present a superb advertising opportunity when they are used correctly. App creators must remember that at the end of the day, it is the quality of their app, along with its ability to intrigue and delight users, that decides its success. No matter which type of advertising you use, how well-targeted your ads are, or how engaging your creatives are, they cannot help you in the long run if your app experience is subpar.
With that said, if you objectively think your app will delight the users you are targeting, try using a combination of incentive and non-incentive ads to market it. Incentive ads will allow you to garner initial interest in your app quickly and non-incentive ads can be used to fuel long-term organic growth.
In order to leverage the maximum benefit of incentive ads, app marketers need an advanced media validation tool to evaluate the quality of the app traffic and eliminate the possibilities of fraud. By validating the ad traffic, the advertisers will have the transparency to invest in the ad campaigns that bring greater ROI and collaborate with affiliates that are trustworthy.
App marketers! Take the power in your hand and make the best opportunity out of incentive and non-incentive ad campaigns by validating the media quality with mFilterIt.