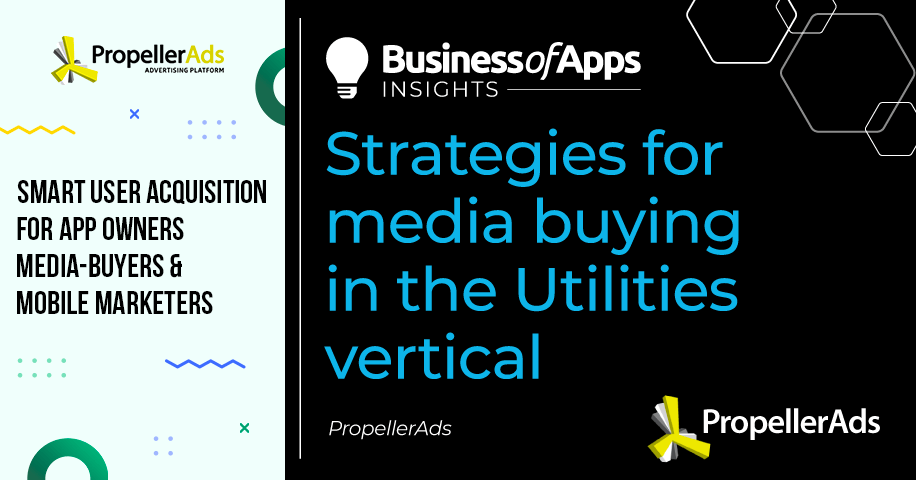 Are you a media buyer looking for new ways to drive revenue and stay ahead of the competition? If so, the Utilities vertical is an area you'll want to keep on your radar.
With people constantly seeking out technology to make their lives easier, the demand for utility products like VPNs, storage cleaners, and note-taking apps is only increasing.
Following the COVID-19 pandemic and lockdowns, a growing number of users have shown an increased demand for utility apps and software – which is excellent news for advertisers and media buyers alike.
It's clear that the Utilities vertical is powerful at driving revenue, so what are the key trends and ad formats that interested advertisers should use?
Well, we dug into the data to find out!
We conducted a 30-day analysis of PropellerAds' advertiser data in the Utilities vertical and identified key trends, GEOs, and ad formats that will scale your performance in 2023.
Learn more about these key trends and ad formats below.
Trends in the Utilities vertical
The global utility app market is booming, expected to reach USD 7.8 billion by 2028, with the Google Play Store having the highest share of the market segment at around 60%.
Our data shows that this projected growth is more than just speculation, with increased impressions and clicks in the last 30 days across multiple GEOs.
Utilities growth by impressions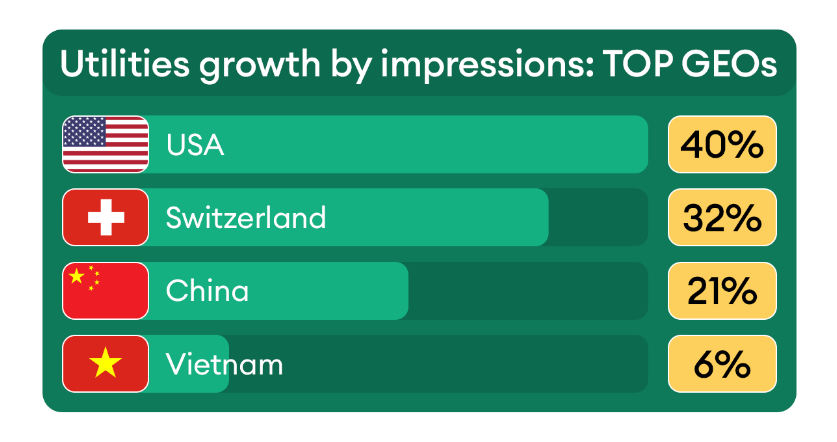 Source: PropellerAds
The United States stands out as the GEO with the highest number of impressions and conversions, with a significant increase in impressions in the past month – +40%.
Switzerland has seen impressive growth, indicating a growing appetite for utility apps in this region – +32%. China and Vietnam are also showing steady growth in the Utilities vertical (21% and 6% accordingly).
Privacy apps are on the rise
Since the introduction of Apple's App Tracking Transparency feature and Google's rollout of the Privacy Sandbox project, privacy and protection have been at the forefront of advertisers' and tech-savvy users' minds.
Predictably, the greater awareness of better privacy and protection has increased demand for utility apps that promise to keep users' data safe.
For example, OneProtect: Ads & Call Blocker, a fast-growing privacy app in the USA, has seen a remarkable rise in adoption, with a 4.5 app store rating and a list of attractive features that privacy-conscious users love.
The bottom line? Privacy-focused utility apps aren't just useful, but very popular, too.
Effective ad formats for the Utilities vertical
We dove deeper into Utilities vertical data to uncover the optimal ad formats that advertisers and marketers can use.
| | | |
| --- | --- | --- |
| Format | Impressions | Clicks |
| Onclick/pop-under | 92,049,167 | – |
| Interstitial | 9,975,164 | 370,567 |
| Push | 343,014 | 1,048 |
| In-page push | 4,320,075 | 97,794 |
Source: PropellerAds
Onclick/pop-under and interstitial appear to be the most efficient ad formats for this vertical. With a whopping combined 102M impressions, these formats trend stronger at driving increased visibility among utility users.
Push and In-Page Push ad formats are also showing steady growth in the Utilities vertical, with a combined 4.6M impressions.
Strong ad Formats are UX-friendly
Both onclick/pop-under and interstitial ad formats offer a more positive UX with their creatives. These ads use pre-landers, which are pages that appear before the main landing.
Pre-landers are particularly effective at driving highly-relevant engagement thanks to their creative format. Offering more space for details, appealing visuals, and increased chances to present the offer, they are often irresistible to leads.
Better yet, based on our research, pre-landers generate more relevant engagement and leads compared to other formats. This is because if a lead clicks on a pre-lander it's highly likely they are interested in the offer. While this makes the user journey longer, it benefits advertisers by helping them reach a more relevant audience, boosting CTRs, and decreasing bounce rates.
As Anastasia Khegay, Senior Account Strategist at PropellerAds puts it, "pre-landers can be incredibly powerful when used correctly. They help to guide users to your offer smoothly, warming them up before a conversion. Pre-landers have great potential in terms of turning a visitor into a lead, especially if you have a persuasive copy and the right settings to successfully drive traffic via pre-landers."
The future of the Utilities vertical
Based on what we've learned, the key takeaways are:
The Utilities vertical is growing globally, with steady growth in most GEOs.
Privacy and protection are at the forefront of users' minds, meaning it's a good time for advertisers, brands, and media buyers to work in these niches.
UX-friendly ad formats like onclick/pop-under and interstitial have the power to drive greater traffic with the right approach.
So, the Utilities vertical is a dynamic and exciting area of advertising, with significant potential for those who can effectively harness its power. Based on our data and its current growth, it's likely that this is a vertical that will only continue from strength to strength. Give it a try!