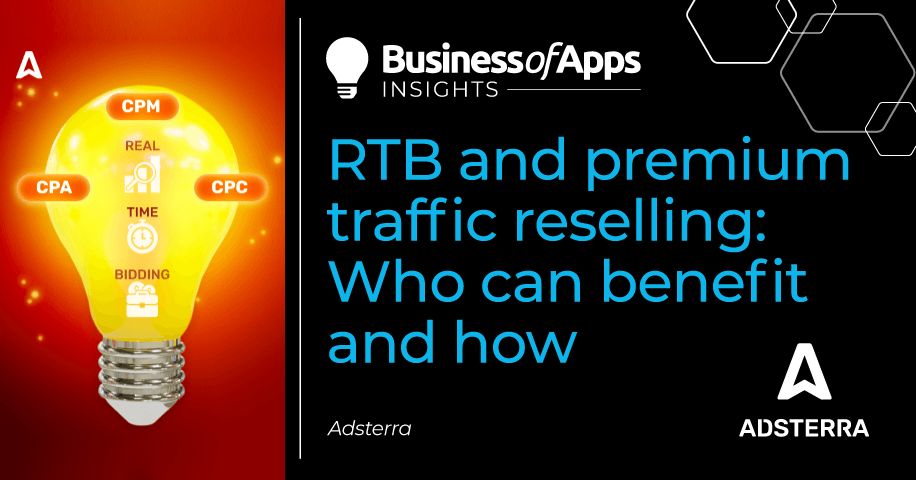 RTB, or real-time bidding, is one of the best instruments for optimizing your digital advertising campaigns. It is an effective tool that benefits both advertisers and publishers — however, it often comes with the cost of driving poorly-converting, low-quality traffic.
Adsterra, an experienced and well-established global ad network, is aiming to challenge this notion and bring high-quality traffic to RTB. Let's take a look at how we do this and why and how you can benefit from it.
Who can benefit from premium traffic reselling?
Why change something that isn't broken, you may ask? After all, RTB is already pretty effective and brings substantial profits to all who use it. However, we decided to take it one step further to help boost publishers and advertisers' campaigns by serving unique, high-quality traffic.
Although unique and clean traffic can benefit anyone, here are the types of platforms that can get the most out of working with Adsterra's RTB service:
Networks with typically niche traffic that are looking for high-quality ads in the streaming, entertainment, video, software, and iGaming verticals
Platforms who are looking for an intelligent DSP solution that can deliver high payouts
Ad networks that send high volumes of pop-under traffic from direct publishers
Networks that have thousands, if not millions, of undemanded impressions from direct publishers
SSP platforms that want to get higher payouts for the traffic they're sending
Adsterra has one of the highest CPM rates on the market, with social traffic for niche ads reaching up to $55 per 1K impressions. Our unique approach to RTB lets website owners monetize up to 100% of their traffic and provides advertisers with a cost-effective way to reach billions of users.
How does Adsterra's RTB platform work?
Adsterra's real-time bidding platform is designed to:
Match campaigns with their targeted users with 20+ targeting settings
Provide a truly global ad coverage in 248 GEOs
Provide high payouts for any tier traffic from 1M daily
Unlike many other RTB platforms, Adsterra's platform doesn't serve their users "scraps", instead, it sorts through the impressions and clicks, leaving only the high-quality ones. We use a combination of AI algorithms and manual checking to fight low-converting and bot/proxy traffic.
How does Adsterra match ads with user traffic?
Adsterra uses unique in-house algorithms to make sure that ads will be relevant to end users in order to maximize their conversion rate. Our aim is to balance out the cost-reward for both advertisers and publishers, providing the maximum possible payout for each specific traffic slice in any given GEO.
Now, let's take a look at an example of how an SSP network might interact with Adsterra's RTB service.
Adsterra acts as a fully-fledged demand-side platform (DSP) that accepts traffic from supply-side platforms (SSP). This is done via endpoints, which are put on the servers of our SSP partners. The endpoint, provided either as an API or integrated manually, is typically installed relatively quickly. Once that's done, Adsterra's RTB starts working its magic.

How Adsterra's RTB platform works
Source: Adsterra
The first step begins before the user loads onto the website of a publisher. Before they see its contents, their data already gets transferred to a publisher's ad network.
The SSP platform then routes that data over to Adsterra, sending out a bid request.
Adsterra's DSP processes the request and uses 20+ parameters to find the best ads for that particular user.
After that, the auction for this user's ad view begins. It is held on the SSP's side and awards the bid to the highest… well, bidder, which means their ad will be shown to the user.
This whole process only takes a fraction of a second.
Final thoughts
At Adsterra, we are always looking for new partners to join our platform and become new SSP traffic providers. Here are some bonus benefits you can get for joining Adsterra:
A dedicated manager that will guide you through every step of the onboarding process and will be available to give advice at all times
Thorough and detailed stats
Automated weekly withdrawals
High demand from CPM, CPC, and CPA campaigns
If you want to boost your campaigns or elevate your network to a new level, join Adsterra's RTB platform here.