Before delving into details of how the app marketplace has shifted over the last few months, we understand that keeping everyone safe and healthy is front of mind as the COVID-19 outbreak continues to develop globally. We commend workers who are playing an essential role in tackling the pandemic, including social care and NHS staff. We also recognize food production, sales, delivery and utility staff, alongside the many other businesses and individuals that are putting themselves in testing conditions to serve society during these challenging times.
With lock-down enforced in many countries around the world, governments have taken strict measures to tackle the spread of COVID-19 through various restrictions and encouraging social distancing. With many sectors and businesses taking a huge hit on revenue and the public adhering to a new lifestyle, these conditions have highlighted that enabling and encouraging inter-connectivity between users is more important than ever.
One thing is clear; the impact of COVID-19 on the app marketplace has been hugely significant. These changing conditions have been reflected in the disruption that the app marketplace has experienced as of recently. What could app owners be doing to pivot and maintain or increase brand awareness, market share and users?
COVID-19 Impacted Businesses and Apps
With a huge potential knock to brand visibility, consumer spend and user engagement, the pandemic threatens to impact many businesses negatively. There is no doubt that certain sectors have taken a bigger hit as a result of COVID-19, including hospitality, commerce and travel. This has been reflected in the volatile advertising spend preceding the outbreak, with big commercial businesses that typically dominate these sectors pausing their spend. In fact, 24% of brands have paused all ad spend for Q2. Research also shows that digital ad spend is down 38% in March and April.
With businesses that have an app channel, there are strategies that should be implemented whilst facing stagnation to establish a blueprint for brand and business recovery for when lock-down measures eventually wane.
Maintain brand awareness for your app
Kantar estimates that brands who go dark to save costs will see a 39% reduction in brand awareness and delay recovery after COVID-19. Even if these businesses are cautious about advertising spend, mitigating reduced brand visibility is also vital in the app stores as less impacted businesses compete for market share. That is why your App Store Optimization strategy will be key. Bring focus to the three most important assets of your store listing to your brand: Icon, Title and Subtitle and implement brand keywords for your keyword optimisation strategy. As engagement with mobile continues to increase during lock-down, you also need to prepare for this change in consumer behaviour. You can utilize your other channels to refer traffic to your app product when your service offering becomes relevant again, a channel where users might be more used to converting from. Therefore, having a web to app referral strategy will also be key to leverage traffic from a channel where brand presence may be stronger.
Focus on communicating with your users
Focusing on your messaging, copy and tone voice will be incredibly important during these uncertain times. Helpful, reassuring and relevant messaging will both comfort and help you to maintain a relationship with existing consumers, even if they are not utilizing your service as regularly. Your all-round messaging strategy, from email to push messages, will also be integral in keeping users up to date and informed of disruption or changes in your service offering. There have been some great examples from all types of businesses including Monzo who have foregrounded their bolstered support, or AirBnB who also inform users of their new cancellation policy measures in light of COVID-19.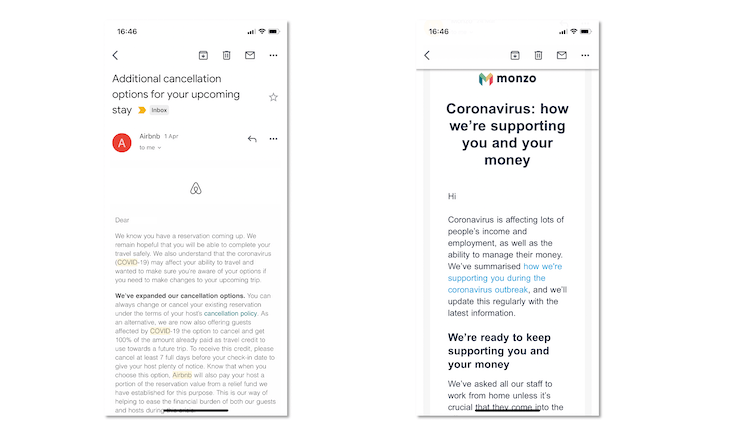 Align your mobile offering with changing consumer behavior
With a huge shift in public behavior as lock-down has restricted day-to-day movement, it has hindered many businesses in continuing to provide their services as normal to their customers. Businesses need to pivot to align and remain reactive to the changing climate and take advantage of the opportunities presented by your app product. Over the last few months, supermarkets have had to pivot their focus and offer mobile solutions to carry out food shopping and delivery from home. Research shows that Tesco even outdid Amazon in downloads in March due to high consumer demand.
For apps that are not able to go about business as normal until after lockdown measures are decreased, it is also an opportunity to create new partnerships to support affected businesses. OpenTable, a restaurant booking service, recently partnered with Caviar, Postmates, Uber Eats, ChowNow, Olo, and Deliveroo to support and encourage delivery and take-out at restaurants impacted by COVID-19, putting to use their vast restaurant network.
Emerging Apps and High-Demand Categories
The latest research shows that weekly time spent in apps has grown20% YoY as lockdown measures restrict the public to remaining indoors. Mobile screen time, app usage and ad impressions have also seen a significant increase across affected territories. As a result, various categories in the app stores have seen both an increase in engagement and revenue uplifts.
Average Weekly Time Spent in Gaming and Non-Gaming Apps Worldwide, Q1 2019- Q1 2020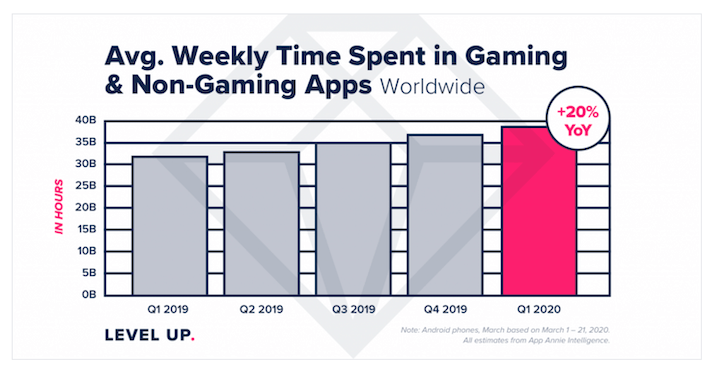 Source: AppAnnie Research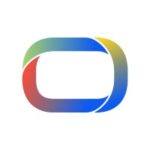 High-demand categories include Media Streaming (+162%), Music (+65%), and Health & Fitness (+49%), with uplift figures noted in AppsFlyer's report, The Coronavirus (COVID-19) Impact on App Installs. Business apps have also shown a record breaking number of downloads week after week, topping 72m (90% than weekly downloads in 2019). This is a refreshing development, especially for non-gaming apps, where downloads are increasing across markets up to 10% in March alone, MoM.
With many enterprise businesses that typically dominate the market rolling back spend due to restrictions faced by COVID-19, businesses with lower market share can take this opportunity to invest more in advertising as CPI and CPA costs decrease and engagement increases across major app install channels. In light of this, many apps in the high-demand categories are taking an aggressive UA approach. In March, AppsFlyer reported an in increase non-organic installs in Education (+66%), Media Streaming (+90%), Health & Fitness (+78%), Midcore Gaming (+52%), Hardcore Gaming (+28%), and Social Casino (+40%).
Even so, costs remain low through various acquisition avenues. A strong example comes from the Health and Fitness category in the App Store store, where CPA costs dropped by as much as 38% in March for Apple Search Ads in certain impacted territories, as noted by Splitmetrics research. Furthermore, Facebook is reporting a 20% drop in CPMs month on month (February to March, 2020) with Snapchat showing increased engagement with ads, a notable 36% increase in install volume for app ads, and a 19% increase in swipe-up rate overall during late March compared to late February. For those who wish to leverage mobile advertising in this time, we recommend that advertisers extend the use of their best performing ads in order to circumvent the delays in ad approvals and rejections.
Search Ads install and CPA trends in the Health and Fitness category, Jan-March 2020


Source: Splitmetrics Research
Attract users to high-demand features and services
With the public transitioning to working from home and practicing social distancing, consumer behavior has transformed significantly. An example of this is the shift from utilising the gym for exercise to turning to tutorials for home workouts. With an increase in searches for 'home workouts' in the app stores, this is an example of how apps can pivot how they package their services to cater to the changing climate, and rank for key, high-volume search terms. In light of this, many workout apps have added home workout to their app title. It is important to pivot your ASO strategy in line with your product's capabilities and to remain reactive to consumer demand. This way you can continue to increase your organic user base.
Remain reactive to consumer demand
With time spent in-app and mobile screen time increasing, many apps need to remain agile and roll out features that can help them grab the attention of valuable users, not only within your category but across verticals, where businesses continue to compete for screen time. A good example comes from the Entertainment category and streaming apps in particular. Disney rolled out their Disney + streaming service on March 24 across parts of Western Europe, including the UK, Ireland, Spain, Germany, Italy and Switzerland, attracting 5m downloads on day 1. Disney also offered free trials to aid in establishing behaviours and even brought forward film releases to take advantage of the anticipated growing screen time of children as schools closed across the world. This is an important move on Disney's part, as they have seen an impact on other facets of their business, such as the temporary closure of their theme parks. By refocusing on their digital service, they can encourage continued engagement with the brand.
What Does This Mean for the Future of the App Industry?
Whilst no one can accurately predict what will become of the app marketplace over the next few months, it may be that these changing consumer behaviours will echo beyond a post-COVID-19 era. With users increasing time in mobile channels and businesses pivoting their service offerings and investment in subsequent channels, it has seen the mobile and app marketplace flourish in its ability to provide those solutions.
For some businesses, this is a time to focus on maintaining a relationship with existing consumers, maintaining brand visibility and creating a blueprint for anticipated changing behaviours across their channels post-COVID-19. For businesses with apps that are proving to be popular in the current climate, this is a time to invest in paid acquisition where they are most likely to see more value from their advertising spend without competing against the bigger spenders. They should also take advantage of agile ways of working to pivot their app product and feature releases in line with what their users need during these testing times. Yodel Mobile, leading app growth agency, is on hand to support app businesses during these times of uncertainty and higher consumer demand. With over a decade's worth of experience on app-first strategy and mobile success, if you need advice and support, please get in touch with Yodel Mobile team here.