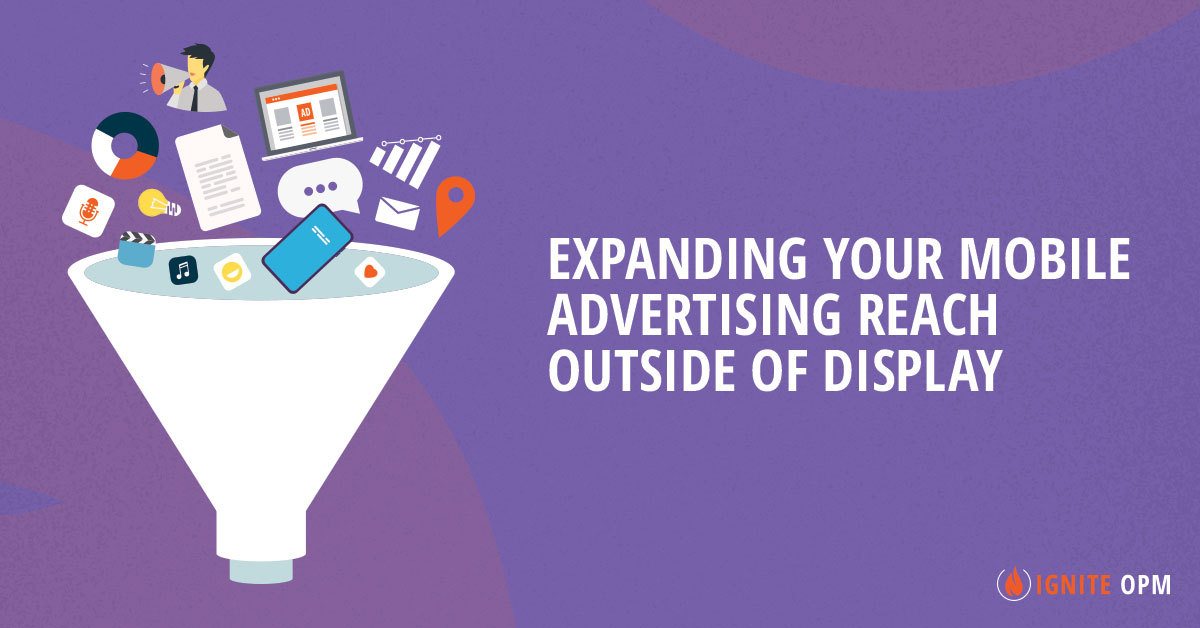 As today's consumers continue to turn to mobile as their device of choice, the advantages of having a top app are more apparent than ever. The more phones your brand is on, the greater success you'll see in an increasingly mobile-focused market. For many marketers, that means ramping up app installs – where the first instinct is to pour budget directly into a traditional display CPI campaign. But just because the path from click to install may be clearest via display, does that mean it's your only option? Of course not, but once you've established your CPI display acquisition strategy, what's the next move in your mobile marketing game plan?
Just as there's a traditional marketing funnel, there's a mobile app marketing funnel – and in exclusively utilizing CPI display advertising, you're only covering one segment of that decision-making journey. By utilizing the right marketing mix, you can extend your reach to capture those leads left waiting throughout your funnel.
Improving Your Brand with Upper Funnel Mobile Marketing
A simplified explanation of the customer journey through the mobile marketing funnel looks something like this: awareness and exposure, consideration, conversion, and retention. Your upper funnel mobile marketing methods will be those that put your app on your target audience's radar and lead them to consideration.
Influencer Marketing
Influencer marketing is a newer, but incredibly beneficial, brand expansion opportunity to weave into your app install campaign. It takes the power of celebrity endorsement and puts it in the hands of your target audiences' esteemed peers. Based on the ideal user you want for your app, you can choose influencers that appeal to that particular audience type. Social platforms like Instagram and Facebook have also provided influencers simplified ways to include download links to your app. All it takes is a swipe up or a click for their followers to be fed directly into your mobile install campaign.
Depending on where the lead is in the marketing funnel will determine what actions they take when exposed to influencer marketing. While it will drive some users directly to downloading your app, it can also cause a lift in your organic downloads from those who acted on the influencer's recommendation at a later point in time. When viewed as both an arm of your traditional mobile marketing campaign, as well as a branding move, it means this mobile media opportunity requires some different attribution models to determine success. This includes analyzing metrics like view-through and click-through rates. Without a strong grasp on this type of measurement, you may not be getting the most accurate picture of how influencer marketing synchronizes with your other mobile marketing channels.
Podcasts
Similar to influencer marketing, podcasts help create a more personal connection between your target audience and your app. Compared to other marketing channels, podcasts also have highly engaged users, with NPR reporting that 75% of listeners took action on podcast sponsored messages.
Advertising opportunities on podcasts include integrated ads and dynamically inserted ads. Integrated ads are read or ad-libbed by the host of the podcast, while dynamically inserted ads are ads inserted during breaks. While integrated ads help reduce the chance that your ad will be skipped, dynamically inserted ads will actually determine the best spot within the podcast to serve the listener. Dynamic ads can also be changed out at any point in time, meaning if your campaign message changes, your ads can even be updated on older podcasts. Direct download URLs can be verbally incorporated into the ad, which then lead users further down the funnel towards your mobile install end goal.
Given that the podcast is still a young brand expansion opportunity, advertising standards for this medium are harder to define. At Ignite, we ensure our clients are not overpaying for impressions, are utilizing the right podcast networks for their target market, and have the correct strategies implemented to funnel leads to their app campaign.
Native
Native advertising sits between user awareness and consideration. These ads fit the look and feel of the media format in which they appear, often seen as 'recommended content' on content sites your target audience is visiting. These native ads are typically less disruptive than other ad formats and work exceptionally well on mobile and social media platforms or apps. Because these ads take an in-depth look at your brand, users that end up downloading your app from native ads are typically better informed, and therefore a higher quality user.
Native ads extend the reach of your app install campaigns by serving a smart link that determines the user's device, which optimizes the user experience and increases conversion rate of the native content.
Instigating Action Using Middle Funnel Mobile Marketing 
The middle of the mobile marketing funnel focuses on those users who are already familiar with your app and/or brand and considering taking action.
Pre-Load
Mobile app pre-loading allows your target audience to access your app upon a phone's first boot. Pre-loading puts your app front and center during a highly engaged time for the user. At the moment of phone activation, when users are first exploring their Android phone, your app will appear in the high visible 'Featured Apps' section. Upon clicking the app icon for the first time, users will be led straight to your app in the Google Play store, circumventing the need to search for your app. Pre-load campaigns are unique in that they help win engagement from an audience who might not normally download apps.
In a competitive market, having an expedited acquisition method for engaging the right users, at the right time, is what helps your brand keep ahead of the rest. At Ignite, our Mobile Management service makes it possible to connect brands with service providers to execute strategic app pre-load opportunities.
Mobile Push Notifications
Push notifications come directly from your brand across a user's screen, enticing them to download your app with an offer they'll receive post-download. This mobile marketing method is fantastic for exposure and reach because no matter how many notifications you put in front of your target user, you're only paying once they install your app. You also have the ability to target devices that have similar apps to your own already downloaded. For example, say you're looking for a user that's in the market to rent or buy a home. If they already have a competing real-estate app downloaded, they could be the perfect candidate to target with your own home-buying app.
End of Funnel Mobile Marketing that Captures and Keeps Users
End of funnel mobile marketing tactics appeal to and target those users who have arrived at the point where they decide if your app is worth downloading and keeping. In addition to expanding your display CPI campaigns, for a fast conversion, you may want to explore tactics that encourage re-engagement with your app.
Re-engagement Campaigns
In the most successful app campaigns, work does not end at install. Re-engagement strategies are a great way to increase user value by pulling users back to your app, abandoned carts, or bring back users who fell off during app set-up. Re-engagement campaigns also allow for greater ad individualization opportunities – because you already know exactly who your user is. With these campaigns, it's important to know the 'sweet spot' for notifying your user without driving them to delete your app!
Wrapping up
The benefits of expanding your mobile marketing diversity outside of display go well beyond simply increasing your number of installs. By utilizing a strategic mix of marketing channels, you also establish brand legitimacy, reach a greater audience, obtain more data for better-tailored ads, and achieve higher engagement – in addition to increasing the volume of app installs.
When implemented strategically, these brand expansion opportunities allow you to improve your flow of leads throughout the entire mobile marketing funnel – directly towards your post-install KPIs.
Ready to expand your app install campaign? Reach out to the Ignite OPM team to see how we can take care of your mobile marketing funnel with our Mobile Management Service offerings.