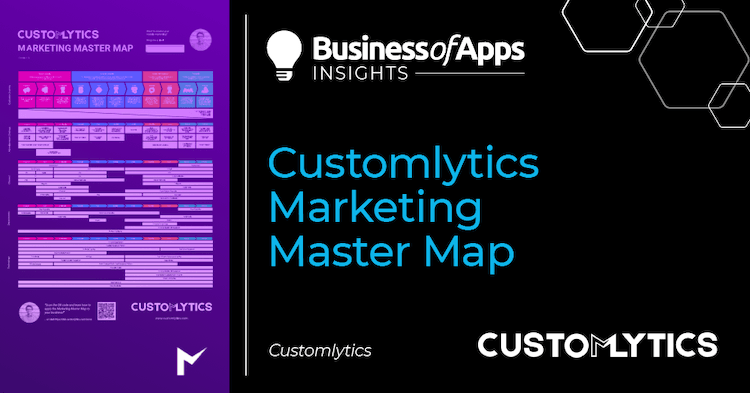 Today's challenges for marketers are complex, especially in the competitive, ever-changing, fast-paced mobile ecosystem environment. But the common marketing frameworks are old and aren't keeping up with these changes. 
Marketing frameworks have existed for a long time and are useful when it comes to simplifying and guiding you through complex realities. Yet, when putting them to use in our day-to-day work as mobile marketing and technology consultants, we realized they fell short of being able to advance a mobile growth strategy in 2021. 
They don't offer a holistic view of today's marketers' needs and fail to provide sufficient answers to topics related to mobile growth, such as:
Customer centricity
Generating data with the latest technologies

 

Involving each department, not just marketing

 
We gathered our own experiences and our expertise across different mobile services and started to develop a unique framework. We designed it to meet all the requirements and finally offer a holistic view of mobile marketing.
We didn't want it to be just any other marketing framework. We wanted a tool that would truly improve sustainable mobile growth across the whole mobile customer journey.
We moved quickly to get the Marketing Master Map to market, but we wanted to take our time approaching the problems we wanted it to solve.
We believe more marketers and entrepreneurs need to be focused on viewing the full app marketing spectrum and build a scalable, sustainable marketing strategy. Everything from analytics and tracking, ASO, and CRM to paid advertising. It's all important!
We wanted to help them with the first-ever holistic marketing framework: the Marketing Master Map. Customlytics' blueprint for mobile marketers to plan their full-stack marketing.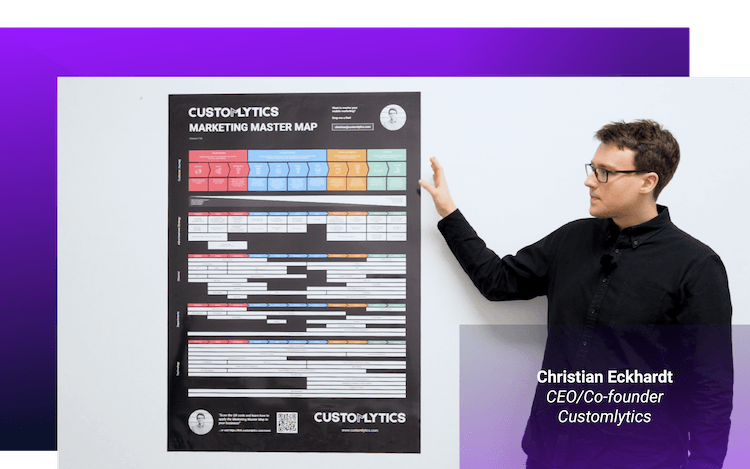 In this article, you'll learn what we've done to provide you with a better, full-stack marketing approach. This includes comparing your marketing to your competitors', optimizing existing processes, planning growth strategies, and exceeding your mobile marketing efforts in the future.
The Marketing Master Map
What problems and questions can the Marketing Master Map solve for me?
The Marketing Master Map provides solutions and answers to your current marketing strategy problems. By putting the user at the center, the approach helps you grow apps sustainably in the marketplace.
Audit your current app marketing strategy: The Marketing Master Map really lets you structure and plan your marketing strategy with your whole team or company. It makes you examine your strategy in-depth and evaluate how your mobile business is currently being marketed. You can identify opportunities to optimize your marketing strategy across departments, marketing channels, and technologies. With the map, everything is in one place!
Determine blind spots: Figure out what has been holding back your growth and use the map for guidance on how to tackle these problems. With the help of the map, even small changes can be implemented right away.
If you stick to the principles of the Marketing Master Map, it'll provide you with a framework to drive sustainable business growth. The Map tells you the next steps, enables you to think ahead and unlock the full potential of your mobile marketing in the future. 
Structure of the Marketing Master Map
The Marketing Master Map was developed to offer a holistic view of mobile marketing. The big picture is important
The foundation of the Marketing Master Map is the customer journey. This can be broken down into four stages. 1.) Demand Generation, 2.) Conversion Generation, 3.) Relationship Management, and 4.) Propagation. 
Based on each stage, the map elaborates on which strategies, departments, channels, and technologies marketers need to consider in order to get the customer from one stage to the next. The stages, therefore, appear on the top of each new section of the map as guidance.
Companies of all sizes can apply the map at any stage of their app's marketing lifecycle. It's important, however, to know that the importance of each element of the map can differ depending on a specific business and its marketing objectives. 
How to apply the Marketing Master Map
Customer Journey
Guiding question: Do I truly understand my mobile customer funnel?
Businesses have to understand the unique mobile customer journey in order to build better products. Ultimately, a marketer's task is to convert as many potential customers as possible into loyal customers through their marketing efforts. To achieve this, it is crucial to include customer journey mapping in their marketing strategy. This enables them to truly understand where customers are in their decision-making process. 
At each of the four stages, The Marketing Master Map provides must-have customer journeys to acquire users, retain them and foster advocacy. From awareness and consideration to convincing customers that your app is the right choice. The ultimate goal is to turn them into loyal brand ambassadors for your mobile product.
Along with the customer journey, the spectrum of marketing efforts varies. Towards the end of the process, marketing efforts decrease as loyal customers become advocates and no longer need incentives or hype around a product.
Advertising Strategy
Guiding question: What are the goals and steps at each stage of the funnel?
Click on the image to view the full version.
Figuring out what you hope to achieve at each stage of the marketing funnel should be one of the first steps when developing a strategy. Otherwise, you won't have clear goals to meet.
The Marketing Master Map provides marketers with a guide to which advertising strategies can be used to reach specific objectives at different stages. Applying these strategies means you can successfully guide your users step by step throughout the marketing lifecycle. These steps help teams to stay focused on achieving objectives in a manageable manner. 
Channels
Guiding question: Am I missing an important channel in my strategy?
Click on the image to view the full version.
There are plenty of marketing channels to show, promote and sell products. Many companies focus on only a couple of key channels in their user journey. This prevents them from realizing the full potential of their app marketing strategy.
With the Marketing Master Map, marketers can step back and look at the bigger picture when optimizing across channels. They're able to track the effectiveness of different areas e.g. content that aims to move app users along the funnel. Ultimately, it's about experimenting and finding the right mix of channels that work for your business.
Departments
Guiding question: Who is responsible for each stage of the customer journey?
Click on the image to view the full version.
Whether we are talking about a mobile-first company or a company, an app is part of the overall customer journey across all channels – engaging across the entire user lifecycle requires expertise in a range of skills. 
The Marketing Master Map helps companies to look at their organizational structure and evaluate whether all departments are aligned on shared KPIs. The aim is to get each of the teams to know where their responsibility in the product funnel lies. This is fundamental in creating a successful collaboration across different stages. 
Technologies
Guiding question: Which technologies can support my marketing strategy at each step of the funnel?
Click on the image to view the full version.
With the right combination of technologies at their disposal, companies can build a marketing strategy that continuously improves. Today's users expect more – personalized, highly relevant messages are important to them.  
The Marketing Master Map provides you with a marketing infrastructure that is rooted in a solid mobile marketing tech stack. With the technologies listed in the map, app businesses can not only structure their data processing but can also understand user behavior. They're able to explore new ways of grouping users and automating segmentation. The map describes how these technologies interact and connect with each other.
Connect with Customlytics to learn more about the Marketing Master Map
We are really looking forward to sharing the Marketing Master Map with fellow mobile marketers. It's a work in progress at the moment and any suggestions, feedback, and comments are very welcome.
Visit our interactive landing page for more information about the Marketing Master Map, including explanatory videos of each stage of the customer journey with individual steps, presented by our CEO Christian Eckhardt.
Get your free copy of the Marketing Master Map! Via the QR Code, you can receive your free copy of the MMM to print out. You can also order an A0 size poster to be sent to you. Keep your poster close by in the office for easy access to an overview of your marketing efforts!
Save the date: At a dedicated meetup on the 16th of March, our CEO Christian Eckhardt will share hands-on insights about the practical application of the Marketing Master Map and gladly answer any of your questions. Become a member of our Berlin Mobile Marketing & Growth Meetup group and sign up for the upcoming event here.
We at Customlytics work with app companies of all sizes looking to grow their business. Our services are driven by processes to allow even faster growth with marketing that really works. These include developing a solid marketing technology infrastructure, App Store Optimisation, Performance Marketing, and retaining users with CRM strategies.
If you want marketing that makes an impact, contact us via contact@customlytics.com.