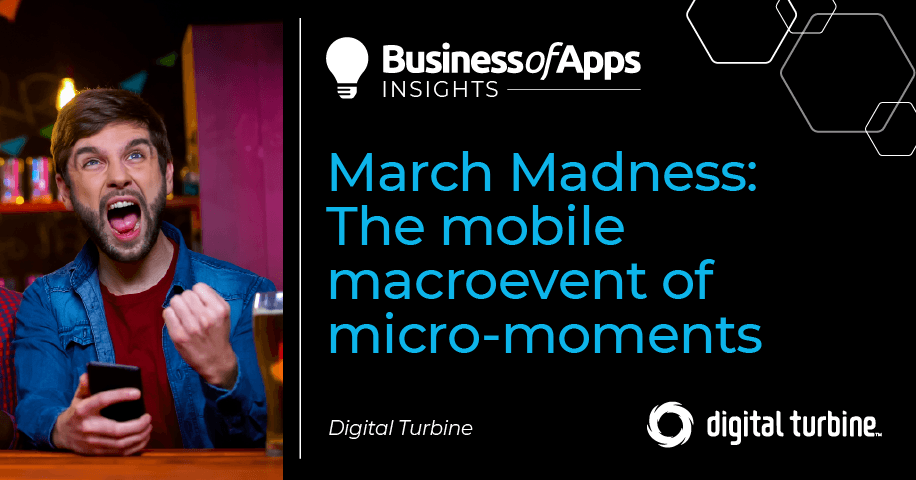 March Madness captivates us. But not in the way the Super Bowl or a great TV show might. Instead of a condensed moment consuming one event, we're given 3 glorious weeks tracking 132 women's and men's college teams as they vie for a championship. And while some of that might happen on our TV sets, way much more of it happens on our smartphones.
Whether it's getting bracket tips or filling them out, checking schedules or a score, reading a preview or watching a highlight, we use our phones to stay tuned to the action even before there's an opening tip. The snacking moments are short, lasting only a few minutes, maybe even a few seconds. But with the action happening (seemingly) 24/7, we're on our phones constantly and non-stop.
This nonstop mobile snacking is why mobile advertisers should recognize the true glory of this macroevent: it's filled with infinite micro-moments where users are looking to discover information. And while this is great for advertisers, perhaps a sleeper pick that can help win those micro-moments are those that can influence content and app discovery – carriers and OEMs.
The X Factor
As with any major event, brands see March Madness as a way to increase awareness at a macro level. But the unique nature of the event – which starts as soon as the brackets are revealed – opens the door for brands to do more than just the traditional TV and social media spots.
Indeed, 74% of people use two or more devices at the same time during the tournament, with nearly 70% on their phones while watching the games. An overwhelming majority (88%) of people use their phones to find March Madness information, check scores, or updates. Phones play such a critical role in March Madness that an incredible one out of three people increase their data plan just to stream the tournament.
So how can savvy brands maximize the extensive mobile reach on their phones? By recognizing the power in the micro-moment.
Driving The Lane
With literally billions of these micro-moments happening daily, brands and publishers have ample opportunity to engage and surround the user with campaigns, promotions, bracket challenges and more. While some of this can happen on TV, the phone presents a much greater engagement opportunity because of the nature of the March Madness macro-event.
Games take place all day, even when people are at work. There are multiple games going on at the same time. Results and bracket updates lend themselves to virality and social sharing. On Twitter alone, there is a surge in engagement during March Madness, including a 291% increase in video views and 100% to over 200% increase in brand category mentions.
To stay top-of-mind throughout the tournament, brands will increase their spend on social, search, and the App Store. But there's a lot more that they can tap into. Carriers and OEMs will respond to frenzy by helping brands take their efforts further, capturing attention on-device to aid discovery when competition is at its highest.
Carriers and OEMs: The Cinderella story
If the glass slipper fits, absolutely. People are on their phones all day during March Madness, betting on brackets, ordering food they just salivated over in an ad, checking news, or watching highlights. They are also searching for brands and apps on their devices thanks to increased brand buzz. Carriers and OEMs can monetize these micro-moments by creating engagement opportunities for brands by helping users discover apps and content they want during common actions they already do on their phones.
Unlocking Their Phone: At the start of any micro-moment, a user will unlock the phone and see either the home screen or the last app they were in. Carriers, however, can intelligently place a news feed of content at unlock that would bring March Madness fans the latest updates.
Browsing Through Apps: After word of mouth, users say that recommended apps or preloads are some of the "most helpful" methods for new app discovery. App recommendation widgets can mirror the same apps users encounter in March Madness promotions.
Reading Notifications: Carriers can use the power of push notifications to serve up app or content recommendations for users. Advertisers can pay carriers for premium, prioritized recommendations to make sure they are seen first.
Swiping Off Their Home Screen: On the Minus-1 screen, carriers can serve up a dynamic, intelligent feed of content and recommended apps that is relevant to the user.
Search: Similarly, carriers and OEMs can curate the stories that appear whenever a user opens a new browser tab on mobile. Brands can invest in mobile ad campaigns that complement their in-game advertising, enabling OEMs to generate revenue with each new install.
In the ultimate alley-oop, carriers and OEMs can work together with brands and publishers to make their marketing more effective, driving installs and engagement. The best part about this kind of smart content discovery is that it drives customer loyalty among subscribers, as well, boosting customer lifetime value. Carriers can add real value to their customer relationship and be seen as a content discovery tool rather than an emotionless monthly bill.
After the final buzzer
While the final four will culminate this macro-event, the drive doesn't stop here. Snacking on phones may peak during March Madness, but there is always another macro-event around the corner. We just had one with the Winter Olympics. From sporting events to award shows, and politics to pop culture, anything can create a macro-event with micro-moments. The key is to surround the user with engagement opportunities when they occur. That's how you score a slam dunk.