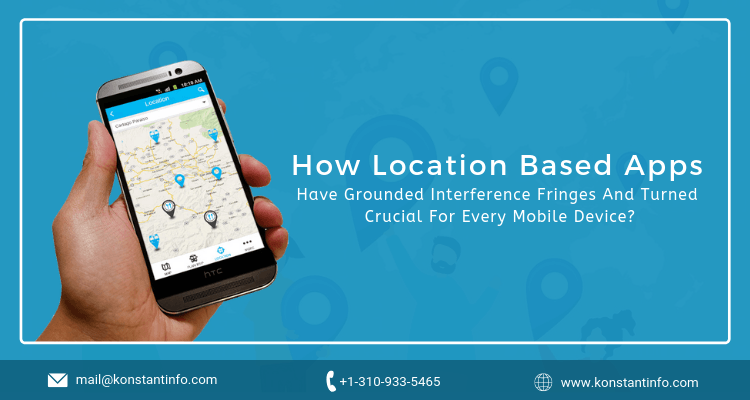 Proximity Marketing: Check out why enterprise location-based services are worthy to implement.
Location-based services (LBS) is the capability to find out the geographical location of the mobile user and then provide services based on the given location information. These are increasingly being used for navigation, social networking, marketing and location services.
With the popularity of Snapchat, WhatsApp, Google Maps and Pokemon Go – location-based technologies have revolutionized how people make use of mobile phones. With more than 2.5 billion smartphone users worldwide, many more are on the rise with an increase in the number of industries like restaurants, multiplexes, hospitals, schools, shopping malls etc. Besides, there are a wide variety of industries in vertical markets ranging from manufacturing to logistics to sports to security, every segment is benefitted and real business value can be derived from new applications powered by location-based data.
Every organization requires a mobile app to customize the needs of their audience, advertising, customer engagement and as a direct form of marketing. More than 90% of smartphone owners use them to retrieve location (according to Pow Research center). Companies have now tapped location-based services (LBS) on consumers' phones in order to send them relevant offers and messages. Enterprises these days send customized messages that are triggered by varied factors like user behavior, purchase history, preferences, geographic location and time of the day with help of proximity marketing.
LBS: Salient Features
The LBS market will be accelerating at a GAGR of nearly 43%.
Incremental growth of $7.97 bn.
The year over year growth rate for 2019 is estimated at 45.4%.
The market is fragmented with many players occupying the market share.
35% of the market share originated from the RFID segment
One of the key drivers for this market will be the adoption of improved indoor navigation solutions.
Indoor location-based services market in the US will grow at a CAGR of approximately 43% by 2023.
Working Principle: Location Based Services
Location Based Services (LBS) are offered based on the user's geographical location provided by the positioning technology such as Global Positioning System and Geographical Information Systems.
Location-based services are a two-way communication system between a user and a service provider. As soon as the user tells about his current location to the service provider, the kind of information he needs and his preferences, the provider of the location services will deliver customized information to the user. Therefore GPS plays an important role in finding the location. It is a worldwide satellite navigational system that is formed by a constellation of 24 earth orbiting satellites. These satellites orbit the earth at approximately 20,000 kilometers above the surface and make two complete revolutions every day (24 hours). The GPS satellites continuously broadcast navigation message and code signals of a Standard Positioning Service (SPS). GPS receivers calculate their own location, by making use of navigation message from more than four satellites.
Uses of Location Based System in Daily Life
When there are an information outburst and technological advancements with every passing day, it is important for the users to be location-aware in the modern communications area. As people deal with their changing lifestyle, working hours, work-life balance, daily necessities, an increasing need to have swift mobile communication, and internet connectivity comes in the forefront. It is now easy to fetch information on latest and nearby events (cinema, concerts, and parties), information on places (city maps, restaurants, museums, hospitals) etc. Location awareness apps utilize the geographical location and position of the users if they carry their mobile devices with them (even if they are offline). LBS are frequently used by ride-hailing apps (cabs rides) these days.

The location awareness feature within the mobile devices utilizes geographical location or position information of the mobile devices or that of the mobile user.These are applicable in wireless location services, Geographic Information Systems (GIS), surveillance, navigation, military equipment tracking, and many more.
Geographical Information Systems (GIS) makes use of information in many different forms. LBS has originated from GIS and imbibes many different technologies including mobile internet, telecommunication, and GIS.
Development Issues & Challenges with LBS
LBS is still expensive to implement on a massive consumer scale. Replacement handsets, network infrastructure, fraught with public policy, emergency quality of service and privacy – everything and many more variables are complex and challenging to handle. Besides these lack of proper standards, lack of a universal API for developing local applications and unrealistic expectations from investors and VC.
LBS goes far beyond personal privacy. Users expect LBS apps to share accurate location, relevant app content, targeted offers and coupons in exchange for disclosing their location. Besides this, it can be scary to know how vendors use and sell users data without their knowledge.
Users are even more concerned that this location data can be used to track where they are, which can indirectly steal their identity, stalk them, monitor them without their knowledge. This can even reveal their religious affiliation or political activities.
Consumers are usually not aware when law enforcement agencies might collect sensitive information about their whereabouts like information related to crime, potentially sensitive destinations like medical clinics, courts, religious institutions, union meetings or political rallies.
Advantages of Location Based Application Services
LBS are implemented as a complementary feature in almost every industry domain these days. It enables marketers to gain a better idea about the group of customers that are more likely to favor a particular product or service.
In Information services – requesting the nearest ATM,
In Navigation – how to reach the specified target location,
Emergency – a person who is in a need of an ambulance, Entertainment – social networking, mobile games,
Marketing – location-based mobile advertising, Information services – requesting the nearest ATM,
Emergency – a person who is in a need of an ambulance, Entertainment – social networking, mobile games, Marketing – location-based mobile advertising
It just requires permission from customers, and more personalized and beneficial services can be availed. Earlier only B2C companies used to avail location-based services. Now, even B2B companies are waking up towards the innumerable opportunities that this technology can offer them.
Prominent Applications Using LBS
Foursquare
Dark Sky
Pokémon Go
Curbside
Target
Gas Buddy
Uber
LBS Trend in 2019: What have app development firms predicted for location based services for upcoming years?
Organizations will go for large scale RTLS deployments
Vendors mix and match technologies to deliver potent LBS applications (moving away from closed solution offerings; opening up to application layer and incorporating best in breed components)
LBS will no more be an enterprise play and will involve small-medium-large service providers (number of business solutions have been monetized to their customers to resolve business problems. With emerging IoT trends, RTLS-based services and solutions will allow them to provide the value enterprises that is desperately required.)
Combination of precision and time will drive new applications (real-time precision and interoperability to enable new applications)
Inference
Location-based applications make use of wireless transmissions between smartphones, beacons, wi-fi access points – pinpoint a user's location. A mobile app that accesses device' location can provide navigation as well as location specific content like coupons and product reviews.
Location-based services market is estimated to grow at a CAGR of approximately 43% but this is as well subject to a decline in the year-over-year growth. Having said this, the advent of industry 4.0 will be one of the major trends within LBS during 2019-2023. New advanced technologies like three-dimensional printing, additive manufacturing, AR, VR, Big Data and analytics come up to become a strategic and operational advantage for industry 4.0.
Overall, LBS are a collection of technologies, some old, some new, some under research can help tie entire marketing strategy with e-commerce and digital and can as well be used to analyze consumer behavior and trends.